"After the Sept. 2-3 drop, bitcoin has been stuck in a narrow range of $10,100 to $10,500, looking for direction," said David Lifchitz, chief investment officer for crypto quantitative firm ExoAlpha. "Each drop below $10,000 has been furiously bought, keeping BTC above that," he added.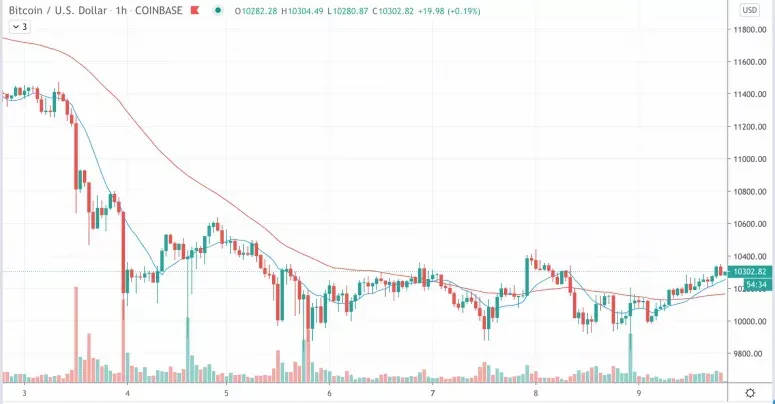 So far Wednesday, demand as measured in volume is relatively flat – a paltry $245 million combined on major spot exchanges according to Skew. This is much lower than a week ago, when spot volumes hit a one-month high of $1 billion.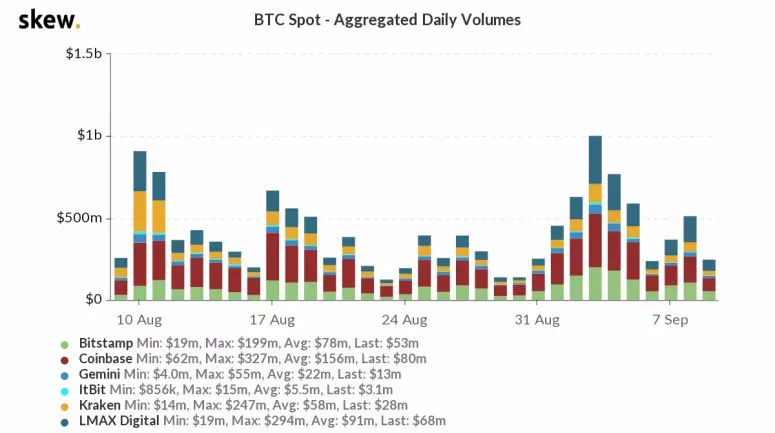 Ether volatility up
Ether's one-month realized volatility, a measure of the standard deviation of returns based on historical data, is at 106% on an annualized basis, its highest point since way back on May 6.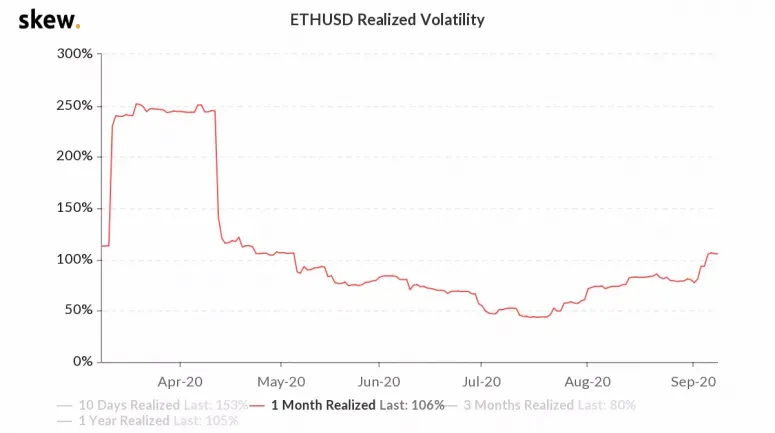 It is clear that ether is more volatile than bitcoin, which, at 57% one-month realized annualized volatility Wednesday, is at a level consistent with its August volatility numbers.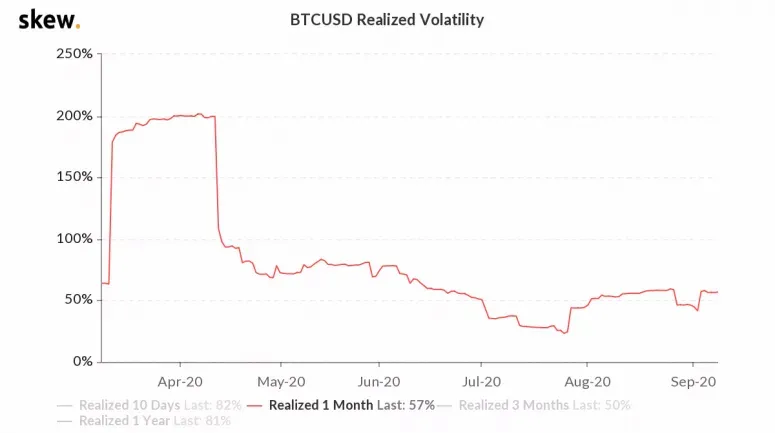 SushiSwap, the community-owned automated market maker (AMM), now has a new set of leaders. Nine signers of a multisig wallet controlling the project's funds have been elected to govern SushiSwap through full decentralization.
On Ethereum, a multisig has worked out to be something like a board of directors in the analog world, such that it takes any six of the nine members to approve changes to the SushiSwap code or to spend its development funds.
Voting dynamics
The newly elected members are Sam Bankman-Fried (FTX), Robert Leshner (Compound Labs), 0xMaki, Larry Cermak (The Block, who is sometimes credited with inspiring SushiSwap), CMS Holdings (an investment firm launched in November), Matthew Graham (Sino Global Capital), Hagen, Adam Cochran (DuckDuckGo) and Zippo (the pseudonymous creator of the SushiSwap dashboard).
There, Cochran wrote a lengthy statement, including the following:
"I was the first voice to come out pointing out the major red flags in Chef Nomi's project and the need for a multi-sig wallet. Because of this I was accused of spreading FUD and even received personal threats. People didn't realize I was invested in $SUSHI."
Migration update
Uniswap had $285 million in total value locked on Aug. 26, the day SushiSwap was first announced by the now exited creator, NomiChef, on Medium.
After a bloody week for decentralized finance (DeFi) projects that saw numerous tokens plummet by up to 50%, the DeFi sector has rebounded by 19% in one day. Ether is also up 11% over the past 24 hours.
According to Messari, 32 of 37 DeFi tokens are up today, posting gains of between 3% and 39.6%.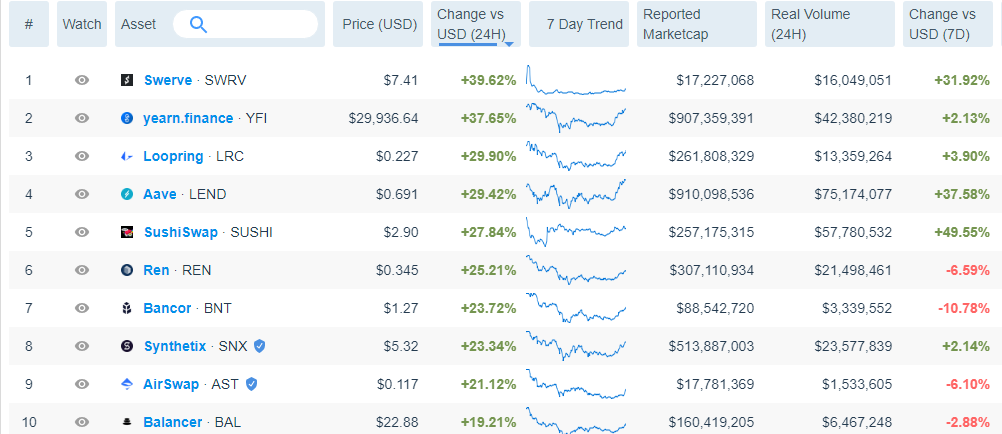 Swerve (SWRV) tops the daily charts, followed by Yearn Finance (YFI) with a 37.6% gain, Loopring (LRC) with 29.9%, Aave (LEND) with 29.4%, and SushiSwap (SUSHI) with 27.8%.
Data from the firm shows that many locals individuals and businesses are using cryptocurrencies to avoid high fees, regulatory complications, and currency instability.
The number of monthly transfers to and from Africa has passed the 600,000 mark. The total number of transfers under $10,000 jumped by 55% in the year to June to reach $316 million. Nigeria, which is the continent's largest economy, South Africa, and Kenya lead the region in cryptocurrency transfers.
Abolaji Odunjo, who runs a mobile phone retail store in Lagos, Nigeria's largest city, started using Bitcoin to pay his Chinese suppliers. He told Reuters that he shifted to crypto for speed and convenience:
Bitcoin helped to protect my business against the currency devaluation, and enabled me to grow at the same time.
Odunjo added that payment method helped him avoid high fees and was an alternative to purchasing increasingly expensive U.S. dollars.
According to a post by the World Bank, fees for fiat remittance in Sub-Saharan Africa costs 8.9% on average — with South Africa recording the highest costs of up to 20% per transaction. Bitcoin fees sit drastically lower, typically sitting below 3%.
Payments giant Mastercard has released a platform that allows central banks to test how proposed central bank digital currencies (CBDCs) would work in real life.
Mastercard announced Wednesday it had launched a virtual testing environment that can simulate issuance, distribution and exchange of CBDCs between banks and financial service providers, as well as end-consumers purchasing everyday goods and services.
*In a statement, Mastercard said the new protocol would help financial institutions understand the feasibility of CBDCs and allow them to explore new use cases, including issuance at a local or regional level.
They can further evaluate compatibilities with existing payment rails such as payment cards.
A facility to analyze and compare different proposed tech stacks for CBDCs is also included.
🗞 Daily Crypto Calendar, September, 10th💰
"For every SAPP that you own in your wallet, you will have the ownership of 1 KYAN after the fork."
Learn how to build a customized dapp on Horizen with our engineering team. Walk through the process of building a dapp!
Team updates at 3:30 PM UTC/ 11:30 AM EDT: Engineering, Node network, Product/UX, Helpdesk, Legal, BD, Marketing, CEO Closing thoughts, AMA.
"The fork is executed at 21:55, and the new currency that is forked is named NBS, the English name is New BitShares..."
"Deposit: 11:00 Sep 3, Spot: /USDT & /BTC 09:00 Sep 10, Withdrawal: 09:00 Sep 14."
"We are happy to announce 2nd StakeHound Family AMA live session! When: 12pm CEST September 10th 2020."
"Beehive v2 launches on September 10th!"
Last Updates
➡️ Be paid daily to browse with Brave Internet Browser
➡️ A secure and easy wallet to use: Atomic Wallet
➡️ Youtube
➡️ Twitter
➡️ Hive
➡️ Publish0x
➡️ UpTrennd
➡️ Read.cash
➡️ LBRY