🗞 Investors Buying Bitcoin Amid Price Slump to Near $10K, Data Shows;
🗞 Ethereum Developers Weigh Gas Rule Change to Ease Fee Pressure;
🗞 Exchanges suffer as Chinese users chase DeFi gains;
🗞 Crypto Volumes Surge in August: Binance Largest Spot Exchange as Huobi Leads Derivatives;
🗞 The number of active DAOs is up 660% since 2019;
🗞 Daily Crypto Calendar, September, 8th 💰
Welcome to the Daily Crypto News: A complete Press Review, Coin Calendar and Trading Analysis. Enjoy!
Despite significant losses for bitcoin since mid-August, the "buy the dip" mentality in the crypto markets is still strong, blockchain data suggests.
While the cryptocurrency has declined from $12,400 to $10,000 in the past three weeks, the number of "accumulation addresses" has increased by 2% to 513,000, according to data source Glassnode.
"Lots of new daily buyers are coming in to absorb supply," Su Zhu, CEO of Singapore-based Three Arrows Capital, told CoinDesk in a Telegram chat.
Accumulation addresses are those that have at least two incoming non-dust transfers (representing minuscule amounts of bitcoin) and have never spent funds.
The metric excludes addresses belonging to miners and exchanges, and addresses active more than seven years ago to exclude lost coins.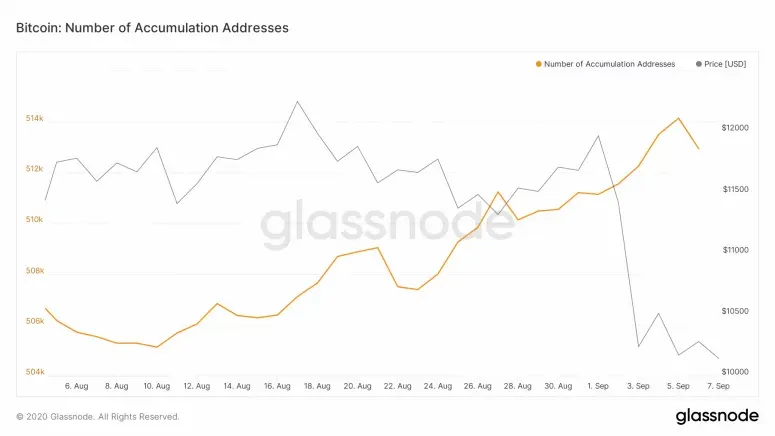 An Ethereum smart contract feature that offers rebates for fees has developers scratching their heads, wondering if they should toss the old code in light of an exponential rise in transaction costs.
Called gas tokens, these smart contract loopholes are a way to send transactions on the cheap by "tokenzing" gas, the fees paid for running computations on-chain. The feature allows an Ethereum user to buy up transaction fees when they are low, store them and then spend them when the fee price inevitably rises again.
While the matter is still under discussion, some developers worry tokenized gas could one day act as a "price floor" for transaction fees and keep them permanently high.
As fees hit record highs twice in the same week, developer Alexey Akhunov's June Ethereum Improvement Proposal to get rid of gas tokens, (EIP) 2751, is getting renewed attention.
Akhunov's napkin math in the Ethereum Research and Developers messaging app shows that about 1.5% to 2% of Ethereum transactions over the summer used a prepaid gas token. Moreover, many algorithmic traders have similar setups that Akhunov's analysis does not capture, developer Ali Atiia added.
"Transaction pools are basically like a one-sided order book where you bid for the gas prices. Those orders placed in a particular place are to make sure you buy the dips, like in the traditional two-way order book," Akhunov said on Friday's biweekly developer call, adding that he is still conducting analysis on the magnitude of gas token usage.
Paid to prune
Blockchains, at their very core, are data settlement layers. Some data is more valuable than other data and maintaining data on-chain is a cost node runners have to bear.
Ethereum tries to mitigate this problem by offering ether (ETH) back for deleting old contracts or information from contracts. This, some claim, is now being gamed to nab lower transaction fees.
Chinese demand for DeFi is surging, with local exchanges reportedly struggling under the weight of withdrawals destined for yield farming protocols.
Despite the recent sell-off quickly wiping $2 billion from the total value locked in the decentralized finance (DeFi) sector, Chinese demand for DeFi appears to be growing.
Daily searches for 'DeFi' on the popular Chinese social media platform WeChat spiked to a new all-time high on September 2 of nearly 900,000 — nearly doubling the previous record of 500,000.
On September 7, Chinese journalist Colin Wu reported that many local exchanges were suffering from liquidity issues amid wholesale withdrawal from customers looking to cycle funds into DeFi protocols.
The latest report by Cryptocompare shows August spot cryptocurrency traded volumes by the 15 largest top-tier exchanges increased by 58.3% to $529 billion versus July figures. Low tier exchanges volumes, on the other hand, increased by 30.2% to end the month of August with a total of $291 billion.
Binance leads the top tier list with volumes traded on its platforms having jumped by 83% overall to $129.9 billion. Huobi Global and Okex, which ranks second and third, recorded traded volumes valued at $65 billion and 64.7 billion respectively.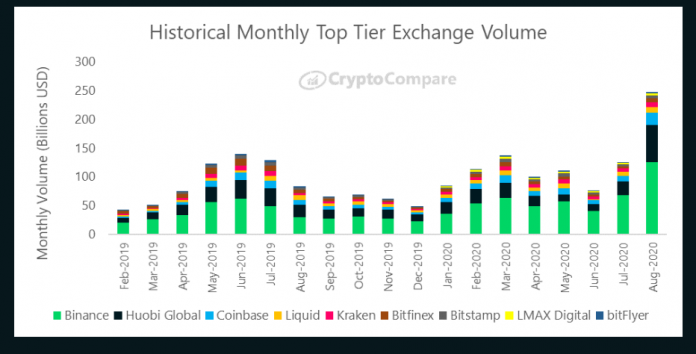 Huobi had the biggest derivative volumes with $208.5 billion followed by Okex with 190.8 billion and Binance, which had the biggest jump in August (74%), with $184.6 billion.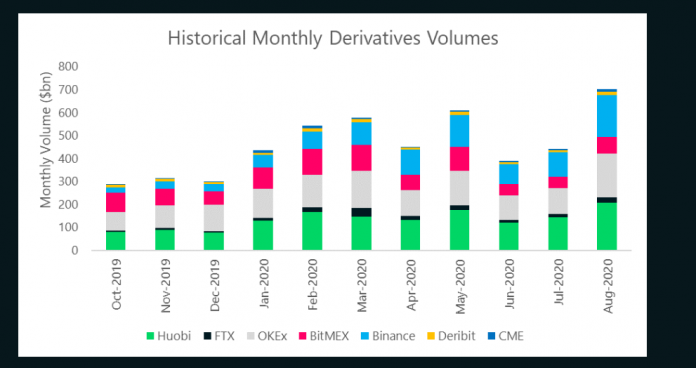 DeepDAO has launched a new interface for examining the health and wealth of the top decentralized organizations in crypto.
DeepDAO provides insights and analysis into decentralized autonomous organizations, with the platform recently launching a new interface allowing users to better probe the health and wealth of DAOs.
The platform's data shows that a large assets under management (AUM) figure does not necessarily indicate the health and good governance of a DAO.
<For example, mStable is the top-ranking project by assets under management and capital flows, however, it ranks poorly by membership and proposals — with just nine members having voted on 29 proposals in total.
By contrast, dxDAO ranks second by proposals with 268, and third for membership, with 428, despite having less than 10% of mStable's AUM.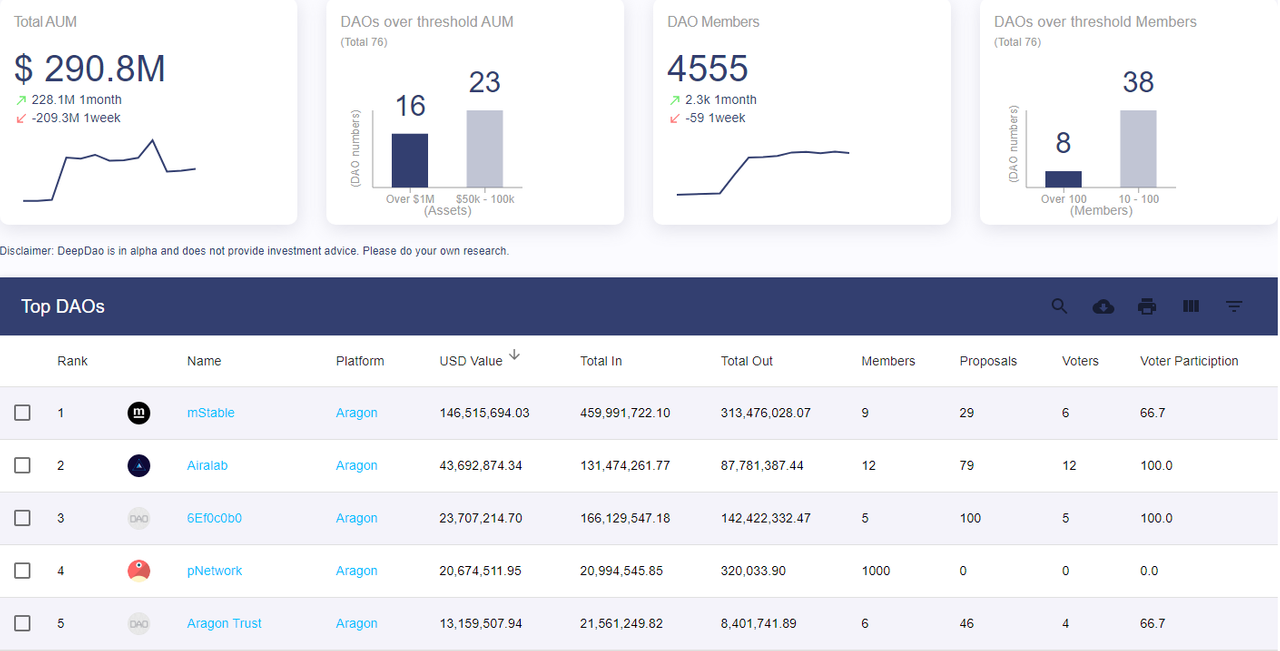 🗞 Daily Crypto Calendar, September, 8th💰
Phase 2: Production Mainnet on 8th September.
"IOST is to be listed on Japan's Largest Compliance Exchange @coincheckjp on 8 Sep 2020."
"The proposal to introduce secret contracts to mainnet will be made on September 8th, 2020."
"On Tuesday, September 8, 2020, Flexacoin ($FXC) will be available to migrate to Amp ($AMP)."
"The $MTLX token distribution starts on Tuesday. Stake your $FET tokens to the pool for 21 days to receive a share of the first MTLX..."
Last Updates
➡️ Be paid daily to browse with Brave Internet Browser
➡️ A secure and easy wallet to use: Atomic Wallet
➡️ Youtube
➡️ Twitter
➡️ Hive
➡️ Publish0x
➡️ UpTrennd
➡️ Read.cash
➡️ LBRY