Boa tarde Splinteiros / Hello splinters ! (ill try to post in 2 languages)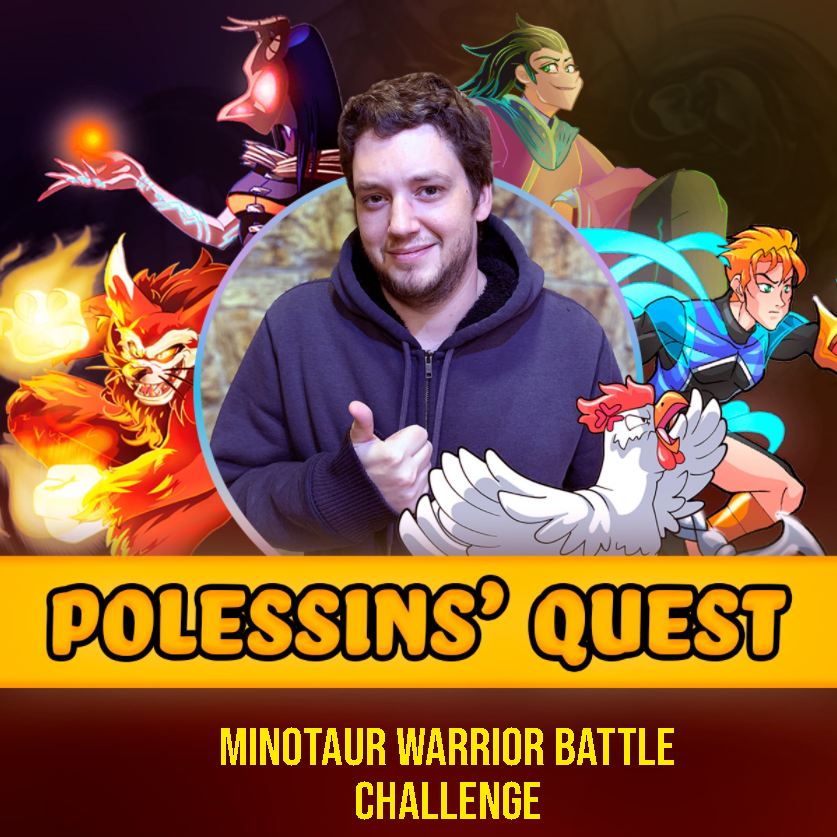 Essa semana foi cheia de novas descobertas para mim, conheci varias cartas que ainda não tinha visto, aprendi alguns novos combos, ganhei uma nova carta lendária e isso parece ainda ser apenas o começo !
Hoje estou criando esse post para participar do desafio semanal da comunidade @splinterlands
Antes de começar, vamos conhecer o nosso personagem da semana !
---
This week was full of new discoveries for me, I met several cards I hadn't seen yet, Learned some new combos, won a new legendary card and this seems to be just the beginning!
Today I'm creating this post to participate in the weekly community battle challenge @splinterlands
Before we begin, let's meet our character of the week !
---
O MINOTAUR WARRIOR !
Edition: ALPHA/BETA
Rarity: COMMON
Element: EARTH
ATTACK: MELEE
ABILITIES: Reach at level 1; Piercing at level 6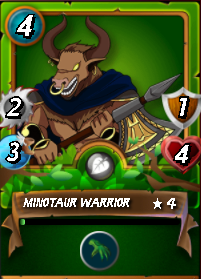 O MINOTAUR WARRIOR é basicamente um guerreiro feito para a 2 posição na linha de combate, sua habilidade "reach" permite que ele ataque da 2 posição o monstro que esta atualmente ocupando a linha de frente da equipe inimiga.
É muito importante nesse jogo, que todos os seus personagens tenham uma função ativa na composição do seu time, permitindo que essa unidade possa atacar, curar, absorver dano ou qualquer outra função que ela tenha.
monstros com dano físico próximo por exemplo, sem a habilidade reach, oportunity, snipe ou sneak se forem colocados na 2 posição ou outra posição, praticamente não terão função no jogo, e podem ser eliminados antes mesmo de realizar o seu 1 ataque !
ABAIXO SEGUE A MINHA ESTRATÉGIA UTILIZANDO O MINOTAUR WARRIOR :
Vamos começar comparando as 2 Equipes.
---
*The MINOTAUR WARRIOR is basically a warrior made for the 2nd position on the combat line, his ability to "reach" allows him to attack from the 2nd position the monster that is currently occupying the front line of the enemy team.
It is very important in this game that all your characters have an active role in the composition of your team, allowing that unit to attack, heal, absorb damage or any other function it has.
monsters with nearphysical damage for example, without the reach, oportunity, snipe or sneak ability if they are placed in 2 position or other position, will have virtually no function in the game, and can be eliminated before even performing your 1 attack !
BELOW IS MY STRATEGY USING MINOTAUR WARRIOR :*
Let's start by comparing the two teams.


POLESSINS TEAM :
SUMMONER : MYLOR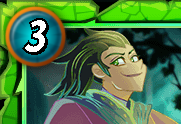 (o melhor summoner na minha opinião para combates com a regra UP CLOSE AND PERSONAL, devido sua habilidade de refletir dano fisico para o atacante)
---
(the best summoner in my opinion for fights with the UP CLOSE AND PERSONAL rule due to its ability to reflect physical damage to the attacker)
---
TANQUE : Chain golem lvl 2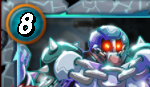 (Um dos meus tanques favoritos no jogo, possui habilidade para reduzir dano físico e magico já no lvl 2)
---
(One of my favorite tanks in the game, has the ability to reduce physical and magic damage already in lvl 2)
---
TANQUE 2 : MINOTAUR WARRIOR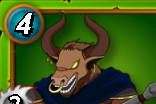 (Utilizado sempre na 2 posição, ele ira acrescentar um pequeno dano ao time inimigo toda rodada, e apos a morte do tank principal, essa unidade ira fazer também uma função de tanque, seu 1 ponto de escudo pode ser muito util em diversas situações)
---
(Always used in 2 position, it will add a little damage to the enemy team every round, and after the death of the main tank, this unit will also do a tank function, its 1 shield point can be very useful in various situations)
---
DAMAGE DEALER 1 : ELVEN CUTTHROAT



(Unidade básica para dano, possui uma vida e um ataque satisfatório para o seu custo, acabo utilizando muito essa carta em varias composições)
---
(Basic unit for damage, has a life and a satisfactory attack for its cost, I end up using a lot of this card in various compositions)
---------------------------
DAMAGE DEALER 2 : SANDWORM



(Apesar de sua velocidade baixa, essa criatura possui um dano excepcional, capaz de eliminar varias criaturas com apenas 1 ataque, sua habilidade sneak a torna perfeita para praticamente qualquer partida)
Então podemos perceber que todas as unidades possuem sua característica e função especifica para essa batalha. dessa vez optei por uma estratégia mais agressiva, deixando as unidades com heal de fora.
---
*(Despite its low speed, this creature has exceptional damage, capable of eliminating several creatures with just 1 attack, its sneak ability makes it perfect for virtually any match)
Then we can realize that all units have their characteristic and specific function for this battle. this time I opted for a more aggressive strategy, leaving the healing units out.*

TIME INIMIGO :
SUMMONER : MOTHER KHALA



(Summoner de life regular, que da +1 de vida para todas as unidades)
---
(Summoner of life, which gives +1 health for all units)
---
TANQUE : SHIELD BEARER



(Ótima unidade tank para absorver dano, mas prefiro utilizar cartas com habilidade Taunt fora da 1 posição, e com a adição de um healer/repairer)
---
(Great tank unit to absorb damage, but prefer to use cards with Taunt skill outside the 1 position, and with the addition of a healer/repairer)
---
TANQUE 2 : LUMINOUS EAGLE



(Carta com a habilidade reach, perfeita para a 2 posição na formação, sua velocidade e habilidade voadora pode fazer com que essa criatura desvie de muitos ataques físicos, tornando as vezes a sorte um fator crucial para vencer essa unidade)
---
*(Card with reach ability, perfect for 2 position in training, your speed and flying ability can cause this creature to swerve from many physical attacks, sometimes making luck a crucial factor in winning this unit)
---
DAMAGE DEALER 1 : CAVE SLUG



(acredito ser uma unidade com um custo elevado de mana para o que oferece em um nível mais baixo)
---
(I believe to be a unit with a high mana cost for what it offers at a lower level)
---
DAMAGE DEALER 2 : PARASITIC GROW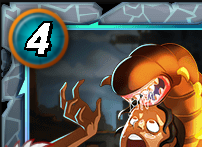 (Outra unidade com um custo muito alto, oferecendo poucos atributos de combate, apenas utilizaria essa carta em combates com a regra que inverte a velocidade dos monstros)
---
*(Another unit at a very high cost, offering few combat attributes, would only use this card in combat with the rule that reverses the speed of monsters)
---

STATUS DA BATALHA :

Uma batalha com apenas a regra UP CLOSE AND PERSONAL e um máximo de 27 mana.
Apesar da limitação dos personagens, você ainda pode encontrar diversas estratégias para esse combate, nesse caso eu e o meu oponente decidimos ir para o dano direto máximo ! focando eliminar as linhas de trás do inimigo enquanto o tank segura o máximo de dano possível na linha de frente.
---
A battle with only the UP CLOSE AND PERSONAL rule and a maximum of 27 mana.
Despite the limitation of the characters, you can still find several strategies for this combat, in this case my opponent and I decided to go to maximum direct damage ! focusing on eliminating the enemy's back lines while the tank holds as much damage as possible to the front line.
---
ROUND 1 :
No Primeiro round a soma total do meu dano + o reflect causado pela habilidade do invocador foi exatamente o dano necessário para eliminar o tank adversário, abrindo a porta para a vitória dessa partida.
apesar de perder um dos meus atacantes (Elven Cutthroat) o meu tanque ainda estava com praticamente a vida completa, garantindo mais tempo para minhas unidades atacantes distribuírem mais dano.
---
In the first round the total sum of my damage + the reflect caused by the summoner's ability was exactly the damage required to eliminate the opposing tank, opening the door to victory in that match.
despite losing one of my attackers (Elven Cutthroat) my tank was still practically full of life, ensuring more time for my attacking units to distribute more damage.
---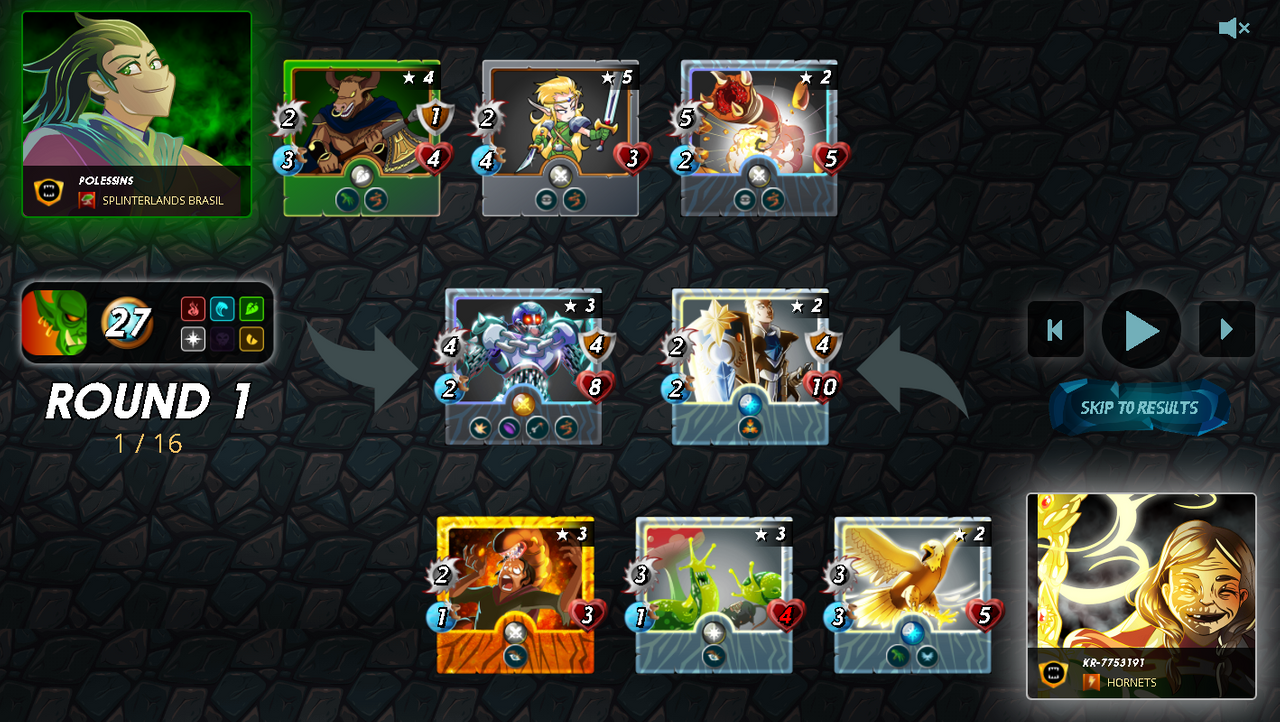 ROUND 2 :
O segundo round foi apenas o desfecho do combate, onde as unidades acabaram sendo barradas pelo Chain Golen, permitindo que as outras unidades finalizassem o combate rapidamente.
---
The second round was only the outcome of the match, where the units were eventually barred by Chain Golen, allowing the other units to finish the fight quickly.
---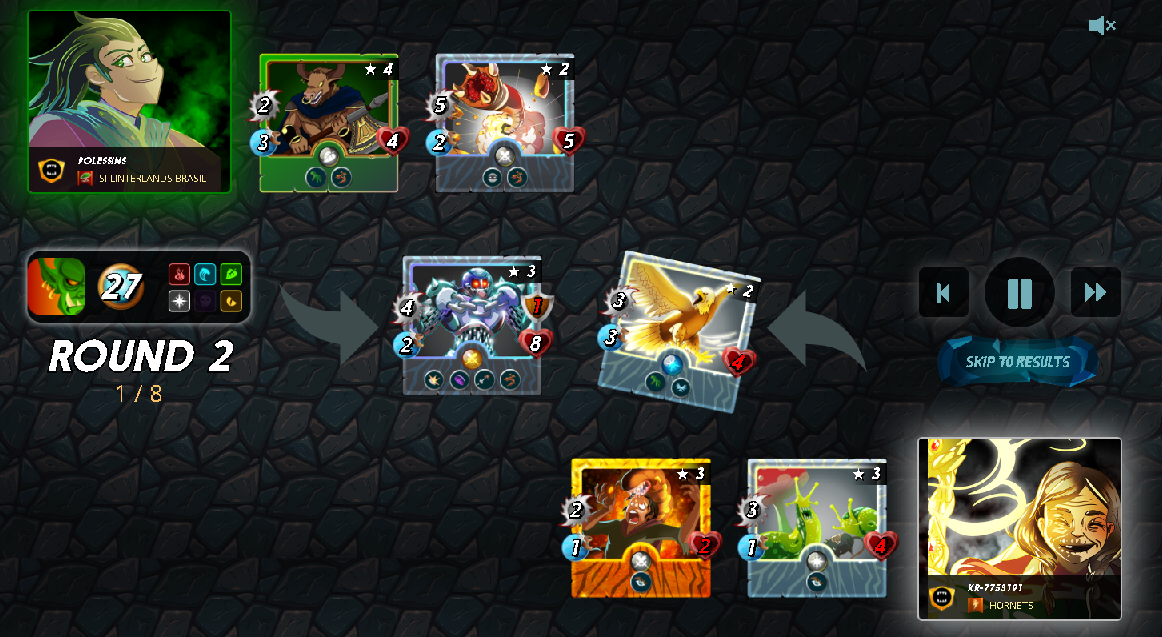 CONCLUSAO DO COMBATE :
Focando na participação do minotaur, podemos dizer que ele cumpriu a sua função devidamente. é a melhor carta para essa função ? Eu diria que não.
Nesse combate, vemos como sempre é importante atribuir uma função correta para cada uma de suas unidades.
A Velocidade também é um fator pouco explorado por novos jogadores, um time com alta velocidade sempre terá a grande vantagem de praticamente atacar uma rodada na frete, as vezes já ate mesmo eliminando um monstro inimigo mesmo antes que esse possa atacar, isso costuma fazer uma grande diferença em todos os combates.
Existem varias estratégias para também proteger essas unidades com alta velocidade e e pouca vida, mas ainda estou descobrindo essa área do jogo mais a fundo.
---
CONCLUSION OF THE FIGHT :
Focusing on the participation of the minotaur, we can say that it fulfilled its function properly. is the best card for this function ? I'd say no.
In this combat, we see how always it is important to assign a correct role to each of your units.
Speed is also a factor little explored by new players, a team with high speed will always have the great advantage of practically attacking a round in the freight, sometimes even eliminating an enemy monster even before it can attack, this usually makes a big difference in all combats.
There are several strategies to also protect these units with high speed and and little life, but I'm still discovering this area of the game more in depth.

JOIN SPLINTERLANDS FOR FUN AND PROFITS : SPLINTERLANDS
FOLLOW @SPLINTERLANDS TO KEEP UPDATED OF VERYTHING !