As you know Brave is a browser that lets users navigate to websites, run web apps and display or play online content. Like other browsers, it is free to download and use, remembers site authentication information and can block online ads from appearing on sites.
Brave browser is safer because it blocks tracking scripts and other technologies that spy on your online activity. Furthermore, Brave aims to solve two of the web's most vexing problems—privacy and revenue—by revolutionizing the traditional digital advertising model. Brave Browser users earn tokens by surfing the web. Brave Browser gives users a 70 percent cut of its advertising revenue, $5 a month. Brave pays users with Basic Attention Tokens or BAT.
As a publisher, your subscribers, followers, or readers can tip BAT tokens to you, their favorite content creator. 
You can download faster, safer ad-free Brave Browser here https://brave.com/gdc415
Brave Browser Growing Rapidly
In October this year, I shared the statistics about Brave Browser Publishers. (read more here )
The number of verified publishers increased by 37% and reached to  407,250, 254,39 of those are YouTube creators, 42,807 are website publishers or creators, 26561 are Twitch streamers, and Twitter account who have joined to receive Basic Attention Tokens (BAT) increased by 64%. (batgrowth.com)
Above you see the top five web browsers by market share given by w3counter.com, where Chrome reigns supreme with about 58 percent market share.
Brave browser doesn't yet register on web analytics firm StatCounter's rankings of web browsers,so we cannot see brave browsers market share. But we know that Brave browser's market share is very small and it has a big potential in this market with its unique business model. Although the project is still at the early stage, The Washington Post, The Guardian Wikipedia, and Wikipedia are among the verified Brave Browser/BAT Publishers. There are many charities and non-profit organizations accepting BAT tips through the Brave browser, as well. 
On January 15, 2020 Brave introduced sponsored images which allows user to earn BAT. 
These branded images will appear in the form of large, beautiful background images within our new tab page. Sponsored Images will bring additional revenue to support Brave's mission, and give users a new reason to turn on Brave Rewards so they can get compensated for their attention. These images will begin to appear across our mobile and desktop browsers over the next few months. Source: brave.com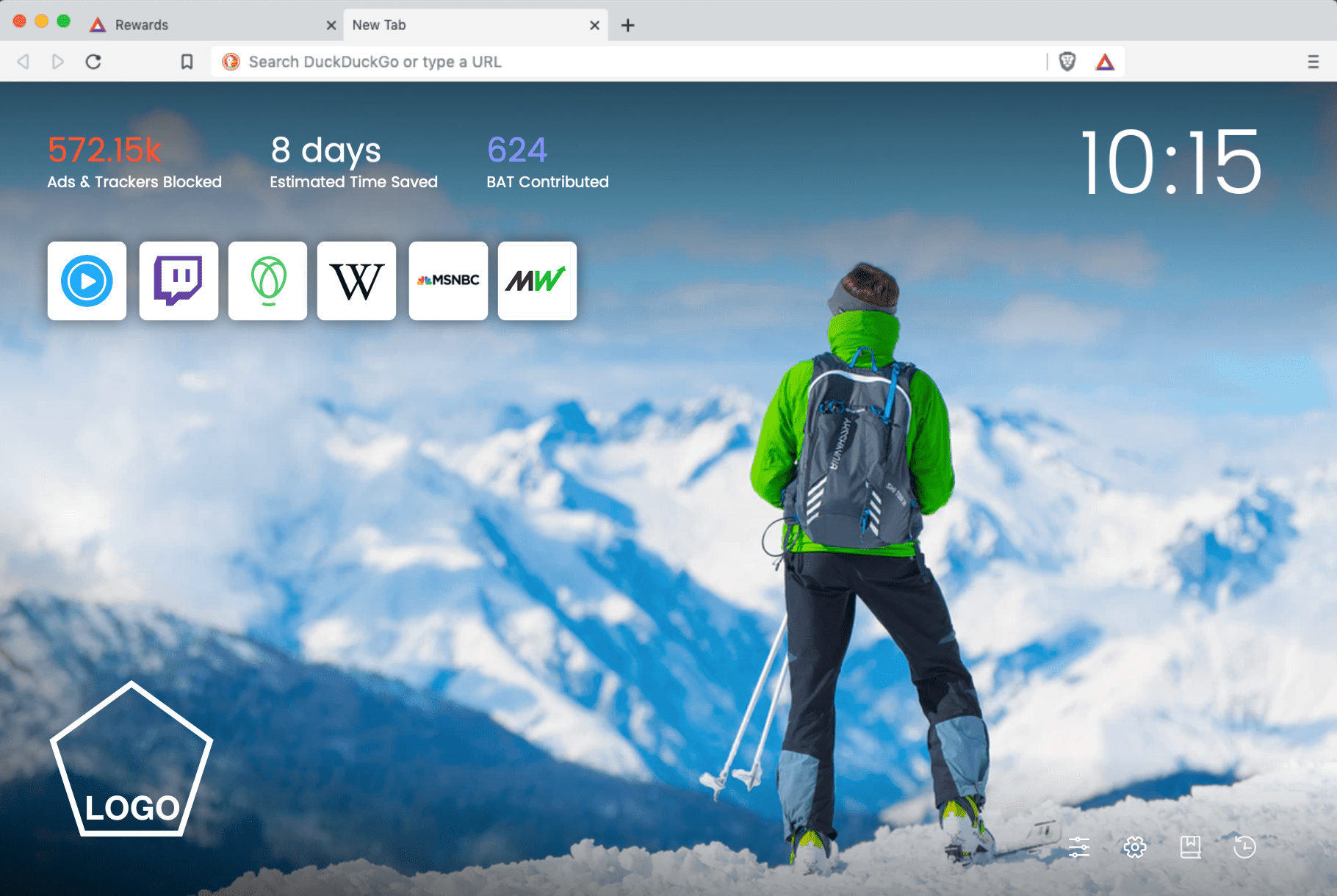 Although the project is still at an early stage, I think Brave has huge growth potential. This is same for Basic Atttention Token (BAT). 
So, what do you think?
Thanks for reading. I hope you've found it helpful.
If you like this content,  tip me please or use one of the addresses below:
*********************************
-- Sign up Cointiply here at http://cointiply.com/r/j38la and claim Bitcoin every hour (Don't forget to use the twitter promo code that is given by @CointiplyFaucet)
-- Get Free Verge (XVG), ByteCoin (BCN), Steem, Tron (TRX), Siacoin, Bean cash, etc. at theCryptoFaucet https://www.thecryptofaucet.com 
-- Sign up for Coinbase and get $10 Free Bitcoin:www.coinbase.com/join
-- Claim your free LiteCoins here at  https://free-litecoin.com/login?referer=265897 
-- Claim various crypto coins here https://allcoins.pw/?ref=190876
Download mobile App and earn LTC here at bitcoinaliens Litecoin  
-- Claim your free LiteCoins here at  free-litecoin.com 
Download this mobile App and earn BCH here at bitcoinaliens BitcoinCash
-- Claim your Free Bitcoincash here at free-bcash.com
For Donations: 
BITCOIN:  1DaiEgPxzzud6giRWzwyiQQ7pNpQ99QrxL
ETHEREUM:  0xfe802d48e012414e4d4cd4cdce34ea8ac08ebf24