Harvest Finance was born on the 31st of August 2020 and I discover it at the start of September after their first ever meme contest. One year later I celebrated the 1st anniversary with a proper Harvest Finance themed cake ... because this humble farmer is grateful! 
Now that September started, its harvest time! Farmers do arts, drawings and rhyme!
Was a year of achievements, one year of being a humble farmer and doing honest work! Now it's celebration time... let's have some cake! You must be quick if you want a slice...
How does my barn look after one year of staking every $FARM reward? I have 40 $FARM and 39.45 of them are staked in the auto compounding pool, adding more $FARM in the barn!
One year ago, my journey started by accident, and a series of (un)fortunate events. I noticed a meme competition on Twitter and made a handful of entries but I wasn't on the list of lucky winners. This meme was not the best I ever made but was good enough to feature in the Harvest Finance article about the meme competition. I felt a bit frustrated about losing a meme competition but the meme to be used and I asked for some explanations. This guy, who in current days is like a DeFi guru for me, sent me 3 FARM as a consolation prize. 
20th October September 2020 - Harvest Finance, Creativity and #BreadForThePeople
This is how my story begins ... someone felt pity for me, a sour loser, and sent me some $FARM. I discovered Harvest Finance as a platform that "automatically farms the highest yield available from the newest DeFi protocols and FARM is a cashflow token for Harvest, one of the largest autonomous hedge funds". This platform was like farming but ... with crypto. 
Last year today, $FARM dropped from a solid $300 to $60 but it didn't matter! For me 3 FARM were 3 FARM and I staked them instantly. I already jumped on the tractor and said my allegiance: "You can say whatever you want, but I am a farmer now!"
5th October 2020 - Harvest Finance Creativity Contest: Heavy Rain with FARM tokens
The first #CreativityContest was announced as a follow-up to the successful meme competition, with a prize pool of $12,000 worth of FARM. Holy Grail? No... Holy $FARM!
I made my memes and I was waiting for the results. Meanwhile, my staked farm was starting to earn more farm, and the harvest brought the firsts gains in DeFi.
6th October 2020 - Harvest Season - Stake your $FARM for more $FARM
This was my first ever article about Harvest Finance, which covered my entry into DeFi and staking. Only 2 days after staking, the pool was made inactive and the brand new and innovative pool was launched. I had to migrate my $FARM and pay again some ETH gas fees.
This new pool didn't require the claiming of rewards and staking them, doing everything automatically. This new feature was called "auto compounding". I moved the $FARM and paid $4.10 for the whole transaction. Those were the good old days when gas fees where not a DeFi killer. In only a week, my FARM stash grew to 3.11 at 153.61 % APY.
I realize quickly that even the life in 2020 has been rough, farming may be the solution! It was a hard year, with financial problems and the "new" coronavirus. I had a lot on my plate but I started to earn some #BreadForThePeople
14th of October - Harvest Finance, Pumpkins and Web Design
Round three of the creativity contest came with a Halloween theme and  the prize pool was bigger, $13,000 worth of FARM tokens. I went with the flow and made some scary entries and I received my treats!
28th October 2020 - Harvest.Finance hacker attack aftermaths and strategy
Everything was running smoothly and Harvest was making a name in the DeFi sector when a hack targeted the stablecoins and Bitcoin pools. The attack stretched the price of the stablecoins in Curve out of proportion while depositing and withdrawing perpetually large amounts of crypto. I was live back then and seen the great effort the Harvest Finance admins put to stop the attack and keep the funds safe.
The plan in the aftermaths of the attack created $GRAIN as a method of payback for affected users and time-lock strategy investments and a commit-and-reveal mechanism for deposits was implemented. The $FARM value dropped again from $300 to $60 but recovered after the new security messures where announced. 
The Creativity Contest was still ongoing and this movie was created. Harvest Finance is co cool ... the rest is history!
11th of November 2020 - Bedtime Story: Three Farmers at the Bonfire!
Publish0x hosted the first writing competition about Harvest Finance and not many knew this until now, but I had a fair amount of influence for this competition to take place. My story was about three humble farmers who meet at the bonfire, and was a horror story. 
I focused on the harvest since ancient times, myths and legends. Humanity learned to accept the gifts of the harvest, and the fields created many kings and queens.
Many events related to farming happened throughout the history, and even some catastrophes. Swarms of locusts razed whole fields, plague and pests destroyed the harvest ... and all may be related to the Horseman. If you hear the hoofs and laughter ... run and hide! Run ... and hide!
.
23rd November 2020 - Harvest Finance, $FARM and the new generation of farmers
What does a man do? A man provides for his family! And the best way to do that is to leave Harvest Finance to do the hard work. I always liked Walter White for his passion ... even if his passion was illegal. The essence of his actions is that a man must provide for his family, no matter the effort.
The man must work even harder, when the family grows bigger and a newborn baby comes to bring more joy, bliss and sleepless nights. And this is how the a new generation of  humble farmers is born. I am not 100% sure but baby Oscar may be the youngest Harvest Finance community memeber.
Maybe Chad is not the baby's godfather IRL but he is the Cryptoverse Godfather of my tiny little farmer. Meanwhile, another #CreativityContest was running, about resiliency during the winter and staying strong? 
17th December 2020 - Festive season and adding DAI on Harvest Finance
The festive season was upon us and I had some spare DAI to use somewhere. I stake it on Harvest Finance and those 61 DAI are still there, due to high gas fees. They farmed a bit of FARM and the auto-compounding added 3 DAI in the pot. The 33.62% APY for stablecoins was superbe. 
I was already receiving Christamas gifts, winning prizes in every #CreativityContest I participated. I gathered 11.26 $FARM in less then 4 months and with 520% APY in the auto compounding pool, more $FARM was still to come.
As a festive activity, I made Harvest Finance decorations and used them to decorate the Christmas Tree. I even had some fun with the naughty elves! 
I won a prize in the December contest but I couldn't stake it for months ! I was supposed to pay 2.1 ETH ($1280) to stake $125 worth of FARM. I kept checking and in a fortunate day I paid only $4.1 for the transaction.
23rd of December - The Power of Pay It Forward! 
I will not brag about this one but the whole thing was heart-warming. I felt as a better person than I am when I was sharing gifts to random children I met while walking dressed as Santa-Chad. Rare sightings of Santa Chad were reported, and he was seen sharing sweets, tractors  and #JoyForTheChildren
The good vibes from Santa Chad made me feel great. I swapped $FARM for pounds to make gift packs for underprivileged children and even done some donations. Guess what? #JoyForTheChildren is coming back this winter!
8th February 2021 - Bring your FARM in the barn! Crop Spotter Guide on how to stake $FARM
This article was part of the #CropSpotter writing competition on Publish0x, and I won one of the prizes. At that point in time I passed a huge milestone, 20 $FARM with zero investments. The whole stash was accumulated from creativity contests and staking.
If you have $FARM and don't know how to stake it ...  I created this lovely video which will teach you all the tricks of the trade! I am not so good with videos so my friend @MoreGainStrategies helped me out with this.
For learners that are better with images I created a good old chart and a break down of the staking process. Before you start, you should make sure you enough ETH to cover the ridiculous transaction fees.
28th February 2021 - iFARM every month!
Harvest Finance worked behind the scene and the first upgrade was the logo rebranding. The Binance Smart Chain enquiries started and I was looking forward for the new BSC fields ready for sowing. I instantly knew that yield farming on BSC will be like having the coolest tractor in the village. 
iFARM was implemented, bringing the collateralizing iFARM option for DeFi, and 50% lower fees. iFARM was the divine gift for humble farmers and the path towards working the fields at higher standards! With my religious memes I won a prize, and staked more $FARM to compound.
25th April 2021 - Chad's new horse - Ploughing on Binance Smart Chain
The spring came and the nature was blooming. Chad's old and faithful horse "Ethereum" was getting older and older so was time for a rejuvenation of the harvest process. Farming on Binance Smart Chain was the theme of this   Publish0x writing competition and I won the 1st place. The post total tips value is $180 now
The Harvest Finance ecosystem expanded on top two chains, with Ethereum and Smart-Chain working side by side is the best way to work the DeFi fields! Polygon was the 3rd chain added, but the options are fewer.
17th June 2021: One month of work on Binance Smart Chain 
The $CAKE, $BUSD and $VXS I staked on BSC generated $1255 in a month. The ETH side of the farm the APY gets lower and lower but I was able to farm 1.5 tokens. It was mid June when I reached 35 $FARM staked in the auto-compounding pool!
June and July: Hot DeFi summer updates
Harvest Finance collaboration with UMA was innovative. Chad discovered the UMA mystery pill and he did what every Chad in the multiverse will to ... take it! 
Humble farmers must deposit iFARM as collateral to mint fCASH. Choosing a safe collateral ratio is important as this will reduce the loses in case the market dips again. Get fCASH and hold it or sell it for USDC but don't forget that paying your debt with fCASH will free the locked iFARM. This is exactely how I feel ... Farmer by day, superUMAn by night!
31st July 2021 - Gold medal for innovations
Harvest Finance was listed to both Binance and Coinbase, surging quickly as new users bought crypto.  After the listing it surged to $329 from $86 and I didn't even care. Maybe $FARM will go to the moon before Elon's projects!
I wrote many other articles and made tons of memes! One of the things that made me happy was a tweet from Farmer Chad that was going above and beyond. The cumulated effort was focused on the launch of V2, an amazing visual shift for the platform. The V2 is now up and running at the moment. 
June was also about the Humble Farmer competition where the community was challenged to write Harvest Finance on a sheet of paper with an interesting background of any part of the world. My entry was a collaboration with my son, up on the bridge above the River Ouse and we won thesilver medal.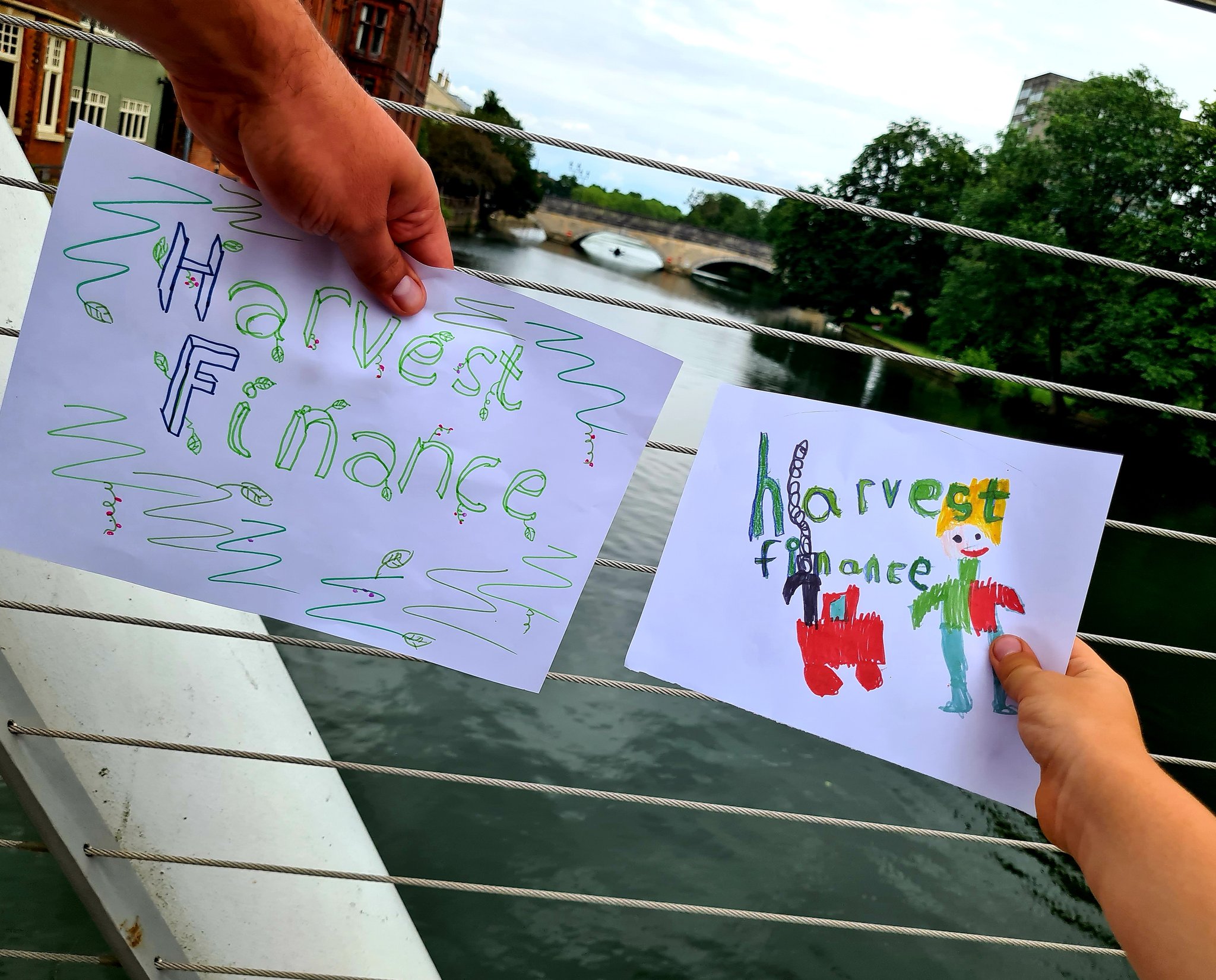 6th September 2021 - AmpliFARM and bFARM
The journey that started on the 31st of August 2020, with Chad driving his tractor, unfolded nicely and created the top DeFi platform. Twelve months later we are talking about one of the biggest TVL in the Cryptoverse, with over 100 active vaults.
Happy Anniversary Harvest Finance  🥳  Thank you for being the top DeFi project in the whole Cryptoverse!
Residual Income:
DeFi bounty at CakeDeFi with $30 DFI for new users
The fountains: PipeFlare ZCash,   GlobalHive ZCash  &  Get.ZEN
Publishing bundle: Publish0x,  ReadCash,  LBRY & Presearch