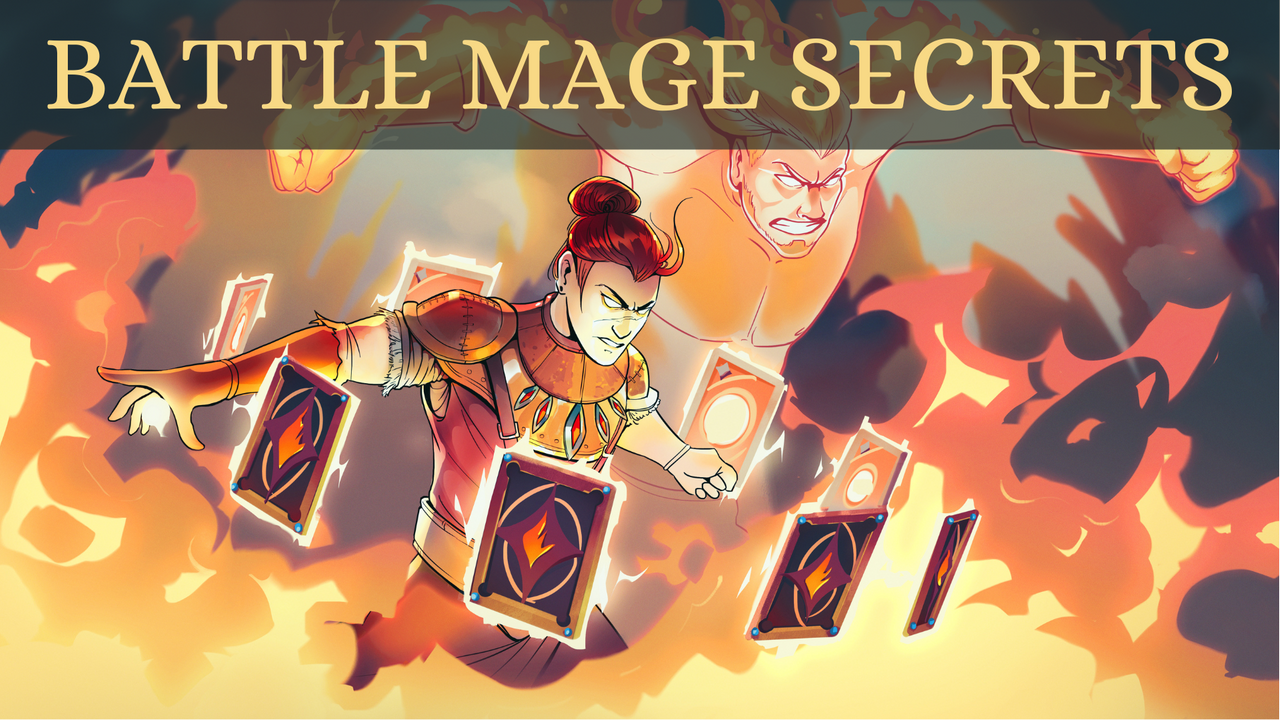 Link to French version --> Cliquez ici pour la Version Française.

Ruleset focus
Reverse speed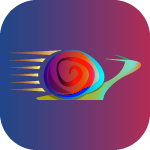 This edition of Battle mage secret features the "Reverse speed" ruleset. What's it all about? First of all, the rule itself:
Monsters with the lowest speed attack first, and are more likely to dodge attacks.
So we'll be choosing creatures with the lowest possible speed. We also need to be careful when choosing a summoner.
This Ruleset can coexist with these other rules:

Fighting rules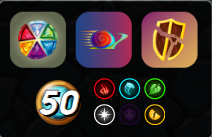 For this fight, in addition to Reverse Speed, the rules Taking sides and Unprotected are present.
Our choice will therefore be creatures with low speed, maximum hit points and little or no armor. In addition, monsters of neutral alignment will not be allowed.
The amount of mana allowed is significant, with 50 points at our disposal, and there's also a wide choice of possible colors.
Only death is unavailable (purple).
Now it's time to create our crack team.
Team selection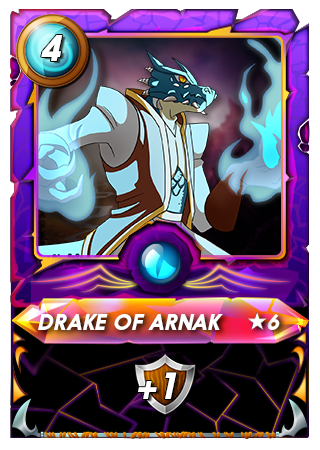 Sumonner, Drake of Arnak
A summoner often sulked over, as it's not as strong as most of its counterparts and not as good as Kelya. The Drake of Arnak is a more appropriate choice here than Quix, which would have lowered the speed of the opposing team and thus handicapped us.
The bonus armor point is useless here, but it doesn't matter, because it has a secret advantage. In French his name sounds like the scam drake and it's really beautiful. 🤣
It's worth noting, however, that this choice is dictated by my rental deck and that other choices here would have been far more judicious.
---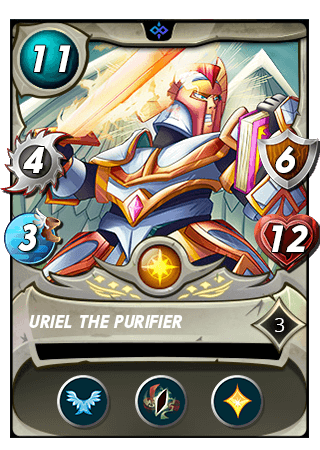 Tank, Uriel the purifier
Once again, Uriel may seem a questionable choice here, but with Iziar in last place taking the majority of hits, even without armor, he remains a very respectable tank choice.
His healing and flying ability give him a rock-solid durability.
His speed of 3 does bother me a little, but I haven't found a better alternative.
---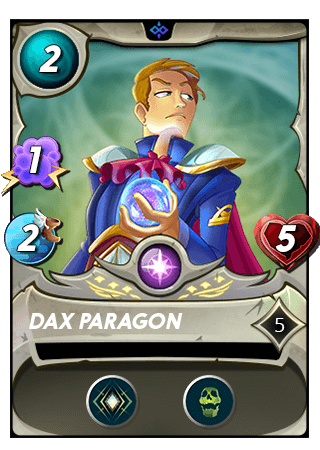 Second position, Dax paragon
The economical and realistic choice. Dax is cheap, tough and slow.
What interests us here, of course, is his Affliction skill, which will prevent the opposing tank from healing.
So he's an excellent choice for this battle.
---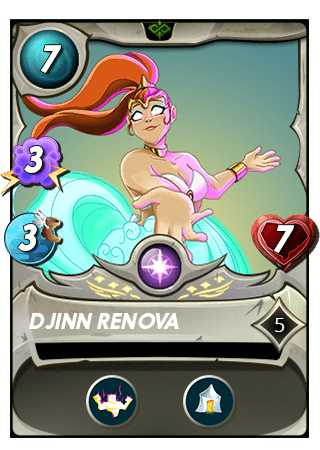 3e position, Djinn Renova
The cornerstone of our training, Djinn Renova acts as a damage dealer, healer for Iziar and booster of life points for the whole team.
His attack speed of three is no problem, thanks to these magical attacks that will hit without being subject to the vagaries of physical combat.
---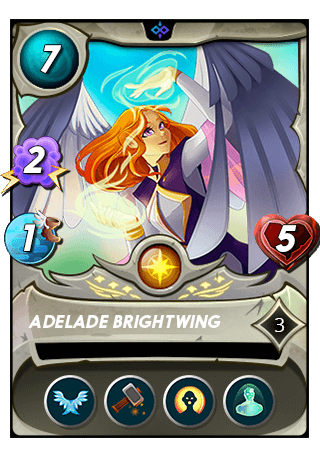 4e position, Adelade Brighwing
I can see where you're coming from, you're going to say, but Phanty, you're taking a card with the Repair skill when there's no armor possible in this fight!
And you're right, but his snail's pace, magic attack, flight and, above all, his resurrection ability will provide the team with choice support here, even if we don't exploit it to the full.
---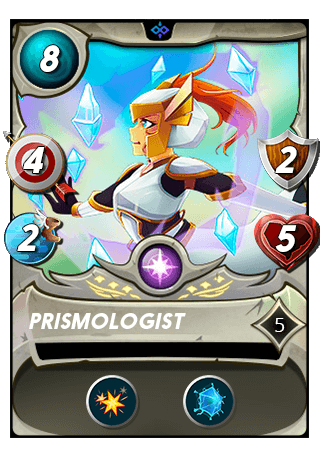 5e position, Prismologist
The Prismologist has long been one of my favorite cards in white.
The reason is simple, he's a huge brute, yet in a classic fight, his slowness often makes him a machine to miss, but here with his poor speed of two, it'll be just the opposite!
What's more, his Forcefield skill is a huge asset against Sandworms, which are used extensively with the Reverse speed ruleset.
---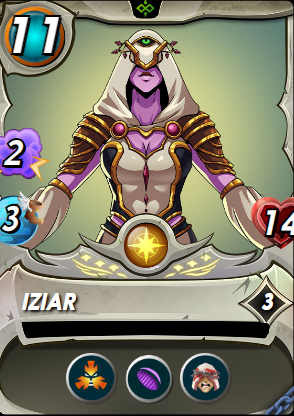 6e position, Iziar
Finally, here's our real tank for this battaile.
I think Iziar is a very appropriate choice, as I'm expecting a lot of magic damage from my opponent. She can count on Renova to keep her alive as long as possible.
Her high hit points and lack of armor make her an almost natural choice for this fight.
For my part, I play her at level two, but it's notable that at level three, her Martyr ability coupled with Adelade's resurrection would have inflated the Prismologist's attack.
However, it would also have increased her speed, which is the opposite of what we want here.
Cependant, cela aurait aussi monté sa vitesse, ce qui est l'inverse de ce que l'on souhaite ici.

Battle
Click here to be transported into the arena: link to the fight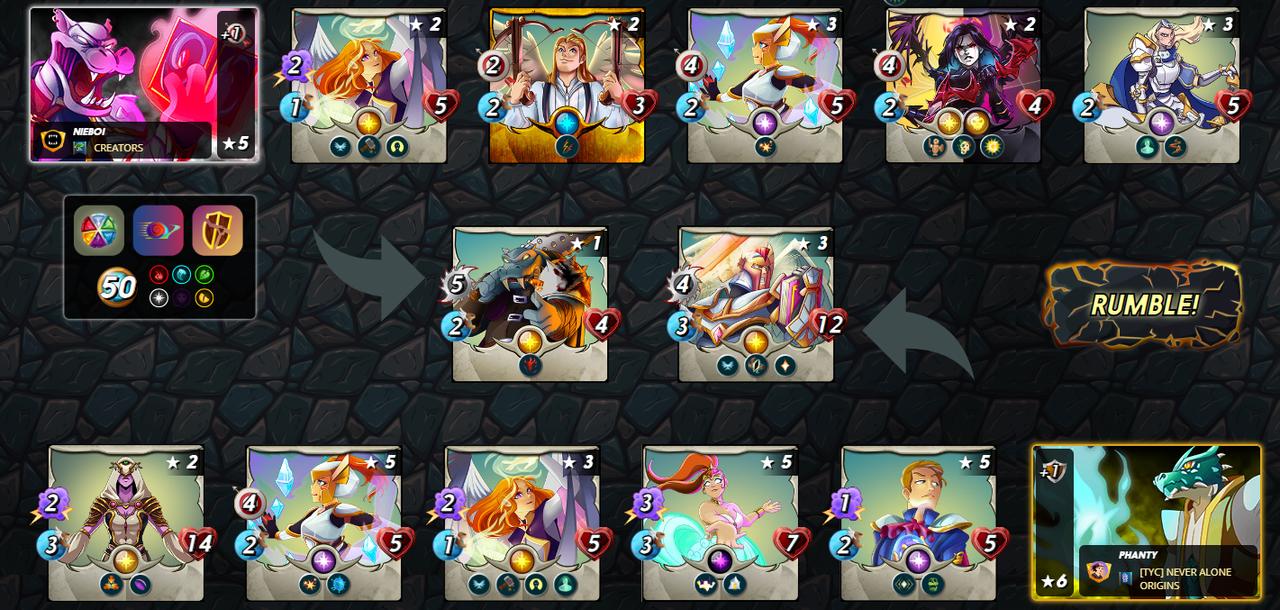 Well 🤣🤣🤣
Nothing has gone according to plan.
First of all, I just realized that I would have been better off choosing the same summoner of my opponent in order to strengthen my Prismologist.
What saves us here is not Iziar's resistance, which was supposed to tank my opponent's magic attacks. Rather, it's my opponent's choice to rely too heavily on ranged attacks.
As a result, by the end of the first round, we're already in a situation where some of these troops are no longer attacking.
Uriel's magic attacks and healing do their job, and we leave the arena dragging behind us the charred corpse of our over-ambitious opponent.
Final Words
Don't hesitate to send me your comments and suggestions so that I can improve this series of articles.
Would you like to join the Splinterland adventure and make your opponents bite the dust in the arena?
Just click on the link below and start earning money and NFTs with every victory!
https://splinterlands.com?ref=phanty
Phanty.


Focus sur le ruleset
Reverse speed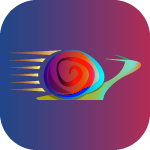 Pour cette édition de Battle mage secret, c'est le ruleset "Reverse speed qui est mis à l'honneur. Alors de quoi parle-t-on, d'abord la règle en elle-même :
Les monstres dont la vitesse est la plus faible attaquent en premier et ont plus de chances d'esquiver les attaques.
Nos choix vont donc se porter vers des créatures avec le moins de vitesse possible. Il faut aussi faire attention à notre choix d'invocateur.
Ce ruleset peut-être trouvé en même temps que ces autres règles :

Les régles du combat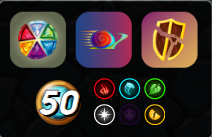 Pour ce combat, en plus de Reverse Speed, les règles Taking sides et Unprotected sont présentes.
Notre choix se portera donc vers des créatures avec peu de vitesse, un maximum de point de vie et peu ou pas d'armure. De plus, l'accès au monstres d'alignement neutre sera interdit.
Le montant de mana autorisé est important avec 50 points à notre disposition et il y a également un grand choix de couleurs possibles.
Seul la mort n'est pas disponible (violet)
C'est parti pour la création de notre équipe de choc.
Selection de l'équipe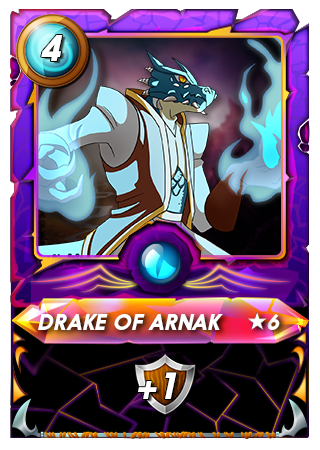 Invocateur, Drake of Arnak
Invocateur souvent bouder, car moins fort que la plupart de ces comparse et également moins bon que Kelya. Le Drake of Arnak est ici un choix plus pertinent que Quix qui aurait baissé la vitesse de l'équipe adverse et donc nous aurait handicapé.
Le point d'armure bonus est ici inutile, mais peu importe parce qu'il possède un avantage secret. En français son nom sonne comme le dragon de l'arnaque et c'est vraiment beau. 🤣
Il est cependant notable que ce choix est dicté par mon deck de location et que d'autre choix aurait ici était bien plus judicieux.
---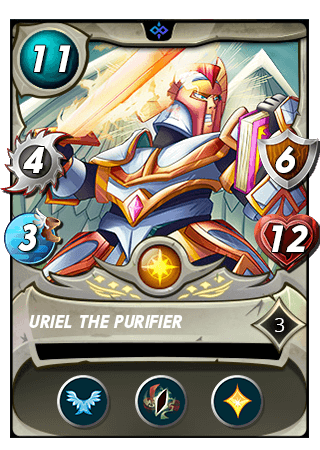 Le tank, Uriel the purifier
Encore une fois, Uriel peu semblé un choix discutable ici, cependant avec Iziar en dernière position qui prendra la majorité des coups, même sans armure, il reste un choix de tank très respectable.
Son soin et sa capacité de vol lui donnant une durabilité à toute épreuve.
Sa vitesse de 3 me gêne un peu mais je n'ai pas trouvé de meilleurs alternative.
---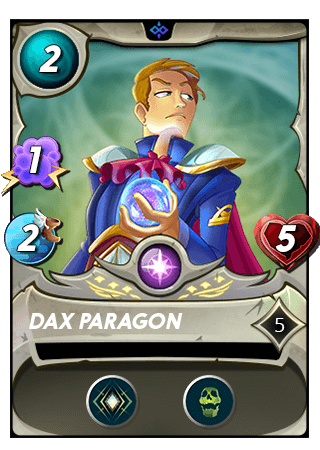 Seconde position, Dax paragon
Le choix de l'économie et du réaliste. Dax est peu couteux, résistant et lent.
Ici ce qui nous intéresse, c'est bien sûr sa compétence Affliction qui empêchera tout soin du tank adverse.
C'est donc un excellent choix pour cette bataille.
---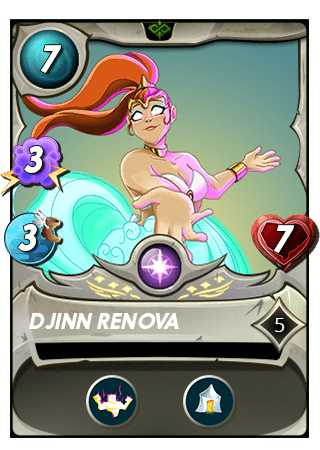 Troisème position, Djinn Renova
Véritable pierre angulaire de notre formation, Djinn Renova fera à la fois office de damage dealer, de soigneur pour Iziar et renforcera les point de vie de toute l'équipe.
Sa vitesse d'attaque de trois n'est pas un problème grâce à ces attaques magiques qui toucheront sans être soumis au aléa du combat physique.
---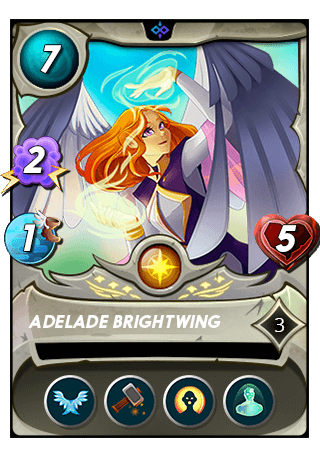 Quatrième position, Adelade Brighwing
Je vous vois venir, vous allez me dire, mais Phanty, tu prends une carte avec la compétence Repair alors qu'il n'y a pas d'armure possible dans ce combat !
Et vous avez raison, cependant sa vitesse d'escargot , son attaque magique, le vol et surtout sa capacité de résurrection permettront à l'équipe de bénéficier ici d'un soutien de choix même si nous ne l'exploitons pas à fond.
---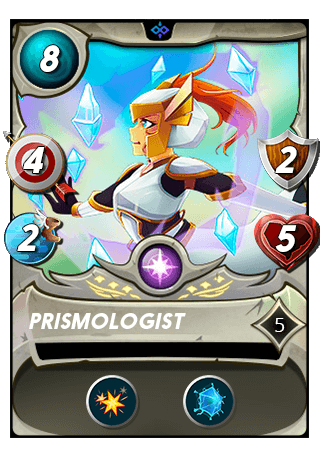 Cinquième position, Prismologist
Le Prismologist est depuis longtemps une de mes cartes favorites en blanc.
La raison en est simple, c'est une énorme brute, néanmoins dans un combat classique, sa lenteur en fait bien souvent une machine à louper, mais ici avec sa pauvre vitesse de deux, ce sera tout le contraire !
De plus, sa compétence Forcefield est un énorme atout contre les Sandworm qui sont très utilisés avec le ruleset Reverse speed.
---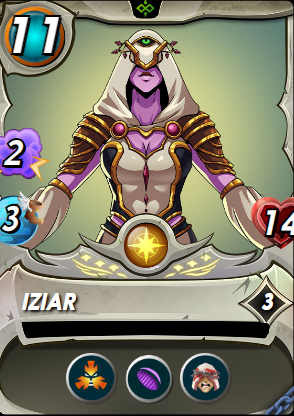 Dernière position, Iziar
Pour finir, voici notre véritable tank pour cette battaile.
Iziar est à mon sens un choix très pertinent, car je m'attends à beaucoup de dégât magique de la part de mon adversaire. Elle pourra compter sur Renova pour la garder en vie aussi longtemps que possible.
Son nombre élevé de points de vie et l'absence d'armure en font un choix presque naturel pour ce combat.
Pour ma part, je la joue au niveau deux, mais il est notable qu'au niveau trois, sa capacité Martyr doublé de la résurrection de Adelade aurait gonflé l'attaque de la Prismologist.
Cependant, cela aurait aussi monté sa vitesse, ce qui est l'inverse de ce que l'on souhaite ici.

La baston
Cliquez ici pour être transporter dans l'arène : lien de la bagarre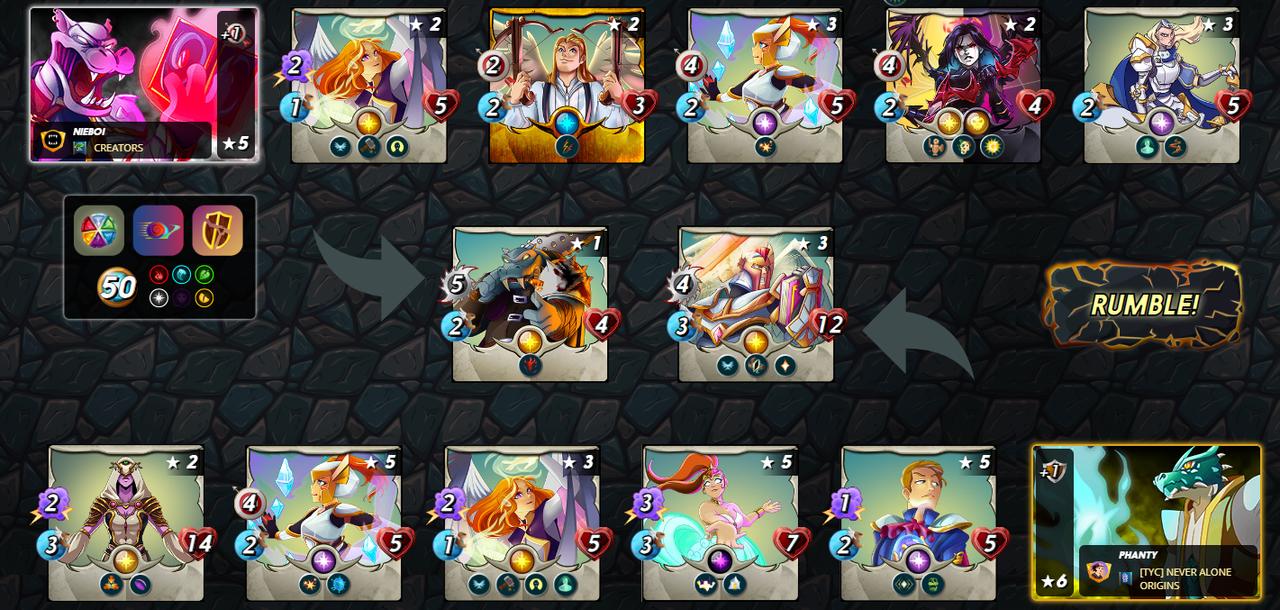 Bon 🤣🤣🤣
Rien ne s'est passé comme prévu.
Tout d'abord, je viens de prendre conscience que j'aurais mieux fait de choisir le même invocateur de mon adversaire afin de renforcer mon Prismologist.
Ce qui nous sauve ici, ce n'est pas la résistance de Iziar qui était sensé tank les attaques magiques de mon adversaire. Mais belle et bien le choix de mon adversaire qui a beaucoup trop misé sur les attaques à distance.
De ce fait, à la fin du premier round, nous sommes déjà dans une situation où une partie de ces troupes n'attaque plus.
Les attaques magiques et le soin de Uriel font alors leur travail et nous sortons de l'arène en trainant derrière nous le cadavre calciné de notre trop ambitieux adversaire.
Le mot de la fin
N'hésitez pas à me faire part de vos commentaires et suggestions afin que je puisse améliorer cette série d'articles.
Vous souhaitez rejoindre l'aventure Splinterland et faire mordre la poussière à vos adversaires dans l'arène ?
Cliquez sur le lien ci-dessous et commencez à gagner de l'argent et des NFT à chaque victoire !
https://splinterlands.com?ref=phanty
Phanty.