I recently accessed my Steemit blog using Brave Browser and noticed that the verified author symbol appeared 

, this is something that caught my attention since it was very recent since my attention since I had not noticed.
Clicking this icon 

 next unfolded the window: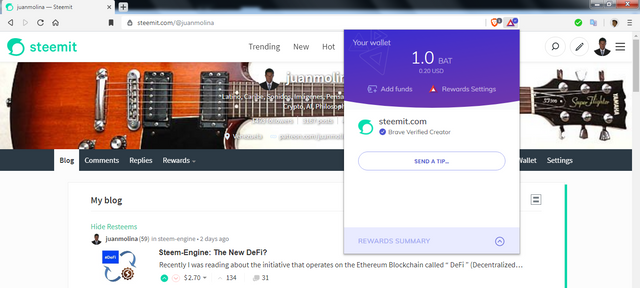 Indeed Steemit.com is verified as a Brave creator.


This will allow you to tip BAT tokens to Steemit.com.
This ecosystem allows content creators to be rewarded through of "tips" given in BAT tokens.
But beyond this fact, what I consider important is that Steemit trusts and supports Brave's initiative.
---
Would it be possible to create an alliance between STEEM and BRAVE?
---

With the use of Steem-Engine a new SMT token could be developed that would allow users to exchange Between STEEM and BAT for free. It would be very practical to be able to convert the Steem that I win in BAT and vice versa.
In my case I would like to convert my Steem earned in BAT, so I can use it in my browser and support the other content creators.
In the same way if I had a large amount of BAT in my browser or Uphold wallet, I would love to be able to convert it into Steem or Steem Power.
---
Join BRAVE technology TODAY.
Support content creators and earn BAT tokens.
---