Welcome to the Daily Crypto News: A complete News Review, Coin Calendar and Analysis.
Enjoy!
An early rally Monday almost pushed bitcoin over $11,000; the ether options market expects volatility in the short term.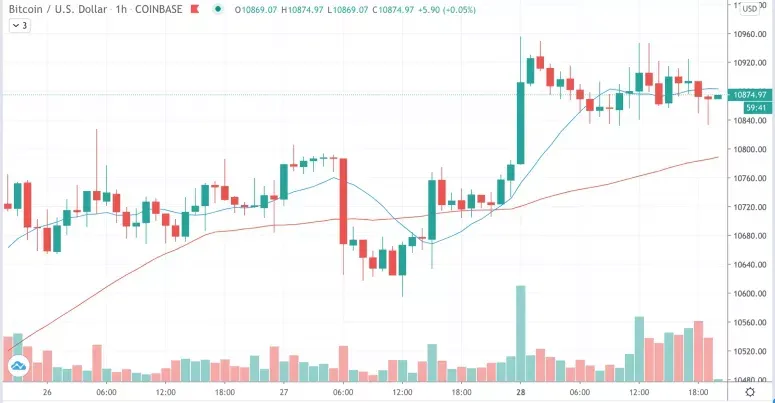 "In a sign of strength, bitcoin price has held above $10,000 for 63 days now," said David Lifchitz, chief investment officer for quant trading firm ExoAlpha. "This is the longest time since December 2017 to January 2018."
"Also, we witnessed KuCoin getting hacked for $150 million this weekend but despite some chop on Saturday as news broke, bitcoin was broadly stable."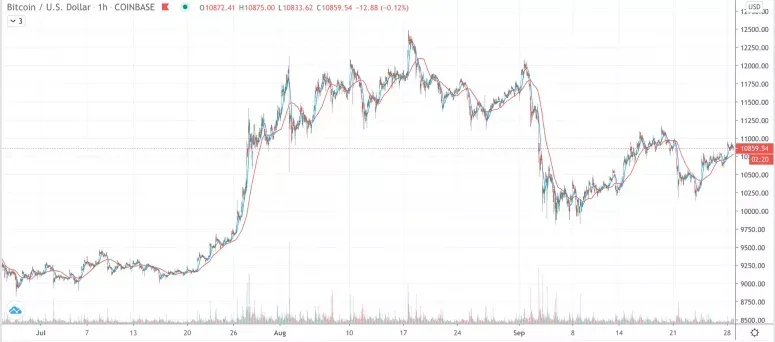 In the derivatives market, Leow points to the lack of overall activity there as a signal many investors are simply waiting out the market. Open interest in bitcoin futures, in particular, remains flat Monday.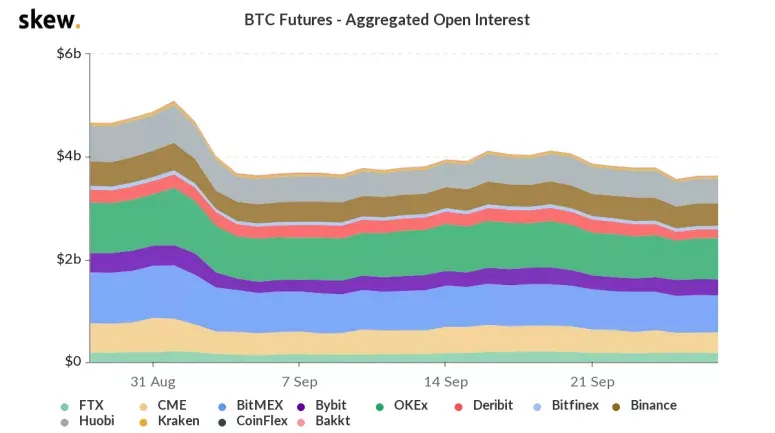 Ether options signal short-term volatility
Volatility skew is a measure options traders monitor for placing bets at various expirations. The 1-month 25-day volatility skew for ether has been in positive territory for most of September after closely following the 3-month and 6-month for the better part of the past three months, which suggest volatility in the near future.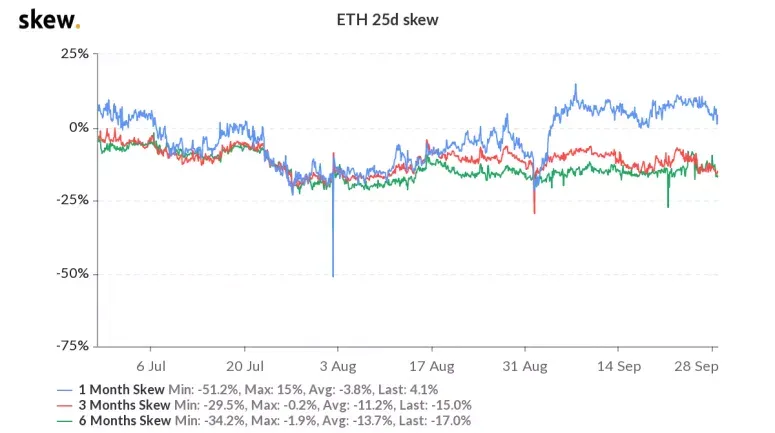 256 Capital Partner's Leow says DeFi has contributed to increasing short-term volatility in ether. "ETH has seen much more reflexive movement in September versus bitcoin, no doubt a result of being the base currency for many DeFi pairs which have had a volatile September," she said.
Vishal Shah, an options trader and founder of derivatives exchange Alpha5, says this indicator signals options traders would have different strategies depending on expiration since short-term ether volatility is expected to continue. "This creates a distinct opportunity on calendar risk reversal spreads, and a part of this trade would naturally involve rich ETH puts in the short-term dates versus cheap ones in the long-term dates."
The decentralized finance (DeFi) community's insatiable appetite for unaudited code has once again ended in tears and the loss of millions.
Eminence, an unfinished "economy for a gaming multiverse" being built by Yearn Finance's Andre 'I test in production' Cronje, was discovered by DeFi sleuths after the developer posted art teasers for the project to Twitter. He then headed to bed on September 28.
Excitement for the upcoming project quickly reached a fever pitch, with the community FOMOing roughly $15 million into the EMN protocol. However, the protocol was quickly exploited and drained … before the hacker bizarrely opted to transfer $8 million of the funds back to Cronje's yearn deployer account by the time the developer had woken up: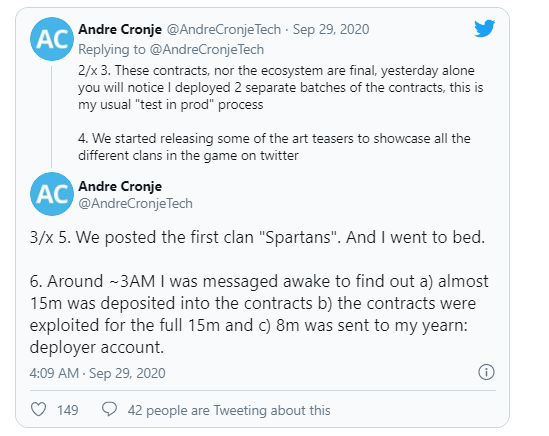 Noting that he has received "a fair amount of threats" Cronje announced that the Yearn treasury will assist in refunding users back the $8 million he received from the hacker according to a snapshot of EMN balances prior to the hack.
A new stimulus package costing about $2.4 trillion is being prepared in the U.S. that includes a second round of stimulus checks for Americans. Since the first coronavirus stimulus package was signed into law, talks of further relief aid have stalled. This new proposal aims to restart the stimulus package discussion.
Nancy Pelosi Plans to Introduce a $2.4 Trillion Stimulus Package
House Democrats are reportedly putting together a new coronavirus stimulus plan that would cost about $2.4 trillion, which is roughly $1 trillion less than their previous proposal. CNBC described on Saturday:
The bill would include enhanced unemployment insurance, direct payments to Americans, Paycheck Protection Program small-business loan funding and aid to airlines, among other provisions.
Treasury Secretary Steven Mnuchin said he and Pelosi have agreed to restart stimulus discussions. "I've probably spoken to Speaker Pelosi 15 or 20 times in the last few days on the coronavirus relief and we've agreed to continue to have discussions about the CARES Act," Mnuchin reportedly said in a Senate Banking Committee meeting Thursday. Moreover, a bipartisan group of 50 lawmakers released a stimulus package framework last week calling for $1.5 trillion in relief.
European crypto brokerage Bitpanda, based in Vienna and founded in 2014, is announcing the completion of a $52 million Series A led by PayPal legend Peter Thiel's Valar Ventures. This fundraising round, plus a seed round in 2016 and an initial exchange offering in 2019, means the 240-employee company raised roughly $100 million to date, according to the team.
Bitpanda co-CEOs Eric Demuth and Paul Klanschek said this raise, which included additional funds from SeedInvest, will help scale the company to 300 employees, and a variety of new products, in Q4 2020.
According to CoinGecko, Bitpanda Pro facilitates roughly $2 million in daily volume. Klanscheck said the platform also offers precious metal trading, in addition to other crypto options, totaling "over a $1 billion in volume in 2019."
These co-founders said France, Spain and Turkey were among the fastest-growing crypto markets out of the roughly 34 countries the platform serves.
The recent buzz around decentralized finance (DeFi) has been a boon for Bitpanda. "We just launched a DeFi market on our broker and it went through the roof," Demuth said. "People are really crazy about buying DeFi coins."
A ground-breaking report on the crypto industry has uncovered evidence that suggests firms that hang on for the long haul are more likely to turn a profit.
These were the findings of a report by the Cambridge Centre for Alternative Finance, authored by Blandin et al, which surveyed some 500 crypto enterprises worldwide.
The paper's authors remarked that the discovery was "unsurprising," but expounded,
"The older the company, the more likely it is to be profitable. 80% of firms aged seven years old or older report having earned profits in 2019, compared to 60% for the three-four years-old age group and 64% for firms that are five-six years old."
In fact, there was plenty of positivity in the report, which concluded that the "majority of the surveyed entities that have been active since 2017" stated that they had posted "operating revenues over the past three years" – rather than ending up in the red.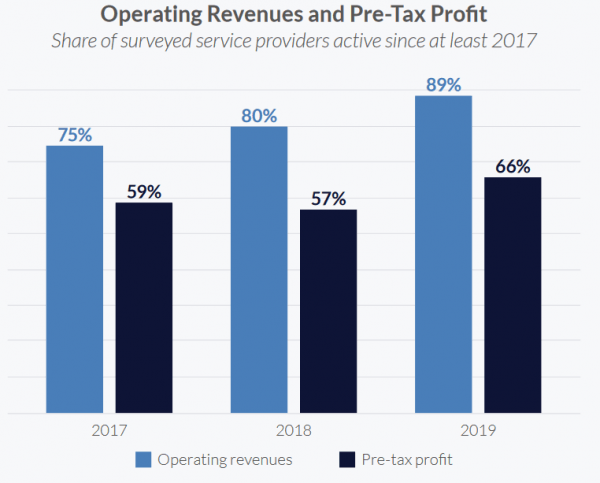 🗞 Daily Crypto Calendar, September, 29th💰

"FirmaChain Mainnet Countdown... Released on September 29th!"
Blocksurvey and Pravica Update.
YFMS launches staking vaults.
"This month the community will get a sneak peak into #Meridian2020 and vote on which ecosystem sessions to include in the agenda."
"And now, after all the hard work, we are so excited to announce that Ucam is launching on Amazon this Tuesday, September 29th!"
Planning to build a tool or product for STX Mining? Join this workshop with Xan Ditkoff and Gavin Gao for an overview of how Mining works...
Last Updates


➡️ Be paid daily to browse with Brave Internet Browser
➡️ A secure and easy wallet to use: Atomic Wallet
➡️ Youtube
➡️ Twitter
➡️ Hive
➡️ Publish0x
➡️ UpTrennd
➡️ Read.cash
➡️ LBRY
➡️ Check out my video on Unstoppable Domains and get 10$ off a 40$ domain purchase
➡️ Get 50$ free by ordering a free Visa Card on Crypto.com using this link or using this code qs4ha45pvh