Welcome to the Daily Crypto News: A complete News Review, Coin Calendar and Analysis. Enjoy!
On the weekend I decided not to make my Daily Crypto News Video but I will upload a video later on about a cool project ! Stay tuned 😃
Here is yesterday's
Buying volume is pushing bitcoin higher. Meanwhile, DeFi investors continue to seek places to park crypto for steady yield.
Bitcoin (BTC) is trading around $10,730 as of 20:30 UTC (4:30 p.m. EDT).Gaining 0.50% over the previous 24 hours.
Bitcoin's 24-hour range: $10,550-$10,795
BTC above its 10-day and 50-day moving averages, a bullish signal for market technicians.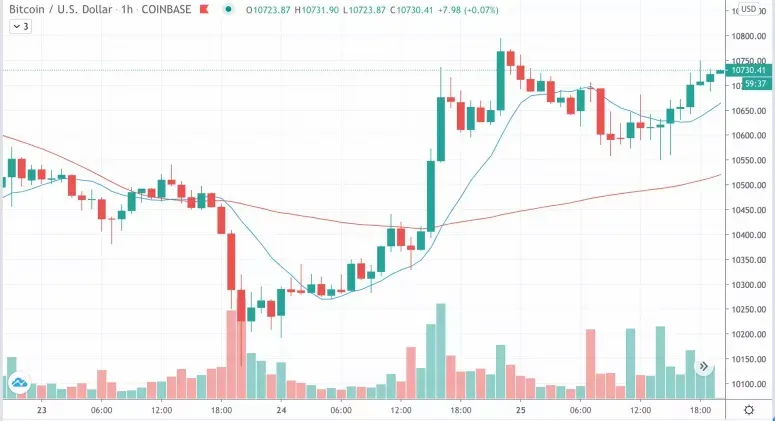 "I think we've seen that test of $10,000 hold which keeps me a level-headed bull," he said.
The last time bitcoin dipped below $10,000 was Sept. 9.
"Below $10,000 makes me worried about a pullback to $9,000," Van Huis added.
Another indicator of expected calm is bitcoin swaps funding, which remains in negative or near zero territory – a signal derivatives traders are still hesitant to place bullish bets.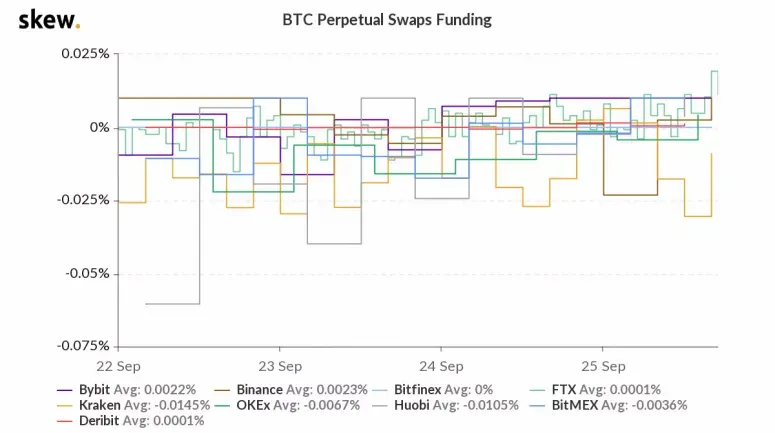 Investors hunting for yield plow into dForce
DeFi project dForce, a decentralized exchange, has seen its total value locked (TVL) almost double over the past 24 hours, from $58 million Thursday to over $108 million as of press time.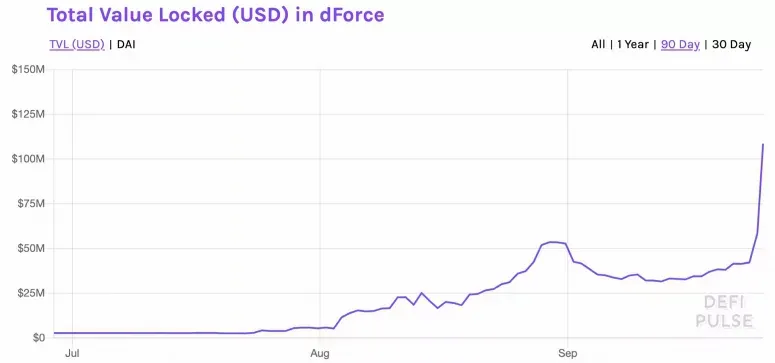 Jean-Marc Bonnefous, managing partner of Tellurian Capital, which invests in the DeFi ecosystem, says some investors should be wary of trendy projects cropping up in the ecosystem.
"There's a great pace of innovation, but in some cases, project releases are not even a minimum viable product," he said. "So the chances for breaking are pretty high which implies a huge risk premium and high volatility for the tokens as we have seen over the last few weeks."
Before we get into this week's column, an announcement, one I'm super excited about.
Today, we're simultaneously launching a new podcast under the same name as this newsletter: CoinDesk's Money Reimagined. Like the newsletter, it's a conversation around the technological, political and social forces reshaping our financial system. For each show, I'll be joined by the tremendous Sheila Warren, blockchain lead at the World Economic Forum, as we sit down with insightful guests from around the world.
Supported by rapid growth in the decentralized finance (DeFi) field this year, stablecoins are now seen by industry players as being the most significant area of development for the crypto industry, a new report on cryptoassets from the Cambridge Centre for Alternative Finance has found.
According to the report, titled the 3rd Global Cryptoasset Benchmarking Study, stablecoins are seen by service providers as important in Asia-Pacific, Europe, Middle East & Africa, North America, and Latin America & the Caribbean.
Meanwhile, decentralized finance more broadly was stated as the second or third most important area for future development in most regions, the same survey of cryptoasset service providers found.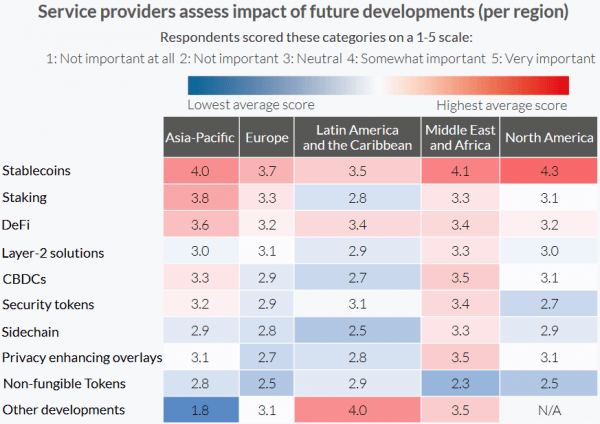 BASED has a new method for aligning decentralized finance (DeFi) projects with each other. At its core is a smart contract called Moonbase, CoinDesk has learned.
Based.Money is a project of the Ghouls, a loose consortium of crypto developers, artists, designers and meme makers. Friday night, the outfit will release its newest project since BASED, the rebasing game dropped this summer during the boom of Weird DeFi.
Based.Money is a game that riffs on Ampleforth's rebasing mechanic, where it makes a daily readjustment in the supply of BASED tokens, adjusting the amount in everyone's wallet. It's a game of optimizing for the right time to get in and get out.
Soon there will be another network that allows people to tokenize BTC in order to leverage the underlying blockchain's speed and fees. On September 24, Bitgo, the custodian of the Wrapped Bitcoin project (WBTC), the most popular tokenized BTC platform to-date, announced a partnership with Tron.
Members of the crypto ecosystem will soon be able to leverage WBTC via the Tron (TRX) network. Just like the tokenized BTC created using Ethereum's ERC20 token standard, the Wrapped Bitcoin (WBTC) team will utilize the TRC20 token standard from Tron's infrastructure. Similarly, all the BTC deposited is backed by the Bitgo Trust, and each WBTC minted on Tron will be worth the same price as one BTC.
"We are excited to expand Tron's defi potential by partnering with the industry leader Bitgo to bring integral cross-chain solutions such as ​Wrapped Bitcoin (WBTC) and Wrapped Ether​ to Tron," said Justin Sun, founder of the Tron project and CEO of Bittorrent.
🗞 Daily Crypto Calendar, September, 26th💰
"We are pleased to announce that SkyCoin (SKY) will be listed on 26th Sept 2020."
"#ExMarkets introduces the AMA session with Skycoin The session is scheduled for Saturday, 26/09 @ 13:00 GMT, by Synth, lead project..."
"We are pleased to announce that Sushi (SUSHI) @SushiSwap will be listed on 26th Sept 2020."
"And on that: the first SRM buy/burn will happen next week!"
"Ig announcement coming next week!"
"A further 10,000 DYNMT Tokens will be burnt in line with our token burning plan."
"Join us for the BorderHacks Blockchain Workshop on September 26, 2020 from 1:30pm ET onwards."
Last Updates
➡️ Be paid daily to browse with Brave Internet Browser
➡️ A secure and easy wallet to use: Atomic Wallet
➡️ Youtube
➡️ Twitter
➡️ Medium
➡️ Hive
➡️ Publish0x
➡️ UpTrennd
➡️ Read.cash
➡️ LBRY