Welcome to the Daily Crypto News: A complete News Review, Coin Calendar and Analysis. Enjoy!
Bitcoin (BTC) is often criticized for being over volatile, but it's been a sea of calm compared with Tesla stock in recent months.
Tesla (TSLA) has been seeing bigger daily percentage moves since the end of June, according to 30-day realized volatility data.
Further, the volatility gulf between the two assets has been widening in recent weeks.
Bitcoin witnessed a below-1.25% daily move in 14 out of the last 27 days, according to data from TradingView – almost 52% of the time.
However, Tesla only achieved sub-1.25% moves 6% of the time over the same period, data source Skew tweeted early Monday.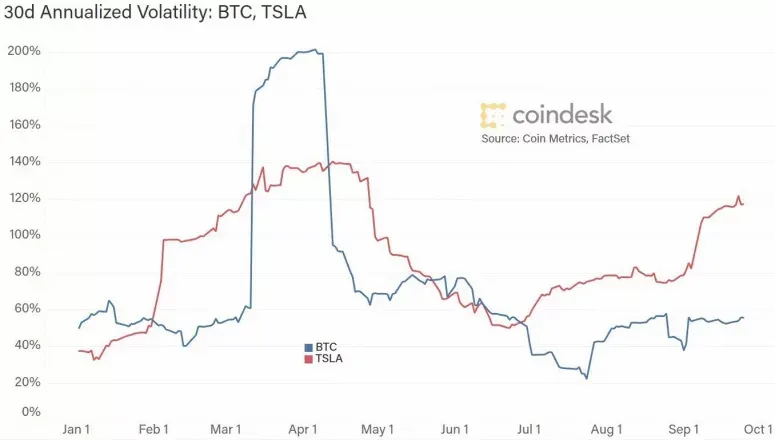 "People always assume bitcoin is incredibly volatile, but it's not more volatile than many popular tech stocks," Skew co-founder and CEO Emmanuel Goh told CoinDesk.
Looking at the price charts, both bitcoin and Tesla have witnessed two-way business this month and formed contracting triangles (narrowing price ranges), as shown below.
However, Tesla has seen a month-to-date price decline of 18% – far worse than bitcoin's 6% drop.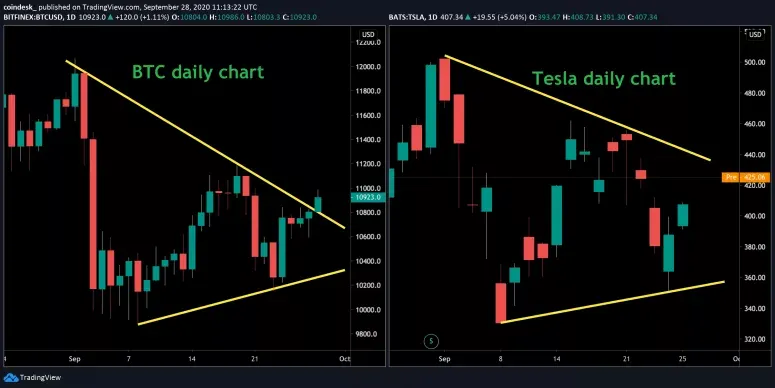 Below is a tutorial / walk-through I made on Unstoppable Domains.
This service allows you to:
Secure a .crypto or .zil domain for 20-40$
This domain is censorship resistant using IPFS + Blockchain
You can link your wallet/adresses to this domain in order to receive cryptocurrencies: Try it by sending Ethereum/BTC/ZIL/BAT to cryptolemon.crypto if you want 😄
You can buy and sell domains easily (remember the.com domain bubble?)
This is helping mainstream to get into Cryptocurrencies and is protecting us against Censorship
➡️Get 10$ off your Unstoppable Domains 40$ purchase: https://unstoppabledomains.com/r/05939fe1637e4fc
➡️ Get 50$ free by ordering a free Visa Card on Crypto.com and using this link: https://referral.crypto.com/signup?_branch_match_id=734714753472187866 or using this code: qs4ha45pvh
Uniswap is now bigger than the entire decentralized finance space just two months ago, as the trading protocol becomes the first to pass the $2 billion milestone.
Uniswap clocked the record figure just after midnight (UTC) Monday and currently has $2.06 billion worth of crypto assets locked in, according to crypto rankings website DeFi Pulse.
Testament to its neck-breaking growth, there's now more value just in Uniswap than there was in the entire DeFi space on July 9.
As of press time, there's now more than $11 billion in total value locked (TVL) in DeFi, with Uniswap making up approximately 18% of that.
Based on Ethereum, Uniswap utilizes an automated market-making system leveraging liquidity pools so users can exchange or "swap" between ether (ETH) and any ERC-20 token.
Holders are incentivized to deposit tokens in these liquidity pools with interest and a cut of the swap fee – the total balance in these pools together make up Uniswap's $2 billion TVL.
Following news of a security breach resulting in the loss of more than $200 million worth of tokens on KuCoin, many projects quickly reacted to prevent users' holdings from being moved off to other exchanges.
Speaking to Cointelegraph, KuCoin Global CEO Johnny Lyu said at least $129 million of the tokens affected in the breach and the Bitcoin (BTC), Ether (ETH), and ERC20 hot wallets impacted were "safe" or in a position to be recovered. Though reports initially stated hackers got away with $150 million in tokens, new estimates put the total closer to $200 million.
Hackers stole a number of ERC20 tokens as part of the theft, but many projects were quick to react to the breach.
Members of the Ocean Protocol team have reportedly frozen more than 21 million OCEAN utility tokens, roughly worth $7.8 million at the time of writing. The project has since announced that it is initiating a hard fork of its contract to "reverse the ill-effects of the hack for anyone choosing to adopt the new version of the contract."
An unsurprising statement from a financial regulator is sending some welcome signals that point to a spurt of innovation ahead.
The U.S. Office of the Comptroller of the Currency (OCC) issued a statement earlier this week saying that national banks can provide services to stablecoin issuers in the U.S.
This is not a surprise, as banks have been doing so for some time. But they have been doing so under a cloud of regulatory uncertainty. The statement gives the first sign of official clarity on the idea that stablecoins are legitimate representations of value.
🗞 Daily Crypto Calendar, September, 28th💰
"... Allows us to bring forward our plans from staking implementation in Q4 to within 8 weeks from now or sooner!"
Reward reduction from 2 to 1 LSK at block 13451520.
Bitcoin Cash (BCH), General Event (CRYPTO), Lisk (LSK), XRP (XRP)
TeamZ Blockchain Summit in Tokyo.
Team updates at 3:30 PM UTC/ 11:30 AM EDT: Engineering, Node network, Product/UX, Helpdesk, Legal, BD, Marketing, CEO Closing thoughts, AMA.
"Q3 2020 burnback Monday, September 28"
"The September Town Hall is coming up! Here's what's on the agenda..."
Last Updates
➡️ Be paid daily to browse with Brave Internet Browser
➡️ A secure and easy wallet to use: Atomic Wallet
➡️ Youtube
➡️ Twitter
➡️ Hive
➡️ Publish0x
➡️ UpTrennd
➡️ Read.cash
➡️ LBRY
➡️ Check out my video on Unstoppable Domains and get 10$ off a 40$ domain purchase
➡️ Get 50$ free by ordering a free Visa Card on Crypto.com using this link or using this code qs4ha45pvh