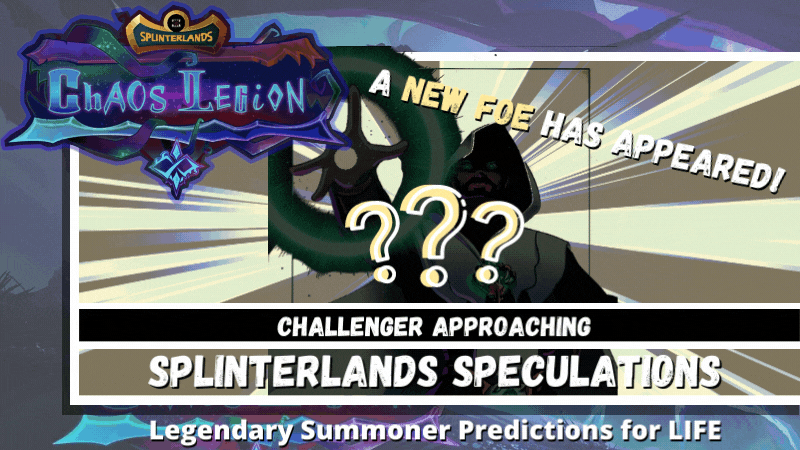 Website | White Paper | Discord | Hive Blog | My Referral
The Summoner Predictions Series:
As you guys know, we just recently finished the airdrop for Carnage Titan, I managed to receive one copy of this bad boy, and I got to thinking: Why am I WAITING for a hint at the airdrop cards when I could speculate NOW, and then readjust/refine my speculations as we start to see artwork and previews?
And then: SURPRISE, the very next day, during the Town Hall today, 3/23/2022, was a amazing Preview of the LIFE Legendary Summoner: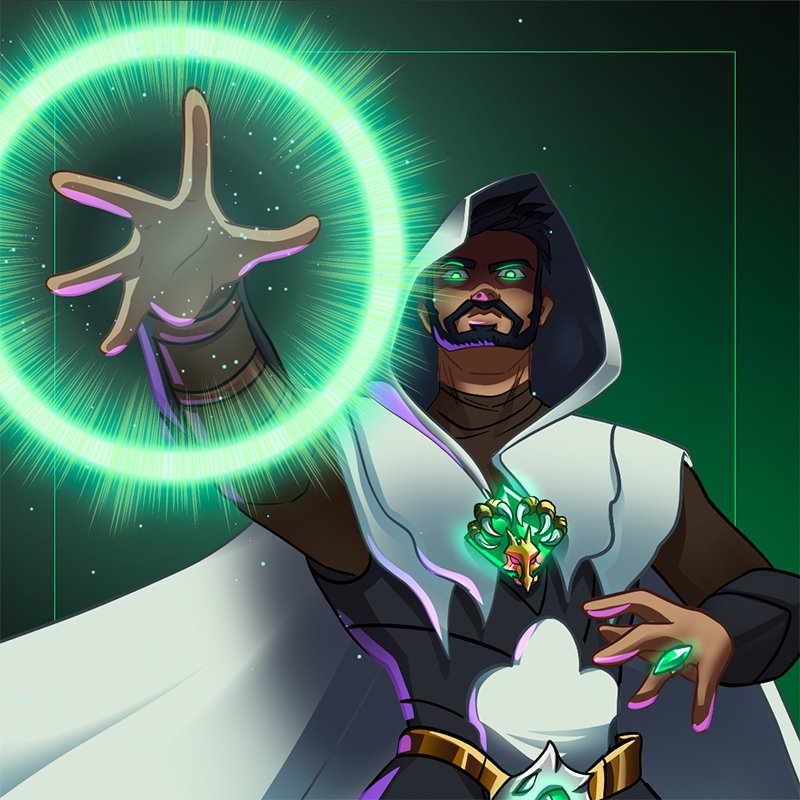 So for the next week or two, get ready for a Splinterlands Speculations palooza of me making horribly wrong predictions about all of the Legendary Summoners coming to the fray in Chaos Legion. This one will have a Preview to back it up, which will make me slightly more accurate, maybe. But the OTHERS will be completely based on speculation and meta...
I'm going to make multiple predictions for each of these, at least one prediction will assume that the Legendary Summoners are Invaders, and at least one will assume they are new Defenders. For those of you unaware of the Lore, the Chaos Legion is an evil invading force seeking to destroy Splinterlands and sacrifice it to their god... So there are now Summoners who are Defenders of Splinterlands, like Malric and Lyanna, and Summoners who are Invaders with Chaos Legion, like General Sloan and Tarsa.

Splinterlands Speculations: LIFE Edition
The next airdrop is confirmed to be the Life summoner, with the devs saying that the Life summoner is likely going to be first, so it's safe to assume this is the case: That means we'd better start with it!
The Life Meta has evolved throughout the years: Originally, Life was one of the most powerful splinters in terms of Armor and Healing. They have a lot of powerful tanks and incredible Supports, and their summoners, with the exception of General Sloan, have been mostly Defensive Summoners, who offer bonuses to Health, Armor, or give abilities like Repair and Divine Shield. Life has also been notoriously powerful in High Mana, but lacking in Low Mana.
Now, we've seen the Life meta start to evolve to add in more offensive, burst focused cards, focusing heavily on Ranged damage, with the addition of General Sloan and the CL Neutrals and Life monsters. Furthermore, its Low Mana saw a huge boost in the addition of cards like Pelacor Conjurer, Celestial Harpy, and Stitch Leech.
So how do I see the new Legendary Life Summoner ending up?

MANA COST Speculation
The previous Legendaries have cost 3 Mana, 5 Mana, 7 Mana, and with Quix: 4 Mana. Going off of this pattern, I think we will either see a 4/6/8 Mana, to match up with Quix, or we will see 9 Manas to continue the trend of increasing Odd numbered. Because going to 9 would mean 4 Ability Summoners, I believe we are going to see a reset and the Legendaries are moving back to either 4 Mana or 8 Mana, depending on if they start with their Lower mana Summoners or higher. I will try to come up with 1 for each for DEFENDER/INVADER.
Because Quix is a lone Dragon Summoner, and there is ANOTHER Dragon Summoner coming in the Top 6, I believe that it is FAR more likely that these new summoners are the 8 Mana Variety
As a 4 Mana, I believe they would continue the format of Quix, in having 2 Abilities
As an 8 Mana summoner, I believe we will see 3 Abilities, like the 7 Mana summoners, but with ability spreads rivaling Llama and Yodin at minimum. If this is the case, this will be an absolutely wild set of airdrops (or should I say modern? yeah my jokes suck.)
Let's start with the offensive, Invader variant:

INVADER Speculation
Let's pretend this guy, Grandmaster Rathe is an invading force, and on the more offensive side of things:
4 Mana Version: Life Magic
With 2 Abilities and 4 Mana, I think we would see a summoner in this situation that brings something offensive to the table for Life, and this guy SCREAMS +1 Magic. I also believe he will have either +1 Speed or -1 Speed as this is the only non-attacking Stat Bonus that Life doesn't boost/debuff currently.
---
8 Mana Version: Phase Mage
I don't wanna do the same thing here, and I get to cast a wider net by speculating something totally different here, but let's try a different offensive take on what a Life Invader might be: Let's see an 8 Mana with 3 Abilities, in +2 Armor, +1 Magic, and Phase. This would be an absolute nightmare of a card, with a generalist approach in having Armor, bonus Magic damage, and Phase to handle each of the three attacking types at least a little bit.

DEFENDER Speculation
4 Mana Version: Armor Mage
With 2 Abilities and 4 Mana, I think we would see a summoner in this situation that enhances Life's already present meta, by turning it around and using it a different way:
As an Armor and Sustain focused Meta, I think the obvious choice here would be Void Armor and +1 Armor. This ability combination would counteract a lot of Life's weaknesses, and re-cement Life as the "Armor" meta. It's also particularly fun because it'll give Life all of the related ARMOR abilities before any other Splinter, again, cementing Life as the "Armor" splinter, even if Kelya is king in the current meta.
Legionnaire Alvar, Truthspeaker, and Adelaide are all praying for this one, I think.
---
8 Mana Version: Ultimate Anti-Magic
A Defender focused Life Summoner at 8 Mana is surprisingly easy to imagine here, fusing the best of both worlds to make a great, specialized, defensive card that gives Life a powerful anti-magick option., since we already have Chanseus, and it would be hard to put any abilities that fit with the 'old' ways of Splinterlands' Life team...
Phase, Void Armor, +2 Armor, A very powerful defensive combination of all of the previous ones, it's not my favorite of the group, but it's definitely a nightmare to get through if you bring magic to your fight. (I'm personally rooting for +1 Magic and Phase! but I think that might be too strong). This particular set plays very well with Life's Armor meta, and provides a totally different playstyle: Furthermore, it makes it so that Life's typically very low speed monsters get a chance to dodge Magic.
To give you an idea of where I'm coming from, I'm picking up VERY Green Lantern vibes from this card...

Bonus Speculation: Life Dragon Summoner
Okay, I saved one last absolutely wild speculation on this summoner, and it's REALLY out there, but is a possibility given the artwork we have: Grandmaster Rathe wields a Dragon Belt and a Dragon Necklace...
So, what if this summoner is also capable of summoning DRAGON Splinter monsters as a Life Summoner. This would be a really neat 'inverse' to the Dragon Summoners, and could be a really cool concept, allowing players to more consistently use their favorite Dragon monsters, and to have special and unique options to get around certain Splinters being banned.
It's definitely a long shot, but I had to share the idea with you guys, because that would be a game changer.

Have a different idea for what the Life Legendary summoner could be? Share it in the comments!
in 7 Days, I'll choose 1 winner to receive a small bonus in a random LIFE Common, whoever's suggestion I like the best will win >:D. There MAY also be some awards for Honorable Mentions >:D

𝕊𝕚𝕘𝕟 𝕌𝕡 𝕗𝕠𝕣 𝕊𝕡𝕝𝕚𝕟𝕥𝕖𝕣𝕝𝕒𝕟𝕕𝕤 𝕟𝕠𝕨!
Website | White Paper | Discord | Hive Blog | My Referral

Wanna join the Chaos Legion? Play with me on Splinterlands!
if you use my link, here: https://splinterlands.com?ref=jakkal
I'll send you 100 DEC when you sign up and get a spellbook, (as long as you show up as referred) which should help you get started via renting! Also, feel free to message me, I can answer any questions, give tips, etc.
You ALSO get entered into every giveaway that I do, and sometimes I'll do special Referral only giveaways and delegations, which will be starting back up again soon as well!n