Original Post here: https://www.splintertalk.io/@jakkal/splinterlands-carnage-titan-revealed-the-ultimate-high-mana-off-tank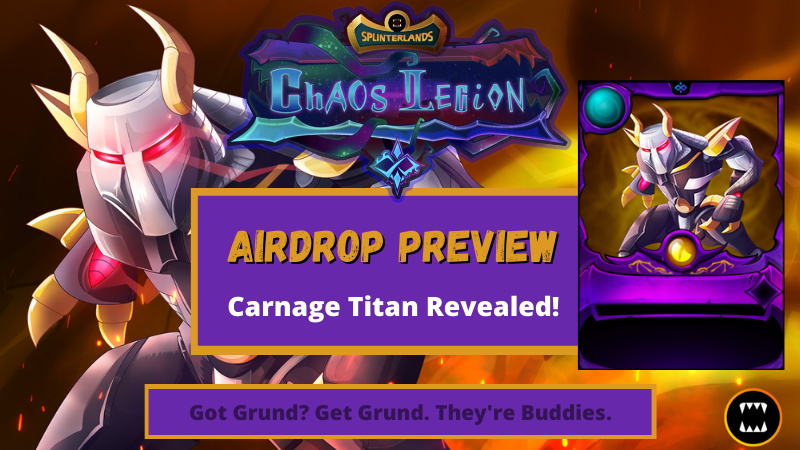 It's finally time, we've waited, and he's arrived: Carnage Titan enters the fray with a myriad of insane stats. This is from the AMA on 2/23/2022, today!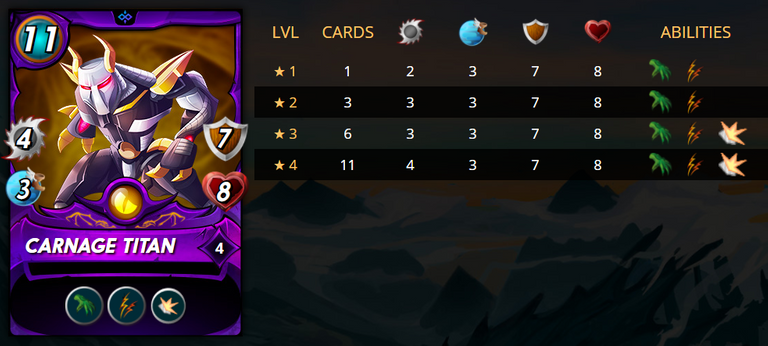 Carnage Titan
Dragon Grund | But WITH Grund | Daria's new best friend
Do you SEE that? Reach, Double Strike, Shield. This is an off-tank, an EXPENSIVE off-tank, but WOW is he strong. Add on Daria and Grund and you've got a hyper violent melee whirlwind in your first two slots. At max level, Carnage Titan is hitting 10 Damage with Daria, WITHOUT an Enrage ruleset. Ouch.
Stats are 2 Melee, 3 Speed, 7 Armor, 8 Health, and Reach and Double Strike at Level 1 for 11 Mana if anybody can't see the image. At max, he has 4 Melee and Shield, the other stats remain the same.
This is a monstrosity of a card, held back only by his 11 Mana cost and the plethora of Giant Slayers to help keep this monster in check. He's got a lot of health, a lot of armor, a lot of damage, and fits into a really nice slot in ALL splinters: This is a really solid card for 99 mana cap.
Best Rulesets: 60+ Mana, Lost Magic, Weak Magic, Opportunity, Enrage, and Melee Only
Now, for my humble opinions on his relevancy in each League:
Bronze: 0/10: Sorry, he's 11 mana, you're going to get to use this guy in basically 99 mana, and that's it. Furthermore, if you have this card, you're probably not in Bronze anyways? IF you have Daria/Camila: Run him like you would Eastwood+Grund, but again, you probably aren't in Bronze if you're running this.
Silver: 10/10: Grund's best buddy enters the fray, and they're gunna punch you TWICE as much as Grund could. Big Ham go bam, well now, Titan brings the frighten. Or something.
Gold: 8/10: I don't have much experience with Gold, but I think he'll become a bit more situational here, as many will have very powerful methods to bypass Shield and his Armor, and Giant Slayer will be running a LOT up here. That being said, Titan will still dominate melee only, weak magic, and lost magic
Diamond/Champion: 6/10 Take this one with a huge grain of salt, I'm going purely off my, very little, knowledge of Diamond/Champion and I'd absolutely LOVE if some players weighed in in the comments: With the addition of a huge amount of buffs, supporting abilities, and poison across the board, I think Titan is actually going to struggle most in the Diamond/Champion range. But look, I don't know much, if anything about this realm of play, so again: Hopefully look to the comments for some Diamond and Champion player's thoughts on the matter

This guy ended up being different from what I had originally guessed in my Splinterlands Speculations article, but I had the right premise: An absolutely violent murder machine.
I got his stats and mana cost right, he is an 11 Mana monster, and he had a good chunk of health and armor (I had guessed 10 6, 16 total, so 8 7, 15 total is fairly close) However, I think I placed too much value on his original form, Gloridax Guardian's, abilities, and missed the crucial one that they utilized: Reach, still, this is probably the closest I have been on my predictions of the Airdrops so far, so I'm getting better.
You can see my article on this Here.

Here's a Wallpaper from the AMA
Are YOU buying or hoping to get a Carnage Titan? Let me know in the comments!
I'd love to see your thoughts in the comment section below! Let me know how you think this card will play out, and remember Grum >:D

𝕊𝕚𝕘𝕟 𝕌𝕡 𝕗𝕠𝕣 𝕊𝕡𝕝𝕚𝕟𝕥𝕖𝕣𝕝𝕒𝕟𝕕𝕤 𝕟𝕠𝕨!
Get in here before it's too late, grab some cards now before they're no longer attainable like the previous sets!
if you use my link, here:
https://splinterlands.com?ref=jakkal
I'll send you 100 DEC when you sign up and get a spellbook, (as long as you show up as referred) which should help you get started via renting! Also, feel free to message me, I can answer any questions, give tips, etc.