I had a post last month comparing the games that are on Steem blockchain but did not discuss a detail comparison of each of the games compared to Splinterlands. This post I will look in dept at the current competition and why I think Splinterlands is by far the better of all these games. I begin with the following ranking chart of the most active dapps on the steem blockchain from dapp.com.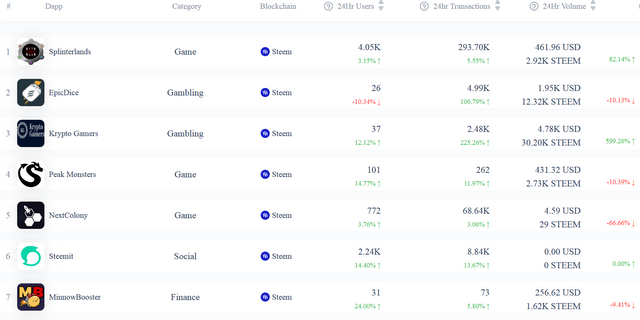 Splinterlands even beat out Steemit! Based on the stats you can add up 2 thru 7 active daily users and it will still be less than Splinterland's active daily users. Anyways the next closest game to compare to Splinterlands is Epic Dice and Kyrpto Games.
Epic Dice
Link about Epic Dice. The game is a basic dice betting game where you bet if the dice number is lower or higher at a specific range. The dice number ranges from 2 to 95. All bets are recorded on the steem blockchain and it is advertised that the game is fair and rewards supports and investors daily steem. For this post I played a rolled and here are my results.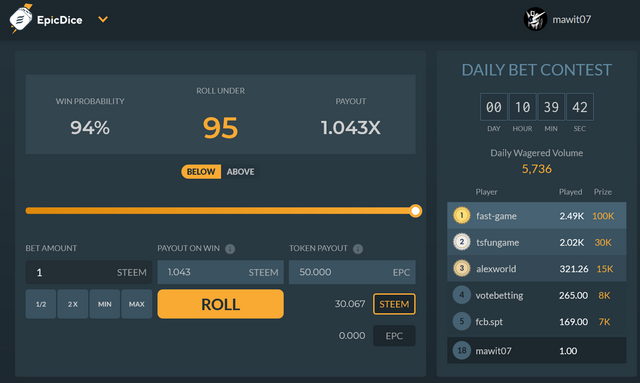 With a 94% chance of winning I rolled and won 0.043 steem for betting 1 steem.

Not very active considering the last player was over an hour before me. Still game works well as the interface is easy to learn and use. While the results and winnings came out pretty quick.

No real strategy involved playing such a game. Mostly by luck through the rolls. Players can likely get bored playing this after a few games as no addition graphics are on the webpage nor any type of thinking is necessary once the player picks the odds, place their bet and clicks the dice roll.
Krypto Games
Link about Krypto Games. Very similar to Epic Dices except Krypto Games also includes card games such as Black Jack and Poker. For entertainment I played the dice game on Krypto Games too.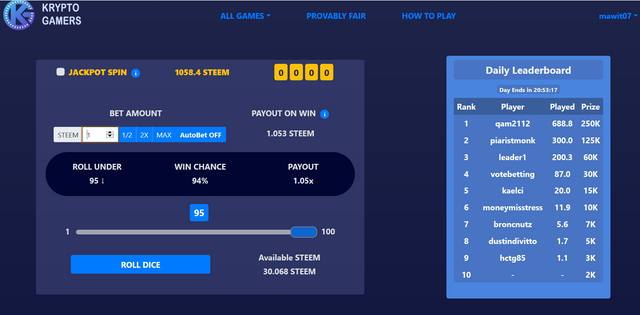 The results were similar to Epic Dice as I bet on a high percentage of winning.

to Similarly to Epic Dice the transactions and results came swiftly.

Although not much thinking is involved with the Krypto Game's dice roll they do have Black Jack and Poker which will have more opportunities to play with strategies. Again graphics, similar to Epic Dices, is not anything that stands out or can be looked at for a long period of time.
NextColony
Peakmonsters being that it is an dapp that works with Splinterlands it then makes it not much of a game so we move over to Next Colony. Link to more Info on Next Colony. The game has more graphics than both Epic Dice and Krypto Games. Yet it lacks the art work that is found in Splinterland's cards. The game operates 24/7 so players can attack each other at any time. The objective of the game is to own as many planets in the universe and in turn be the most powerful player in the universe. There are plenty of strategies for players to develop in order to obtain enough resources to build fleets and invade and/or steal other's resources. With the more resources the more opportunity to colonize planets. The game also allow top players to earn Steem.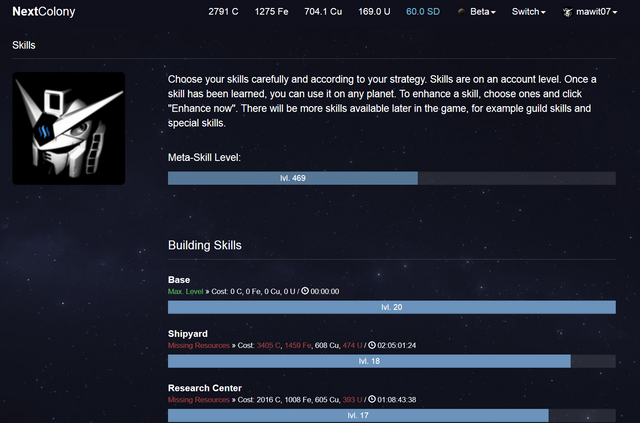 Splinterlands
Splinterlands is a trading card game where players can choose from different cards to battle between player versus player. Although there are bots setup to be players. There can be a lot of strategies to incorporate into the game as players can set cards to form certain combos and enhance cards' stats by leveling up. With all the different routes players can choose the learning curve for the game is more than other games listed in this review. However once the fundamentals and rules are understood Splinterlands by far has the better gameplay.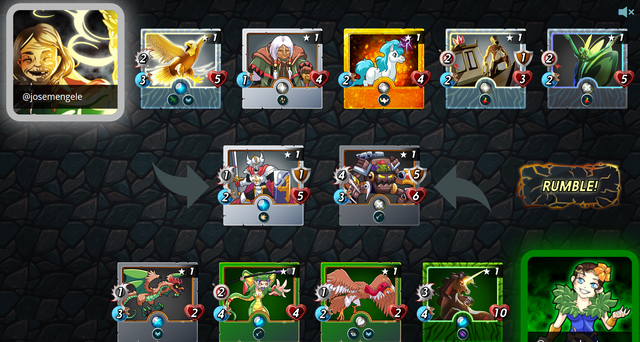 There are daily quests, battles, and tournaments with prizes of crypto and reward cards. The graphics and audio is appealing compared to the other steem blockchain games in part thanks to the creators @aagroed and @yabapmatt.
Conclusions
I may have a bias on what I think is the better game out of the current top steem dapps, but with good reasons. Splinterlands is being developed daily and there is an active discord channel where players and people who are interesting in the game can talk. With countless activities happening around the clock with Splinterlands it is difficult for other games to compete. This is not to say Splinterlands is the best but at current time it is popular enough to garner most of the steem blockchain activities. As long as the game continues to improve and words spread around on this game there is much more potential that it will be an even bigger hit for the overall dapp market.
IF YOU HAVE NOT PLAYED YET, TRY START PLAYING THE GAME NOW. CLICK ON LINK BELOW.
THANKS FOR READING! CONTINUE TO SPLINTERLANDS ON!