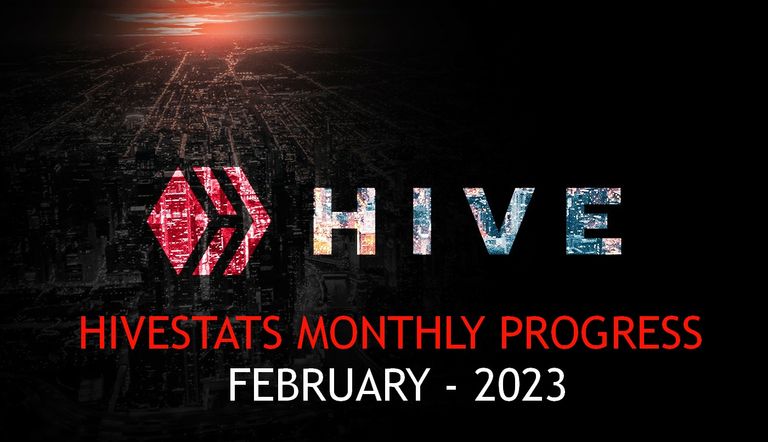 I took the photo from hive.io community and rearranged it.
One more month has passed by. It is time to write a HiveStats Monthly Account Progress post. This is the second Account Progress post of 2023. Account Progress post has been one of the posts I like to share very much on HIVE. I have already started to write it once in every 14 days as well.

If you also want to analyze your 7 or 30 days stats on HIVE Blockchain, just write your account name on https://hivestats.io/, all is collected in one page.

We experienced an earthquake disaster in February, and the earthquakes still continue. My condolences to those who lost their beloved ones due to the earthquakes. This situation has also negatively affected the HIVE Turkiye Community. 2023 has not start well for us, but I can say that it started very well for cryptocurrencies. Despite the higher-than-expected February inflation data in the US, Bitcoin could manage to remain above the $23,000. The price of HIVE's price also did a significant increase after a long break, reaching $0.62. My primary expectation for HIVE is to stay firm around $0.50. Besides, I continue to be on HIVE regardless of the price of it. I thoroughly improves my activity and rewards level on HIVE in January. I improved it even more in February. I shared five posts in February. I have gone over my monthly four posts threshold for three months. I think to increase this number even more in a month or two because my social activities will increase as the weather gets warmer. Therefore, the time I will devote to HIVE will be even reduced. I have draft posts that I have prepared beforehand, and I edit and share them one by one. Thus, I want to break my record in September. However, as always, the more free time I have, the more I try to be active on HIVE by voting and commenting on posts thanks to the @ecency app.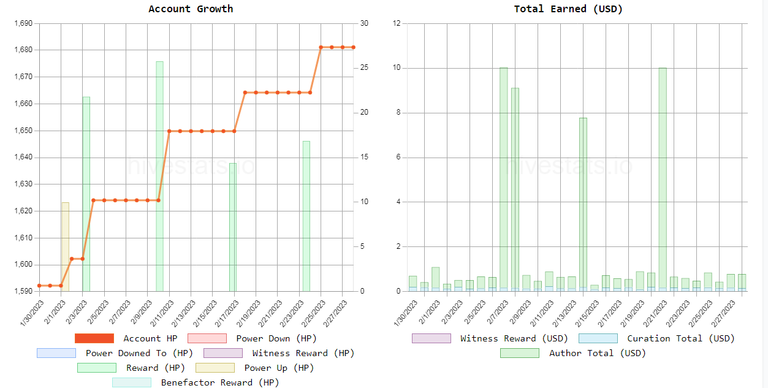 Taken from https://hivestats.io/
Here is the some data that was collected from HiveStats for February:
I received 11.57 HIVE from Curation Rewards, 53.83 HIVE and 24.05 HBD from Author Rewards, and 9.01 HBD interest payout from Saving account in February. Comparing to January, there is about 25 % decrease in author rewards. Curation rewards increased 5%; besides, APR remained the same 8.70% with the last month. It is because I upvoted the posts on HIVE while my HP was mostly above 85% in this month. HBD interest payout increased 6.6% thanks to the raised HBD interest rate to %20. Finally, I reached my goal of accumulating 500 HBD in January. Although the share of HBD rewards has been decreased in the rewards pool, I plan to continue to accumulate some more HBD without setting any goal for myself. Therefore, I can participate in HIVE Power Up Day, organized by @hivebuzz, anytime I want. It sounds very reasonable to me for now to receive 20% annual interest payout for an instrument whose value is almost equal to 1 USD. I will definitely convert some of them to HIVE to power up if its price ever goes over $1 again. What is written here about HBD is not financial advice.

I achieved my second goal on HIVE, 1500 HP milestones, in December. My next goal is to achieve 1750 HP milestones. I reached 66 reputation in December and the next phase is to reach 67 reputation. I could increase my HIVE Power to 1681 HP and my reputation to 66.8 reputation in February.

From June on, I have started to share my first five Hive-Engine tokens staked in my wallet as well. I also analyze them in my HiveStats post. Here are my first five staked Hive-Engine tokens data that was collected from HiveStats for February:





During the 30-day period, Leo increased 1%, WAIV 0.3%, POB 9%, CENT 12% and CTP 10%. There have been significant increases particularly in CTP, CENT and POB in this period. Since the HiveStats ranking is based on the USD value of the tokens, the top 5 ranking is changeable. Monthly Hive-Engine token earnings are equivalent to 1.9 HIVE.

I have been trying to be active almost every day on HIVE since August 2021. 2022 has been the year which I have shared the most posts, read the most posts, upvoted the most posts, received the most upvotes, commented on the most posts, and received the most comments on HIVE. I hope that I will realize much more and reach my next goals in 2023.

I would like to thanks @LeoFinance team for the contributions to HiveStats. Hope to have more stats to write in the next monthly progress post. I wish everybody prosperous days. Thank you for reading.