Bitcoin (BTC) Breaks $8,000
Yesterday, we saw the price of Bitcoin just barely surpass $8,000. Following that break, we very quickly saw a retracement down to the $7,800 region. We now have the price hovering around in the $7,840-$7,880 region at the time of writing.
So, what exactly does this mean for the market? Are we out of the bear market yet? What's coming next?
Let's take a peak at the charts!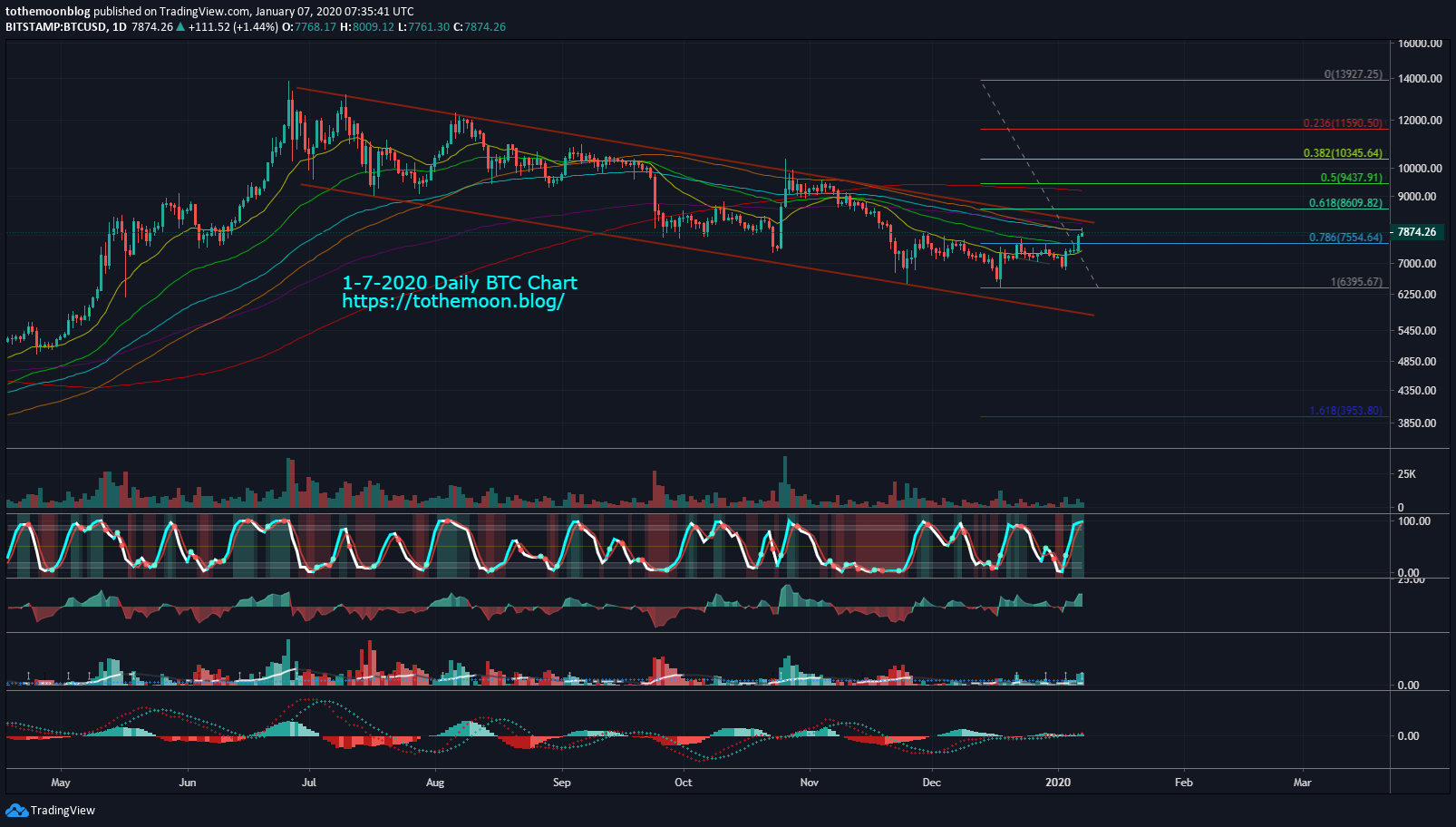 Bitcoin Daily Chart
Looking at this daily chart, we can see that during this pump we managed to surpass the 0.786 Fibonacci retracement level with the next daily candle beginning to form above it. We can also see that the 100 MA and EMA (Light Blue and Orange) have acted as a resistance level during the run up. I will be looking for the 55 EMA (Green) and the 0.786 Fib level as regions for potential support.
Looking further into our indicators, we can see some potential issues. The first one you may notice is the utter lack of volume. Volumes continue to be on the decrease since the start of this down trend.
You can also note that we are showing oversold on our Stoch RSI. I did not include a standard RSI, but it was around 65 and approaching oversold territory as well. We are showing heavy overselling on the 3-day as well (I did not include this chart because I didn't find it necessary).
You can also see that we are still within our overall bearish trend that we have been in since the fall from $14k. Until this breaks, I have to remain bearish. Especially given the low volumes and overselling on the daily and 3-day.
Today, I'm only going over the daily chart. I haven't found anything too important in other time frames. Like I said, I'm still bearish on this. Even a bit more so now. I am not currently in a position myself, I am waiting for something that looks more appealing. However, I am expecting a big move to be coming sometime very soon.
What are your opinions on the current market? Are we going to finally break out of this down trend? Or will the bears step back in? It's anyone's guess at this point. I need more volume before I can make a more confident call myself.
If you are interested in trading Bitcoin futures, give Bybit a go! I recently migrated there from Bitmex and have been loving it.
Also, be sure to join the official To The Moon Telegram Group, subscribe to our mailing list for notifications (in the right sidebar), and follow us on Twitter!
Original post from my blog: https://tothemoon.blog/cryptocurrency/bitcoin-briefly-breaks-8000-will-the-bulls-continue-to-run/