This morning as I did my daily routines online. Check messages, check hive, twitter and then @coingecko to see how things have been moving overnight there was a nice surprise waiting in my account.
After missing the bull market entirely and even losing value as every other token on the market has gained. CRO, the native token of crypto.com has finally gotten a pump. After sitting under $0.10c all the way through from the new year the latest announcements have finally given it some momentum.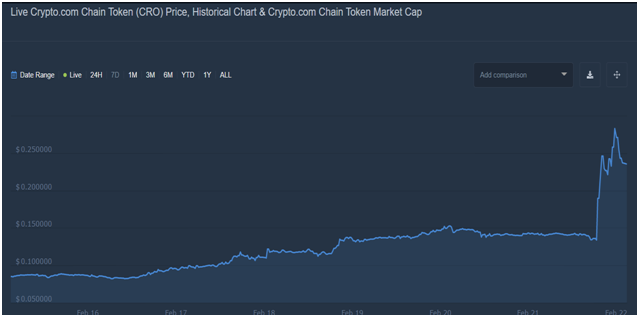 A token that had breached top 10 before the bull market and linked to one of the best crypto exchanges on the market was missing out on all of the fun. The best part about this token is that you can earn it entirely for free if you have CRO staked to your account and get a crypto.com debit card. I have mine with 2% CRO back on purchases and it covers my Spotify every month as well. It might not seem like much but it builds up nicely over time.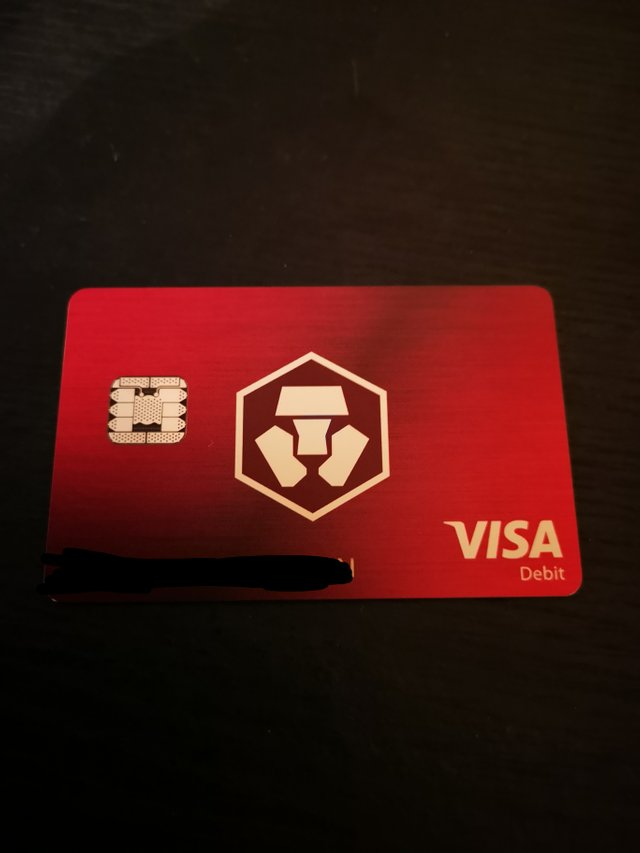 I've written posts about the card program before and while some of the rewards and staking amounts have changed, it is still a brilliant asset to have.






Even better, you can take that CRO you earn on cashback to enter some of their reward programs and let it accumulate other crypto's or just more CRO though staking.



If you are interested.
Please use my referral link: https://platinum.crypto.com/r/h9sm6npumy
to sign up for Crypto.com and we both get $50.
Referral code is [ h9sm6npumy ]
CRO stake required for first few months.
While there is a free card, I staked 2500 CRO tokens to get the slightly higher spec card. There are a lot of different levels as you can see below but staking the MCO unlocked a $50 dollar bonus that I wasn't going to turn down.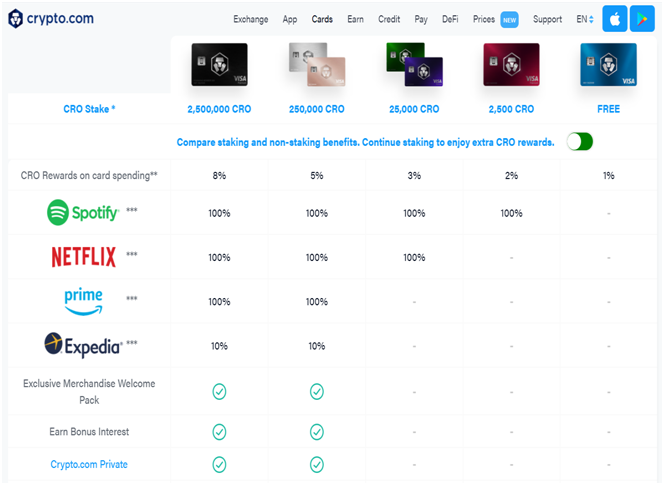 I have been using the debit card for the past 9 months and it is one of the best tools that I have in the crypto world. It allows me to operate between fiat and crypto while rewarding me for doing so. What's not to love?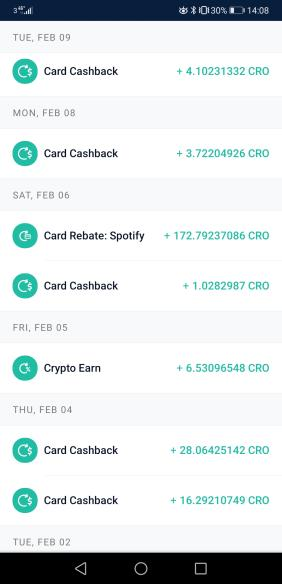 In crypto it's all about finding good projects that can stack. I received 172 CRO for paying my spotify through that account for $12 that I was already paying before i did it this way. That 172 CRO is worth $41.28 if i sell it right now. I earned $30 just for paying a bill that i was paying every month anyway.
That is what I look for in crypto projects and that is only one of the free CRO drops that I receive on a weekly basis. Over 8 months that can really build up fairly fast and when it hits a pump like this pays off nicely.



Why is CRO pumping?
CRO Mainnet Launching on March 25th 2021 as Crypto.org Chain. Fully decentralized, open source public chain with high speed and low transaction fees ideal for Payments, DeFi and NFTs
Ref: Crypto.com


There seems to be two parts to the massive pump. One is the confirmation of a new CRO chain with the CRO token the base for it. They are aiming to create a fast, cheap, decentralized public chain and have taken steps to get that released causing people to get behind the token.
The other part is the massive token burn that was undertaken today as part of decentralizing the network. 70,000,000,000 CRO tokens taken out of supply today which is surely the main reason for it's 80% increase over just three hours.
This takes the total supply of CRO from 100B to 30B in one swift move. For a token with such adaptability and ease of use it now has the scarcity to keep moving up in price. I'm glad that they have been giving it our for free for so long and it's a token that everybody could be earning right now.
I'm not sure how long this pump will last but it looks like CRO will be doing some interesting things over the next few months and this is a handy way to get in there for free.
Posted Using LeoFinance Beta