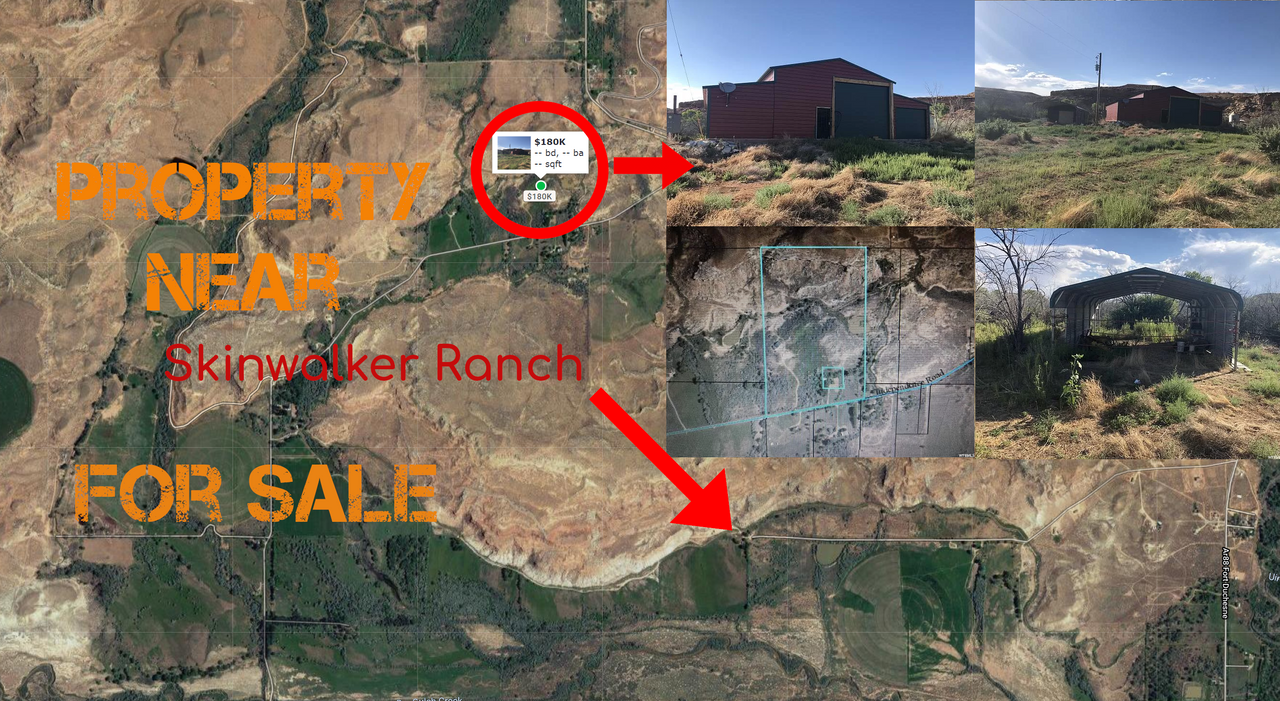 Out in the rural Utah desert, there is an infamous legend of a creature called the "Skinwalker". The Native Americans in the area have been interviewed and seems most are quite scared by what is going on around there. Hundreds of years ago two Indian tribes warred. And one of the tribes placed a curse on the others land. Since then strange things have been occurring in this region around Utah. Such as floating lights, unexplained animals, unexplained vehicles, footprints and humanoid entities. There are also claims of portals being seen where creatures enter and exit, one being spotted by a NIDSci member.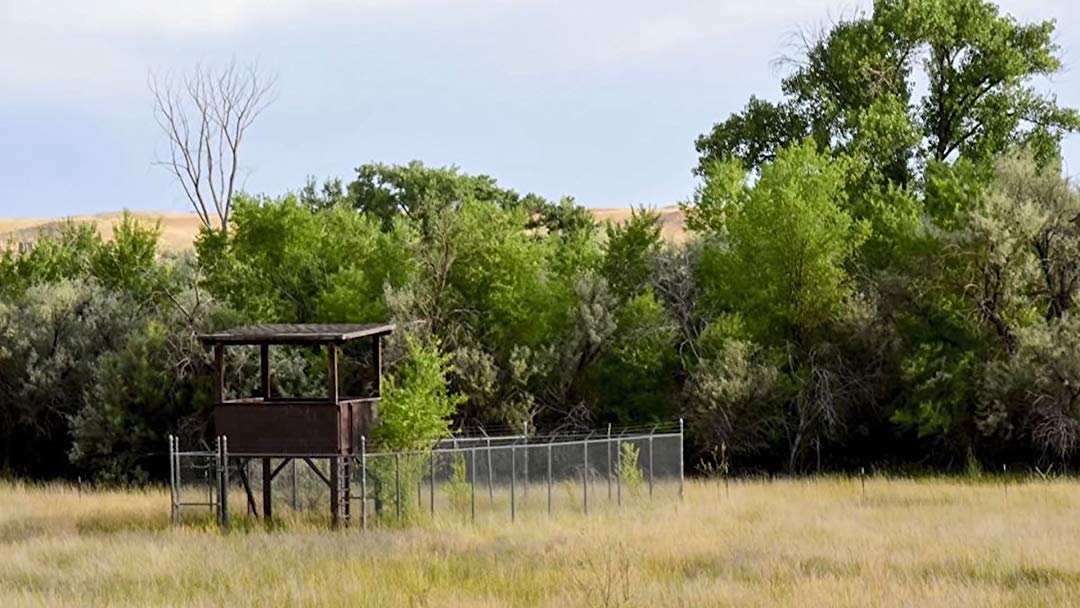 Observation structure built by Bigelow's NIDSci team. Dogs were kept near by to detect any disturbances.
This land now is part of the Uintah And Ouray Indian Reservation. Near by in the town of Ballard is a 512 acre ranch. Which in the 1990s it was a hotbed of paranormal activity. And not just at this ranch, but surrounding properties. The Gomez's that lived next door have their own dramatic stories to tell about what they have seen in the area. The ranch that was sold off to Bigelow Aerospace and became a project of the owner to find out what was going on inside. Hiring scientists from around the country many years of study occured at this location before being sold for 4.5 million to a shell company called "Adamantium Holdings". After this purchase, all roads leading to the ranch have been blocked, the perimeter secured and guarded by cameras and barbed wire, and surrounded by signs that aim to prevent people from approaching the ranch.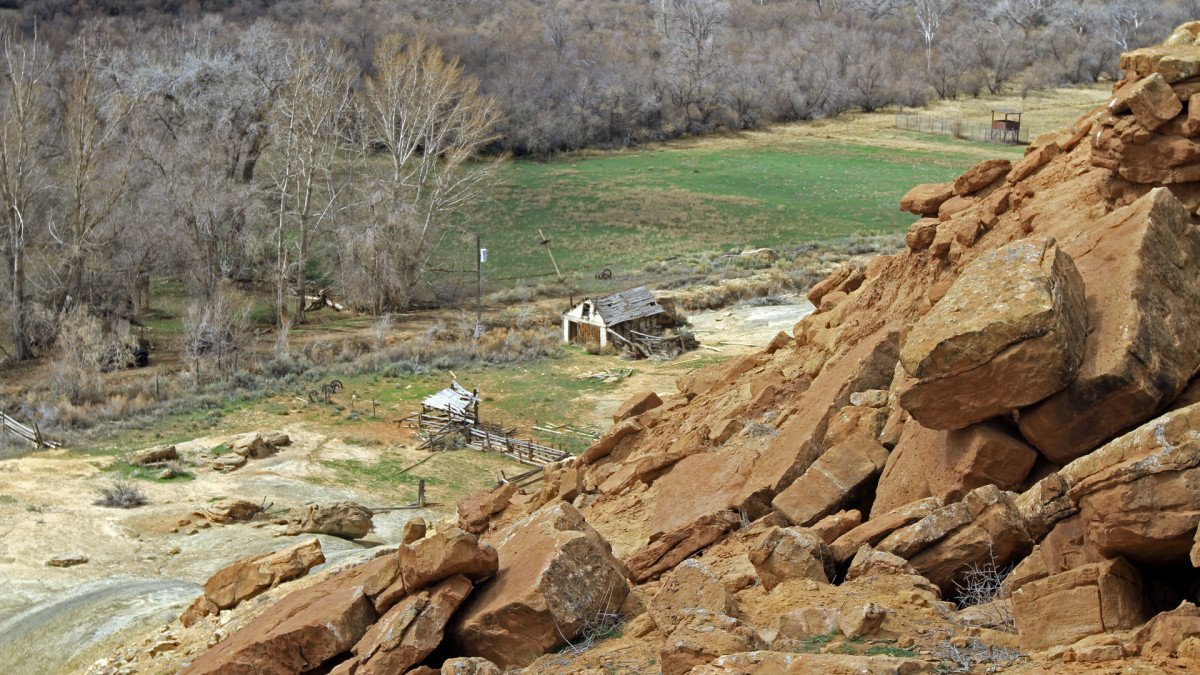 Picture of the old farm house on the Ranch.
That being said, its not just the ranch affected by strangeness. But the surrounding area, so when I saw this property pop up on Zillow for sale, I was surprised to see one so close to the infamous ranch for sale.
Im not about to take a loan out and purchase it, but I am curious if strangeness has occurred there. But from what ive read the "path" of the Skinwalker goes across the area, not sticking to just one spot.
In the Uintah County region Kelleher and Knapp, saw or investigated evidence of close to a hundred incidents that include vanishing and mutilated cattle, sightings of UFOs or orbs, large animals with piercing red eyes that they say were unscathed when struck by firearm rounds, and invisible objects emitting destructive magnetic fields. Among those involved were retired US Army Colonel John B. Alexander who characterized the NIDSci effort as an attempt to get hard data using a standard scientific approach. However, the investigators found it difficult obtaining evidence consistent with scientific publication.
More into on the ranch: https://en.wikipedia.org/wiki/Skinwalker_Ranch
The property for sale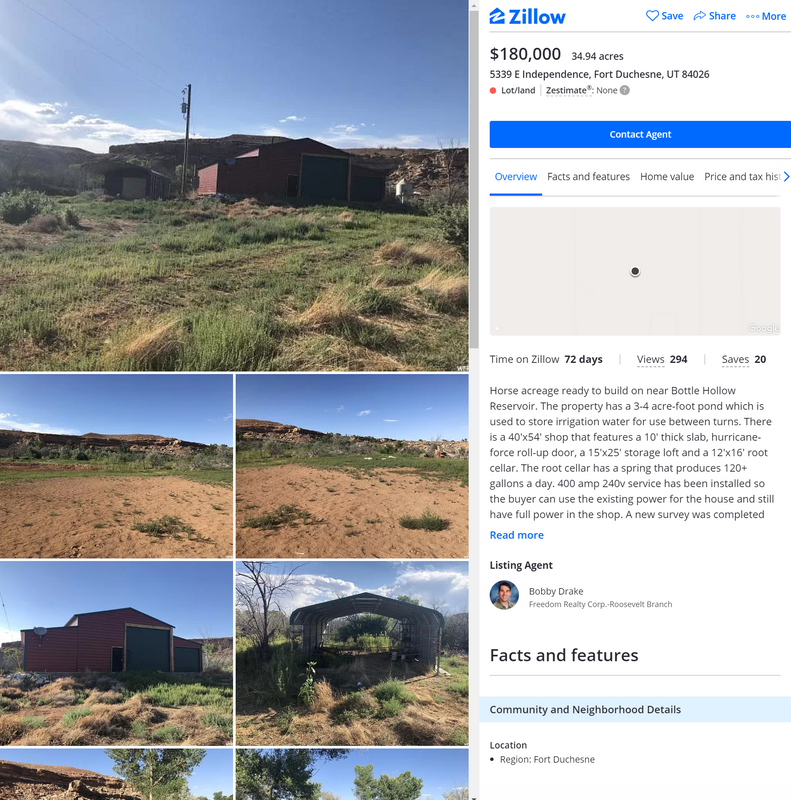 The description lists the following for the property for sale:
Address: 5339 E Independence, Fort Duchesne, UT 84026.
Horse acreage ready to build on near Bottle Hollow Reservoir. The property has a 3-4 acre-foot pond which is used to store irrigation water for use between turns. There is a 40'x54' shop that features a 10' thick slab, hurricane-force roll-up door, a 15'x25' storage loft and a 12'x16' root cellar. The root cellar has a spring that produces 120+ gallons a day. 400 amp 240v service has been installed so the buyer can use the existing power for the house and still have full power in the shop. A new survey was completed and lot lines adjusted. The property has been approved for a well and the buyer would have to apply for a well permit and septic permit. There is also an additional 18x24 steel building and a 24'x48' steel building - lots of room for equipment and animals. The landscape is dramatic and includes mountainous rock formations at the back and pasture toward the front. Build your dream home on this dream property.
https://www.zillow.com/homedetails/5339-E-Independence-Fort-Duchesne-UT-84026/2081765879_zpid/
No mention of weirdness, but makes sense. Wouldnt want to scare away prospective buyers. And maybe there really isnt anything weird going on there... Since ive never visited I cannot decide that for myself. At this point the property has been on the market for 72 days.
This property spans over 34 almost 35 acres and they are asking $180,000 for the property. It already has a standing building but without seeing inside hard to say the shape of it. Personally I'd like to camp out near by to see what I experience. Though that may not be the wisest of choices though it may pay off with a once in a lifetime experience.
Skinwalker ranch photo source:
https://www.history.com/news/skinwalker-ranch-paranormal-ufos-mutilation
---
Addresses below to help me buy better camera equipment and support me to travel to locations to do photo and video and overall great blogs in new places. I would be happy to list some of the contributors in my posts for donations that help me along the way.
Coin Address

 BTC: bc1qhfmvd2gywg4fvrgy2kkkkyqta0g86whkt7j8r7

 LTC: ltc1qdyzm5cwgt8e2373prx67yye6y9ewk0l8jf3ys9

 DASH: XkSqR5DxQL3wy4kNbjqDbgbMYNih3a7ZcM

 ETH: 0x045f409dAe14338669730078201888636B047DC3

 DOGE: DSoekC21AKSZHAcV9vqR8yYefrh8XcX92Z

 ZEN: znW9mh62WDSCeBXxnVLCETMx59Ho446HJgq