We thanks to all Holders;
Redfishcoin is doing well even the Waves market was experience a dip, from $3 to $2 in just 1 week. Now, 1 Redfish is worth 0.2822 waves. We are Growing and strengthen our Buy orders. We had a sell-off but our buyback Program was activated to cover such sell and result is stronger buy orders!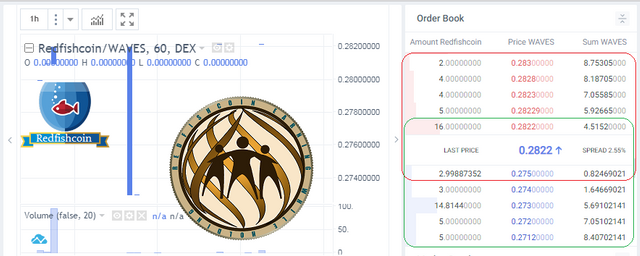 You can check the Redfish movements HERE
Lots of people ask why Redfish has low on trading movements. Well, First reason is that Redfishcoin was not designed for daily trading but for long term holding to earn shares!
Redfish Trade History

Don't forget to cast vote on Redfishcoin at Token Rating.
Visit our site HERE
Buy Redfish at WavesDEX and Nanu Exchange!
Redfishcoin Offers
Steemit Publication
Medium Publication
Retweet Campaign
Airdrop Campaign
Monthly Shares
1 Million Token Supply
Buy Back Program
Awesome Bonus Token
Royalty Rewards
PoP Steemit Promotion