Vegan ICING recipe
Mmm… What could possibly be more perfect on top of our favorite desserts than some raw vegan vanilla icing?! This raw vegan icing recipe is simple and quick. It is a great addition to a dessert or breakfast food such as raw vegan Cinnamon Rolls. Give it a try! It only takes a few minutes and your taste buds will thank you.
Icing (raw vegan)
  Delectable Icing that drizzles ever so nicely upon your favorite desserts!   PREP TIME5 mins PROCESSING TIME3 mins TOTAL TIME8 mins    
EQUIPMENT
food processor or blender
INGREDIENTS
1 cup cashews
1/2 cup maple syrup (or other sweetening agent such as raw agave)
1/4 cup water
squirt vanilla (or a real vanilla bean)
INSTRUCTIONS
Place all ingredients into a food processor (or blender) and blend (for a more drizzly consistency, add more water).
Spread or drizzle onto your favorite desserts such as Cinnamon Rolls, Cookies, Banana Bread, etc. and Enjoy! 
I never before thought there could be such a thing as healthy desserts until I entered the world of raw veganism and living foods. I'm learning now that so many different plants in these dishes can provide tremendous health benefits. Even the slightest bit of a vanilla bean is rawsome for you! 
VANILLA BEANS FOR RAW VEGAN ICING
Vanilla beans help ease digestive disorders. They also contain anti-aging benefits because they are full of antioxidants. They treat coughs, relieve nausea, and soothe burns when used topically. Vanilla beans reduce acne due to their antibacterial properties and help to promote healthy skin (as they are a strong source of vitamin B). They even help treat depression and anxiety.
According to Cinta Aveda Institute:
"Certain neurological studies have shown that vanilla extract can have a huge effect on those suffering from depression and anxiety disorders. Vanilla scent is specifically helpful for this purpose. For example, sipping water or milk containing vanilla has helped cure people with these disorders. "

– Ashlee Kardos
All of that is simply more excuses for you to make this raw vegan vanilla icing recipe!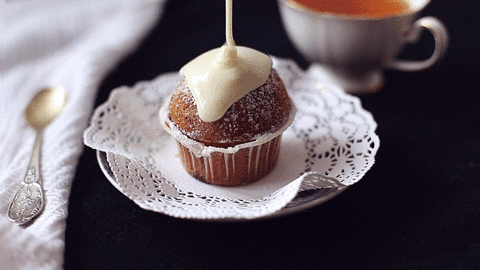 Raw Vegan Icing is a Nice Thing  
MAPLE SYRUP IN THE RAW VEGAN COMMUNITY
There is debate on whether raw foodists should use maple syrup (as well as other common ingredients such as nutritional yeast) in their recipes. Many raw foodists are fine with using these ingredients; others are more strict. Technically, maple syrup is not raw.  the method of creating maple syrup involves a very slow process of cooking the syrup down from the maple trees. 
Personally, what is most important to me is finding foods that are processed the very least. I recommend choosing the most pure maple syrup possible with the least amount of processing. This is also good for those who are transitioning into a more strict diet. I love the taste of maple syrup and it will be difficult to say goodbye to it. However, there are many other sweeteners such as dates, figs, monk fruit, stevia, etc. that can rawsomely sweeten up your dishes as well!
I hope you enjoy this raw vegan icing! If you want to modify this recipe and replace maple syrup with another sweetener, be my guest! If you do, please drop a comment to let me know how it turned out. Bon Appétit!
If you try this, let me know what you think in the comments! Also you tried a sweetener modification, please share how that turned out too!
---
[Original article I wrote on my website]
For more information on why I went R.A.W. feel free to check out my other article.
To support my writing, I welcome & appreciate donations in USD or Crypto.