Cointiply is, I think, one of the most undervalued websites to earn Bitcoin. There are many high paying surveys you can take  and earn up to 20.000 coins for each survey. That's why today I am going to write a short review about it. 
It's a site that pays out cryptocurrency whenever you make a claim, i.e. a free random roll. And if you roll a prime number, you'll get a bonus, and you can earn another bonus for logging in and spinning the faucet every day. You can refer your friends and get 25% of what they earn from the faucet for life.
Claim from the Faucet every hour
You can go to faucet section and click the "Roll & Win" button to get free coins based on the random number that you roll. Make this site your start screen on your browser (use Brave browser to earn free BAT) to claim every hour.  Here is the payout schedule: ( Coins + Cointiplier Bonus)
This is actually great. Recently, they have increased the number of ads here. So, go to PTC ads section and view all the available PTC ads to boost your coins. I check twice a day for new ads.
MORE WAYS TO EARN COINS AT COINTIPLY
COMPLETE TASKS: Complete tasks to level up and earn reward points.
COMPLETE OFFERS: Complete quick offers to earn even more Bitcoin each day.
DO SURVEYS:  Complete surveys every day to earn thousands of Coins.
You can find high paying surveys' at the offer walls tab. A single survey can pay as much as 100,000 Coins, with many paying between 3,000 and 20,000 Coins. 
I've mostly used the " Theorem Reach" offer Wall. I strongly recommend you not to miss high paying surveys.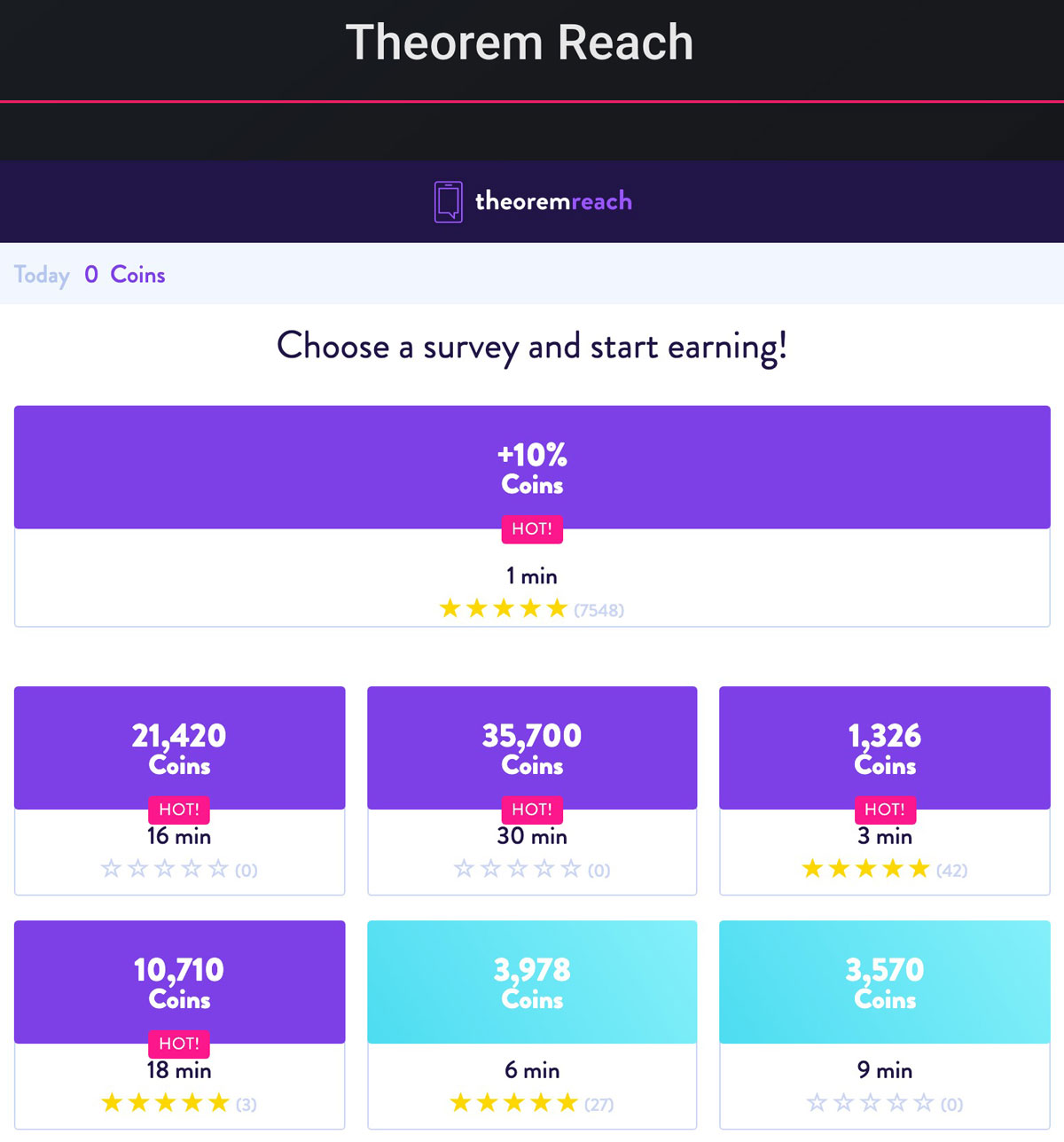 WATCH VIDEOS:  Watch videos and earn Coins.
LOYALTY BONUS
Login each day to boost your loyalty bonus all the way to 100%. So, If you check in and roll everyday, you will double each claim after 100 days.
EARN INTEREST
Earn 5% interest on your Coin balance when you reach 35,000 and more Coins.
Interest is calculated using an annual interest rate of 5% paid out once a week based on your average daily balance. For example, if you have 100,000 Coins for a 1 week period you will earn 99 Coins interest for that week (100,000 * 0.05126 / 52.14). 
DEPOSIT COINS
Send Bitcoin directly to your Cointiply account to earn even more interest.
REWARD POINTS

Earn reward points by completing tasks and boosting your level. Cash in reward points for real prizes.
MULTIPLY YOUR COINS
Play our unique sci-fi themed multiplier game to boost your Coin balance.
COMMUNITY
Chat & share your progress with other like-minded Cointiply users.
FAST PAYMENTS
Withdraw your Coins any time to FaucetHub or your Bitcoin or Doge Wallet.
EXPERT SUPPORT
Our support team is the best in the business and is always available to help.
25% FOR REFERRALS

Earn 25% of all your referrals claims and 10% of their offer earnings. Here is my referral link: http://cointiply.com/r/j38la to sign up.
PAYMENT
It has a Fast payment with Direct and FaucetHub account. 
SOME STATISTICS
OFFERS COMPLETED
* 19,241,711
FAUCET CLAIMS
* 63,279,187
TOTAL USERS
* 674,091
BITCOIN EARNED
* 165.04203742
Cointiply Mobile App
Cointiply  launched  just recently its mobile app for Android mobile devices via the Google Play store. Click on this link on your mobile device to download it. 
If you download it, Cointiply gives you 500 free coins. There are also mobile-only video offers and special bonuses only for mobile users. 
It has a Loyalty Bonus program.  Log in each day to boost your loyalty bonus all the way to 100%.
You can earn easily by completing real surveys, doing tasks, etc.
You can earn more with a 25% referral commission.
It has a Fast payment with Direct and FaucetHub account. Cointiply has now smaller withdrawal limits to direct wallet in response to FaucetHub.io's announcement. The withdrawal limit has been reduced from 100,000 coins ($10) to 50,000 coins ($5).
Thanks for reading. I hope you've found it helpful.
If you like this content,  tip me please or use one of the addresses below:
*********************************
-- Earn free Bitcoin,
         ** Sign up
         ** Cointiply here at http://cointiply.com/r/j38la and claim Bitcoin every hour (Don't forget to use the twitter promo code that is given by @CointiplyFaucet)
         ** Go to  adBTC website https://r.adbtc.top/1194404
         ** Go to https://multimining.website/signup?referral=1334 (60 sathoshis per hour)
-- Do not forget to use Brave Browser instead of Chrome ( download here BRAVE browser and get BAT token ($5)  
-- Sign up for Coinbase and get $10 Free Bitcoin:www.coinbase.com/join
-- Claim your free LiteCoins here at  https://free-litecoin.com/login?referer=265897 
--Claim your Free BitcoincashABC here at https://www.free-bcash.com/referer=251283
-- claim your daily IOST by signing their here: https://hub.iost.io/register?inviteCode=BynaOLlBN
-- Claim various crypto coins here https://allcoins.pw/?ref=190876
CLAIM all coins on CLAIM MULTI FAUCET APP. 
You can download it on Google Play (Click here to go to Google Play page)
After you install it on your mobile phone, You can easily claim your Bitcoins, Litecoins, Cardono, Nem, Doge etc. All the following faucets are in one app.
Bit Fun, Bonus Bitcoin, Moon Litecoin, Moon Dash, Moon Cash, Moon Bitcoin, Moon DogeCoin, Dogecoin.es, Bycryp, FreeBitco.in, FreeDogecoin, Multi-Coin BTC, Multi-Coin ETH, Satoshi Monster, Satoshi Hero, Allcoins, Dogecoins4free, Cointiply., Cryptomininggame, Eobot, BigBTCWin, Febbit, StarCoins.WS, TrustBTCFaucet, FreeBitcoin.Win, Faucethub.io, TreasureBits BTC, TreasureBits DOGE, TreasureBits LTC, FireFAUCET, Faucet Crypto, Free-Litecoin , DOGE Click Bot, LTC Click Bot, BCH Click Bot, Coinfaucet.io ,  FreeCardano, FreeBitcoin.io, FreeNEM, Coingratisan, Free-Bcash.
For Donations: 
BITCOIN:  1DaiEgPxzzud6giRWzwyiQQ7pNpQ99QrxL
ETHEREUM:  0xfe802d48e012414e4d4cd4cdce34ea8ac08ebf24
Sign up to Publish0x and get crypto :  https://www.publish0x.com?a=1YQdJWyeOG
Sign up to Binance Exchange: www.binance.com