Club1BCH launched the Discord Channel on the 14th of April, as part of the 15 months celebration. Two months later, and 500 days of activity, it's time for some updates!
Club1BCH was born on 13th of January 2021, as a social group, and constantly evolved until today's status of Bitcoin Cash and SmartBCH Ambassadors. What started as a single drop has become a tidal wave of change!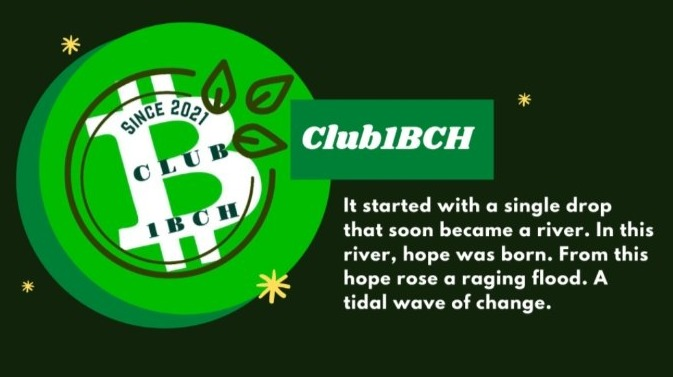 The Club1BCH noise.cash channel served as a media/social/hang-out hub for the extended community, while the Discord Channel was created for organizing events and as a hang-out for the core community. When the noise.cash channel reached 2000 subscribers, Bitcoin Cash was shared on a daily basis.
You can find us on Torum, where the Club1BCH has over 1000 members and is ranked as a Titanium III clan. Join and share your articles and crypto knowledge with crypto savvy people. The admins are veterans in the crypto space and have thousands of followers.
Same as the other social media accounts, the Club1BCH Twitter grew quickly, counting 901 followers right now.
The Discord Channel started humble but well organized. It had a vibrant chatbox, NFT zone, SmartBCH room and dedicated places for posting articles or giveaways. The artist corner was added for our NFT artists, while many SmartBCH projects were given their own space for crypto chats. 
Are you into photography? We got it cover with Food, Pets, Random, Selfies and Travel galleries. You want to chat in your own language, Community channels were added for everyone's comfort.
Are you into Play2Earn and blockchain gaming? Club1BCH Discord is the place you want to be! Come and chat about Axie Infinity, Splinterlands, PandaLand, Pegaxy, Dungeon Master and the Fantasy Football leagues!
In two months, a plethora of competitions and giveaways were organized. The core members created many Discord airdrops, while my way of sharing was Bitcoin Cash on SmartBCH. The fees are so low on the sidechain, that everyone can start their DeFi journey without worrying about gwei.
The community was involved in decision making, following DAO principles. Was interesting to decide on the RASTJN logo, one of the KONRA Kingdom tokens. Everyone was invited to vote his/her favorite logo, all three kindly designed by Benny Bumbi
As always, gifts were included! Some received Bitcoin Cash, others received RASTJN, everyone was happy! If you play Dungeon Master, we have a dedicated channel. I constantly share Byron NFTs in there, and being active is a good way to improve your mining power.
Just to avoid speculations, all draws are done with special tools and all transactions are recorded. All gifts are sent ASAP and can be verified on the blockchain.
All this writing made me feel hungry, so I took a snack brake! Made a ham & cheese toastie, with crisps and a cup of tea. See below my favorite cup... the one with the Club's logo.
Some giveaways are small, while others have a higher value. The SmartBCH NFTs are always trending, and from time to time we share some to the community. Projects like World of Masks and BCH Gang are constantly collaborating with Club1BCH for competitions and giveaways.
Some giveaways are spontaneous, while others are planned for various events. Lots of prizes were shared at the end of the football fantasy leagues, including several NFTs. More prizes are being planned for the next Fantasy Football events.
The UEFA Champions league competition delivered and entertained above and beyond the comfort zone of read.cash  and  noise.cash. The top 5 managers won smartBCH tokens (AxieBCH, KONRA and Daiquiri) and NFTs. I finished third and won 50 Daiquiri from  Tropical Finance. However, I decided to split them to George_Dee and the great football analyst HappyBoy !
Both George_Dee and HappyBoy, received one extra gift - a surprise NFT from the top guys at BCH Gang! This nourishing attitude made the Discord grow and progress, as more people are joining our community.
Involvement and contribution are monitored, and the most active members will have a chance to receive the Club Member tag. Halu was the first user to be promoted through Discrord activity, and received the tag after being an absolute social legend. Congratulations!
More users will have the chance to become full members of Club1BCH each month, helping us grow further with their knowledge and skills. I hope this doesn't sound like an recruitment advert on Indeed, and people will consider joining because of the good vibes.
Breaking News: As you reading this... the 200 member joined! 
Club1BCH social media links:
Residual Income:
DeFi bounty at CakeDeFi with $30 DFI for new users
The fountains: PipeFlare ZCash, GlobalHive ZCash & Get.ZEN
Publishing bundle: Publish0x,  readcash, noisecash, LBRY & Presearch