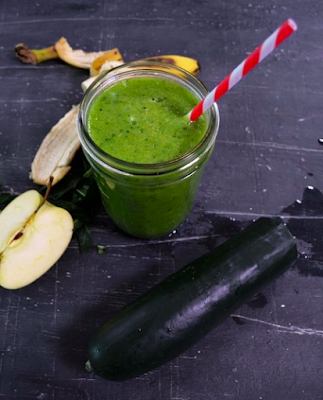 We all know that vegetables are ideal to satisfy hunger, hydrate and improve your digestion, the vegetables consumed in the morning will help you combat those cravings that always attack us between meals and lead us to eat more than we should. A good option is to consume them liquefied, it sounds a bit ugly for many people but combining them with some fruits is a very acceptable idea, but beware not much fruit so that the contribution of sugars is not excessive, we take into account the weight loss factor for those who are on a diet . A simple combination of vegetables and fruit would give us excellent nutrition in the morning that our body will know how to thank us and we would put aside those junk foods that harm us.
The following recipe that I show you is a divine combination that will nourish you with the essentials so that you have energy, hydrate yourself and have that satiety necessary to start the day.
Ingredients:
1 serving
1/2 - 1 cup filter water (cover vegetables in half), or coconut water or vegetable milk (almonds, rice, coconut, etc.)
a bunch of chopped spinach (1 cup approx.)
1/4 cucumber, diced
1 large bunch of celery (1 cup)
1/2 green apple, diced
1/2 banana, in casters (optional)
In a blender add all the ingredients and blend for one minute until it is very smooth and ready !!