I was having a conversation yesterday about social media, and I suggested that they made a giveaway via twitter ... after creating a new account. (they do not have a twitter account)
That would certainly boost their account and would attract people interested in their product!
Besides, there are many many giveaways in the crypto space - so why not?
But then it occurred to me ..I never tried to do a giveaway from my account!! And I had to see how it works, so I decided to create one, on the spot ;)
My twitter account
I have my twitter account for more than 3 years, but to be honest I only recently understood its dynamics and possibilities. I try to be active on a daily basis and if possible increase my followers & following. It is a great place to connect, to be informed of new things & to learn about news ..as they happen!
My giveaway
I decided to give to a random person 5 leo & 5 hive.
These, with the current value are $3.35 & $0.94
It may not be much, but they could worth more in the future plus .. this is a symbolic giveaway!
The scope is to show how easy it is to give a small present to your followers, using the blockchain on Hive.
No waiting time, no gas fees, instantly!
The rules
Well, you got to have some rules, right?
It is good if you follow me ;)
Please RT to bring more people over
Tag a friend who would like to participate
and ...
wait till Friday!
Simple?
If you would like to participate feel free to visit this link
https://twitter.com/katerinaramm1/status/1359091031187324930
Some stats so far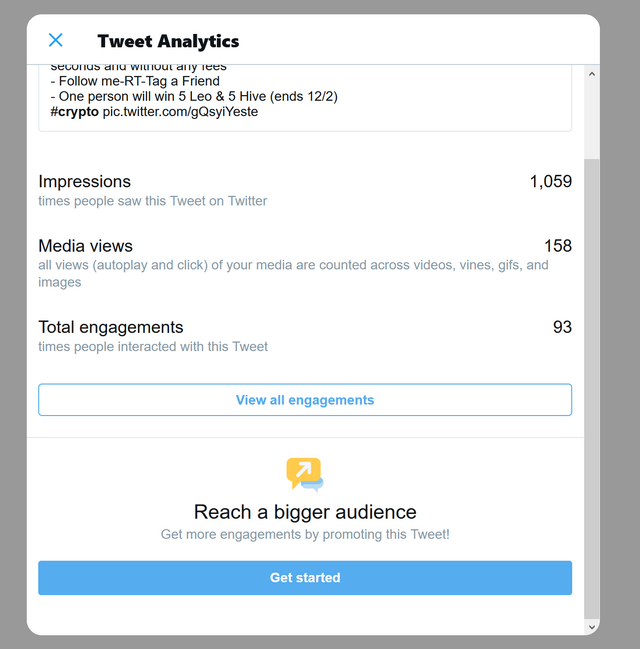 My followers increased by 3 but there are some pretty impressive stats.. more than 1000 impressions and almost 100 engagements.. I think that it is not bad for my first effort!
---
Noise.cash contest
I accidentally bumped into this contest https://noise.cash/post/1w7x5pgp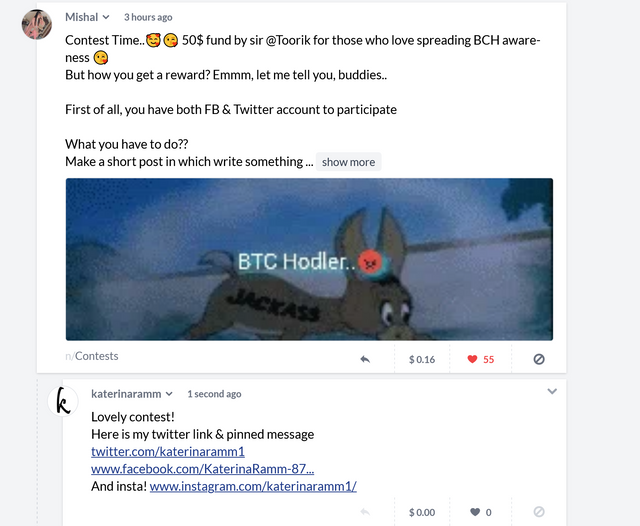 You got the chance to win 0.5 BCH which with current rates is $244 if you make a post on your twitter & facebook account..
I took part and now need to wait a whole week to find out .. but .. who knows?
You got 24 hours to participate - so if you wish to do so, hurry up!
Final words
I would love to know your feedback, as always I appreciate your time for reading and your comments!
Thanks for visiting!
---
Who am I?
I am Katerina from Crete, Greece. An enthusiastic content creator with a passion for photography. Interested in the blockchain technology, in new social media platforms and in trying to educate new users who wish to explore the blockchain social media world and its possibilities!
Posted Using LeoFinance Beta