I am Venezuelan, in my country the economic situation is very precarious and many of us have found in cryptography a way to obtain extra income that allows us to improve our quality of life.
With the use of many Brave Browser just like me, we have found a way to access one of the most widely accepted and useful tokens in the crypto market, Basic Attention token "BAT".
In addition, we can enjoy a very pleasant user experience with the use of a fast browser and without misleading advertising.
---
Perhaps one of the most outstanding aspects of the "Brave Experience" is that we can earn income as Advertisers. That's right, by certifying our content creation channels on social networks such as YouTube and Twitter within the Brave ecosystem, we will be able to earn "Tips" that are reflected in our Uphold wallet with BAT.
How can you contribute to a creator?
Let's suppose you are visiting my Youtube channel (of course browsing with Brave), then you must click on the logo indicated in the figure: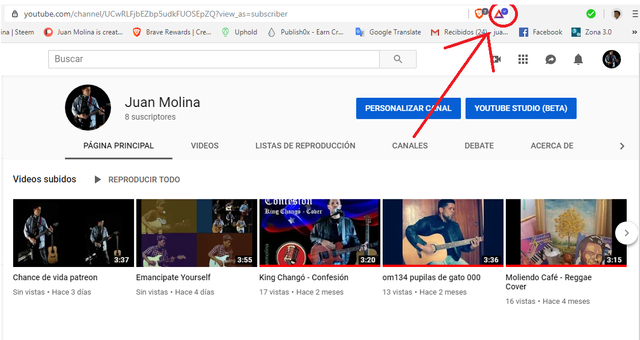 Then you will see this: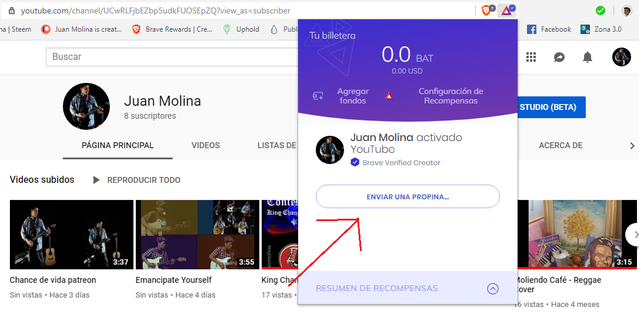 Too Easy!
In this article you can learn the steps to become a Brave Prublisher.
---
We also have a technical support platform 24 hours a day, 365 days a year in "Brave Community".
Sign up, log in and start sharing your experiences with hundreds of thousands of other users.
With the "Groups" setting you can share experiences with people from your own country or from other nations that share the same native language.
You will find Technical Support, visiting our pre-established sections of topics such as:
Help Center and Resources
Support and Troubleshooting
Brave Feature Requests
Feedback
Misc
You can also just post a question, doubt or concern, in a few hours receive a technical response from the qualified Brave team.
---
This is a super complete Blog with hundreds of articles, videos and forums related to all the news about Brave Browser, Brave Community, Brave Ads, Brave Publishers.
---
---

Project Hope Venezuela is an initiative created to grow.
You See more about it at:
@project.hope - INCREASE BY 50% YOUR WEEEKLY PAYOUT
@project.hope - PROJECT HOPE in SWITZERLAND
Please Visit Our Website

Join Our Telegram Channel

Join Our Discord Channel

---
I invite you to visit Publishx0 a platform where you can publish and earn cryptography (BAT, DAI, HYDRO).
---

Live the BraveBrowser Experience. Browse fast, safe while earning BAT tokens.
Please download the browser using my Referral Link.