ENGLISH VERSION
---
Hi guys,
I recently started playing @splinterlands and this is my first post on a Challenge.
Splinterland is a very addicting card game, probably the best I've ever come across.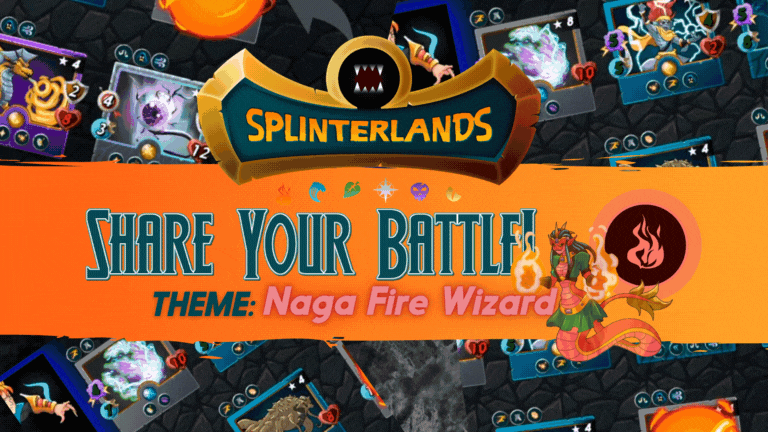 Challenge of the Week: SHARE YOUR BATTLE Weekly Challenge! NAGA FIRE WIZARD

This week's theme is Naga Fire Wizard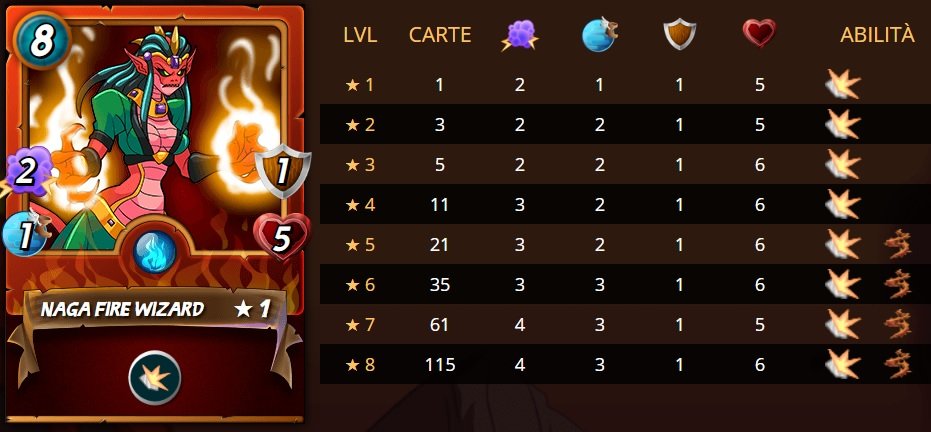 As you can see from the image, it's a fire element card with 5 energy, 1 shield, 2 magic damage, 1 speed, and 8 mana cost.
He has the special ability Shield which already allows him to take reduced attack from melee and ranged attacks. From level 5 onwards, he also possesses the Spine ability which when hit by a melee attack also damages the opponent.

Let's see now how the battle with Naga went.
First I chose the Pyre summoner which increases the speed of all my monsters by 1.
After that my choice fell on Living Lava in the front line that suffers reduced damage from all physical attacks and in the second line I deployed Naga Fire Wizard and Goblin Fireballer . This way I spent all my 20 available mana.
In front of me I had a Unicorn Mustang with a lot of life and a good attack, a Tower Griffin and a Khmer Princess .
The first to fall was my Living Lava by the hand of the Unicorn. Then it was the turn of the Unicorn thanks to Naga who, left alone in battle after the end of my Goblin, defeated
first the Princess and then the Griffin.
Below you can see the entire fight
https://splinterlands.com?p=battle&id=7c0780f07ce7b7d9a7e9159e0e0d14d7d1b53698&ref=bencwarmer

My impressions of the card of the week is that it is a good card, but with a bit too much mana cost.
The initial Shield skill is good and the Spine skill is excellent, but it remains a little too expensive in terms of Mana.


If you want to try the game, you can join the world of Splinterland via the link below
https://splinterlands.com?ref=bencwarmer
---
All images used are screenshots taken from the Splinterland game
---
---
VERSIONE ITALIANA
---
Salve ragazzi,
ho iniziato da poco a giocare a @splinterlands e questo è il mio primo post su una Challenge.
Splinterland è un gioco di carte molto appassionante, probabilmente il migliore nel quale mi sono mai imbattuto.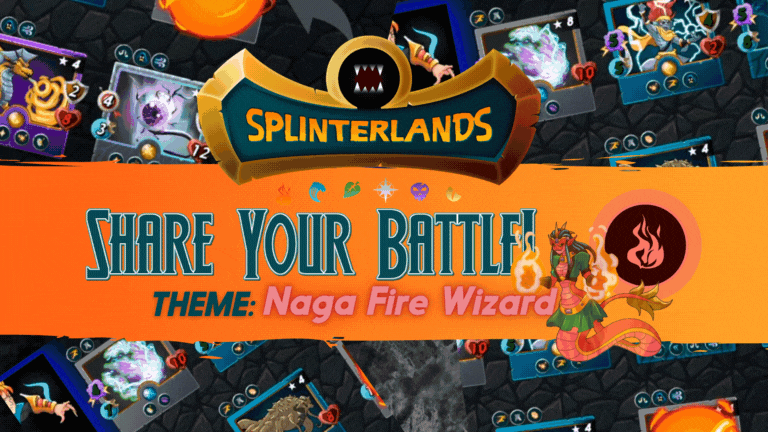 Challenge della settimana: SHARE YOUR BATTLE Weekly Challenge! NAGA FIRE WIZARD

Il tema di questa settimana è Naga Fire Wizard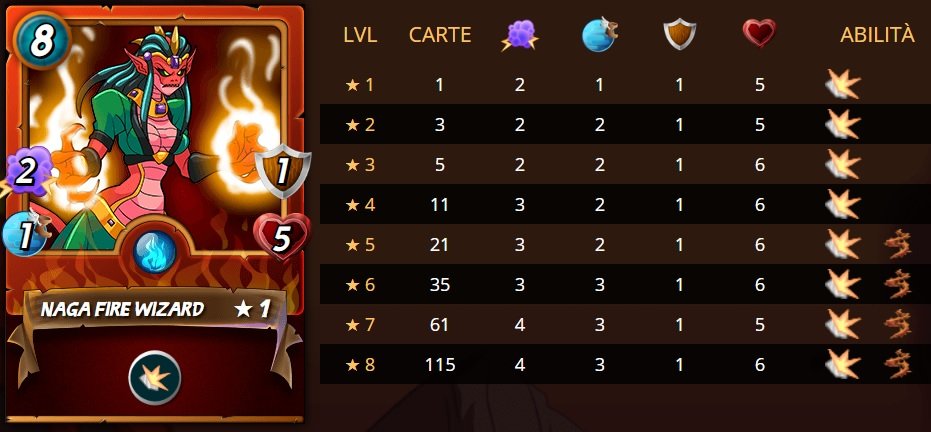 Come potete vedere dall'immagine, è una carta di elemento fuoco con 5 energia, 1 scudo, 2 di danno magico, 1 in velocità e 8 di costo mana.
Posside l'abilità speciale Scudo che gi peremtte di subire attacco ridotto da attacco da mischia e a distanza. Dal livello 5 in poi posside anche l'abalità Spine che quando colpito da attacco da mischia danneggia anche l'avversario.

Vediamo ora come è andata la battaglia con Naga.
Per prima cosa ho scelto l'evocatore Pyre che aumenta di 1 la velocità di tutti i miei mostri.
Dopodichè la mia scelta è ricaduta su Living Lava in front line che subisce danno ridotto da tutti gli attacchi fisici e in second line ho schierato Naga Fire Wizard e Goblin Fireballer. In questo modo ho speso tutti i miei 20 Mana a disposizione.
Di fronte avevo un Unicorn Mustang con molta vita e un buon attacco, un Tower Griffin e una Khmer Princess.
Il primo a cadere è stato il mio Living Lava per mano dell'Unicorno. Poi è stata la volta proprio dell'Unicorno grazie a Naga che, rimasta sola in battaglia dopo la fine del mio Goblin, ha sconfitto
prima la Principessa e poi il Grifone.
Qui sotto potete vedere l'intero combattimento
https://splinterlands.com?p=battle&id=7c0780f07ce7b7d9a7e9159e0e0d14d7d1b53698&ref=bencwarmer

Le mie impressioni sulla carta della settimana è che sia una buona carta, ma con un costo mana un po' troppo elevato.
Buona l'abilità Scudo iniziale e ottima l'abilità Spine, ma resta un po' troppo costosa in termini di Mana.


Se volete provare anche voi il gioco, potete unirvi al mondo di Splinterland tramite il link sotto
https://splinterlands.com?ref=bencwarmer
---
Tutte le immagini utilizzate sono screenshot fatti dal gioco Splinterland