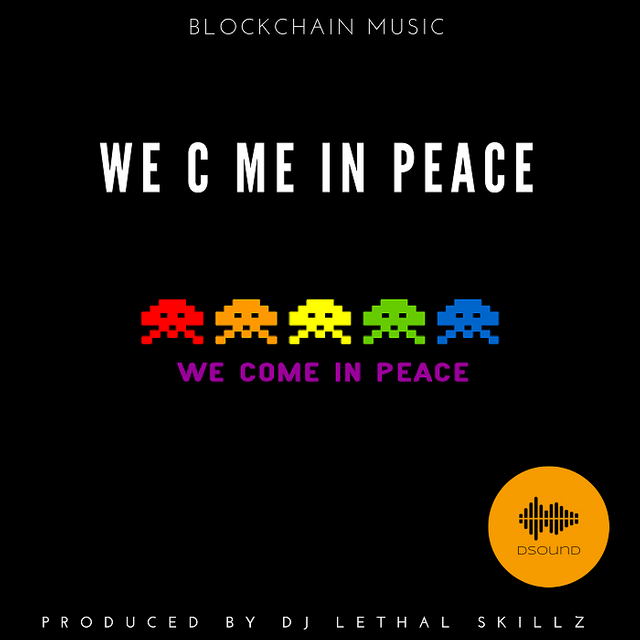 Blockchain Music Series: We Come In Peace | 8-bit Gaming Inspired Music| 8-bit | Hip-Hop | MUSIC |
'ωє ¢σмє ιи ρєα¢є' original Instrumental Music Produced by DJ Lethal Skillz inspired by 8 bits sounds from the famous Namco arcade game Pac-Man fused with Hip-hop music. Happy listening!
About DJ Lethal Skillz

Lethal Skillz, an Arabic hip-hop DJ of Lebanese origin from Beirut, entered Hip-hop in the mid eighties fusing Hip-Hop with oriental Arabian culture and tradition, while creating a platform for Arabian emcees. A heavy weight in the genre of Turntablism in the war-torn Middle East and Northern Africa. LS also known as the "PhonoSapien Monk of da 3'rd World" has managed to maintain his longevity in Hip-hop for over a decade.

DJ Lethal Skillz is the oldest and most established turntablist in the Arab hip-hop movement. Besides being a world-class DJ he has also distinguished himself as a prolific producer and long-running ambassador for the Arab hip-hop massive. He has two seminal Arab hip-hop albums to his credit: New World Disorder (2008) and Karmageddon (2012), which features nearly everyone in the Lebanese hip-hop scene past and present and many of Arab hip-hop stalwarts from the region and Diaspora!

Throughout his journey he's collaborated and performed with major historical figures in hip-hop lore - including opening up for the likes of Pharoahe Monch and M-1 of Dead Prez at The Forum, Kentish Town, in London, England; as well as playing with the likes of DJ Jazzy Jeff, De La Soul, Dj Q-bert, Rob Swift, Dj Akakabe, Co-ma, DJ Tony Touch, DJ Vinroc (5th Platoon / Triple Threat), DJ Shortkut and DJ Apollo (ISP / Triple Threat) World DMC Champions as well as mainstream acts like Timbaland, 50 cents, Whokid, Big Ali, Missy Eliot, Sean Paul, MIMS, Coolio to mention a few.... For more info, music and updates check out the links below.

DJ Lethal Skillz albums "New World Disorder" and "Karmageddon" can be purchased over most digital music websites like amazon, spotify, itunes and such
ᵀᴴᴱ ᴹᵁˢᴵᶜ ᴵˢ ᴵᴺˢᴾᴵᴿᴱᴰ ᴮᵞ ᵀᴴᴱ ᴮᴸᴼᶜᴷᶜᴴᴬᴵᴺ, ᴸᴼᵛᴱ, ᶜᴴᴬᴺᴳᴱ, ᶠᵁᵀᵁᴿᴱ ᴬᴺᴰ ᴾᴱᴬᶜᴱThe Music Revolution Will Not Be Televised It's On The Blockchain...