Weekly Development Updates for D.Buzz - Today : Lots of good things.



Hello fans and friends of D.Buzz!


It's been of a lot of hard work and we've been running towards our goal for the past year. We've actively been marketing and last month was one of our best yet. We've been trying to be more visible on other social media platforms and the new developers are fiting in well at the office. Further we've been talking to the developers and getting their thoughts on various issues and we've been adjusting the D.Buzz platform to make it a more pleasurable experience for all those who use it #Winning.


On that note ... We are thrilled to say, it has been 4 months since we've been integrating the referral system into D.Buzz and increase our marketing efforts and its really working well! We're now averaging about 100 new users per month and, total we've seen an introduction of 418 (or more) new users to the D.Buzz community from D.Buzzs referral link. We say "or more" as some people choose not to use the referral link but to sign up from our direct efforts. Here's a screenshot from Hive On Board.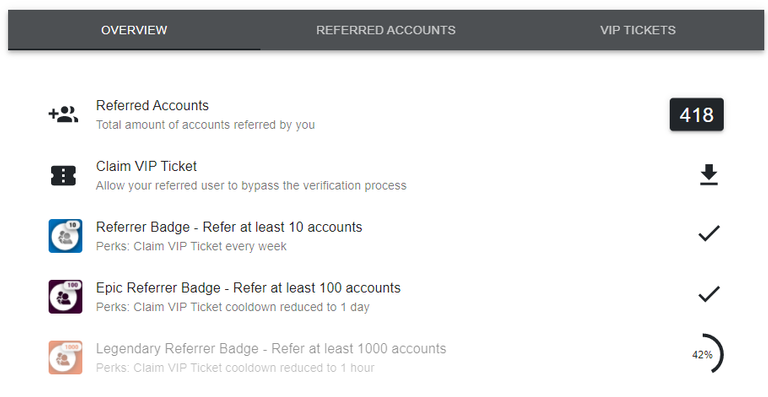 ---

Development Ongoing


While still a bit "hush-hush", we're very excited to be collaborating with other HIVE developers to make HIVE more compatible and interoperable with general content Dapps like @ecency @peakd @hiveblog. This is where HIVE can really come into its own. We believe that when these new features are rolled out to the hive mind it will be big step forward and, help illustrate the potentially of what HIVE can do.


Stay tuned for more announcements about this in the next several weeks. We want to make sure everything is looking good before we announce what this integration will be.


Referral System


D.Buzz has been actively referring new users to HIVE (*as highlighted above), and we've been really happy with the results. We know that there are a lot of people out there who want to help others too. We want to empower our users to refer people and earn from that. This is why, in an effort to make what we do even more valuable, we are releasing a new integrated referral link. Now, you can refer new users to HIVE with a personalized referral link that look something like this.


 https://next.d.buzz/#/?ref=username
We are still working out the technicalities of making sure that when you refer someone through the personalized, D.Buzz link to Hive On board, D.Buzz will still give them an automatic delegation to empower their account to make transactions.


Ease of Use Updates


We're always thinking of ways to improve our platform and make it better for you. One of the main issues we came across when people were using D.Buzz was that they couldn't see how many characters were left in their Buzz. Sure we had a red circle gave your rough estimate, but it was difficult to tell. We've integrated a new number system now that shows up, the beauty of a character count is that you can see exactly how many characters you have left. This will make the platform easier to use.


---

What's Updated This Week :


Release: v3.13.0

Server: https://d.buzz


A. Changes


Add blog.d.buzz link to user's profile.


Add viewing of profile in notifications list.


Modify search tab.


Removed dbuzz promotion link appearing in search results .


Removed back button showing in landing page.


Other minor changes.


B. Fixes


Fixed single buzz view redirecting to homepage when clicked.


Other minor fixes.


Release: v3.16.0-dev

Server: https://next.d.buzz


A. Changes


Add character counter to let users know when they have less than 260 characters left.


Add referral link from dbuzz profile to hiveonboard user creation.


Add draft functionality when writting unpublished buzzes.


---

Summary


We have on boarded many new users to the platform, developed our own referral link for users, added a new countdown timer for character counts, and are very close to revealing what are Senior developer has been working on, in collaboration with the HIVE Mind crew. The future is looking bright friends!


Thanks for joining us on this adventure!


---
What do you think of today's updates?


What are you most excited about?


D.Buzz over and out.
---
---

D.Buzz is ...


Is a censorship-resistant short form microblogging platform that empowers you to share your thoughts in 280 characters or less.


Censorship resistant and built for the community with love.
---

We strive to have a fun and neutral stance on topics. If you have any concerns with the content, please contact @jacuzzi, who writes and generates the content for our articles, or the @dbuzz team for clarification.