Welcome to the Daily Crypto News: A complete News Review, Coin Calendar and Analysis. Enjoy!
The price of bitcoin touched an all-time high surpassing the $50k handle on February 16, 2021. Cryptocurrency advocates celebrated the milestone as bitcoin has spiked more than 200% during the last 90 days and 400% against the U.S. dollar for the entire year.
Bitcoin (BTC) has crossed the psychological $50,000 zone after fighting the region for more than 24 hours. The leading cryptocurrency, in terms of market capitalization, has gained more than 154% since the all-time high in December 2017. At around 7:37 a.m. (EST) bitcoin (BTC) hit $50,603 per unit on Tuesday.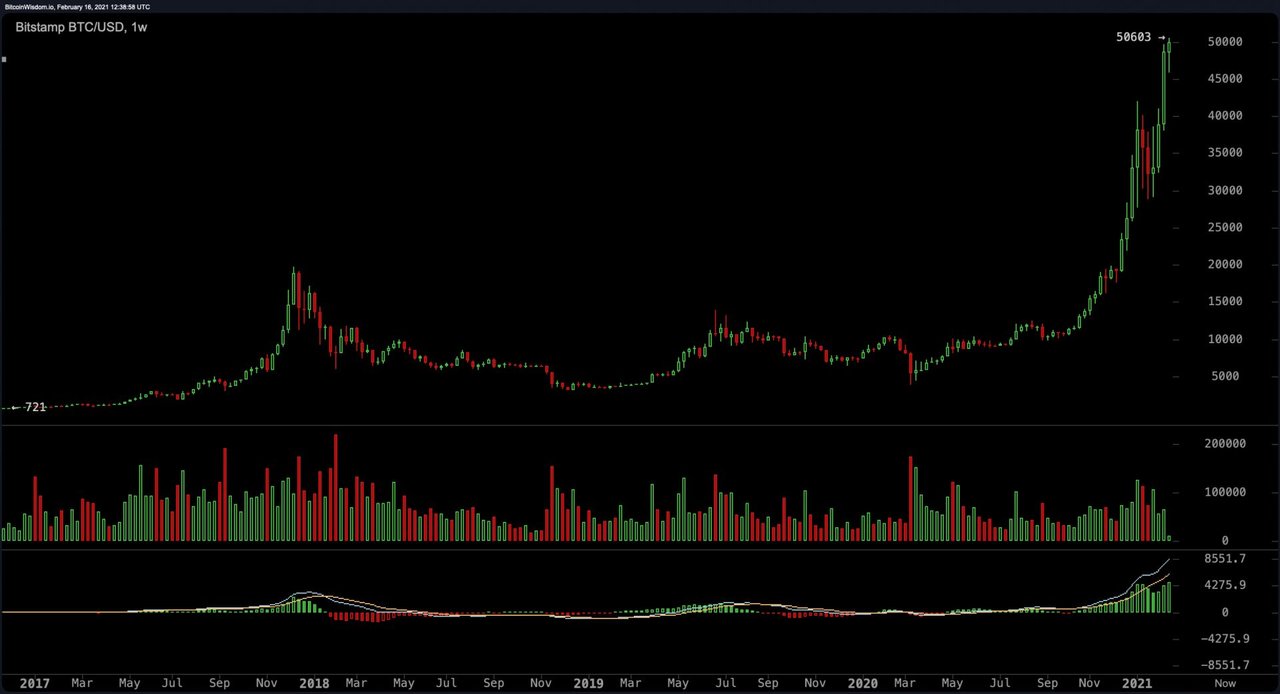 While bitcoin (BTC) has reached record highs the U.S. dollar looks weaker than ever as DXY Index charts show the currency continues to sink. Moreover, 2021 has been the year of shorting the greenback, as reports note that USD short positions have been at their highest in ten years.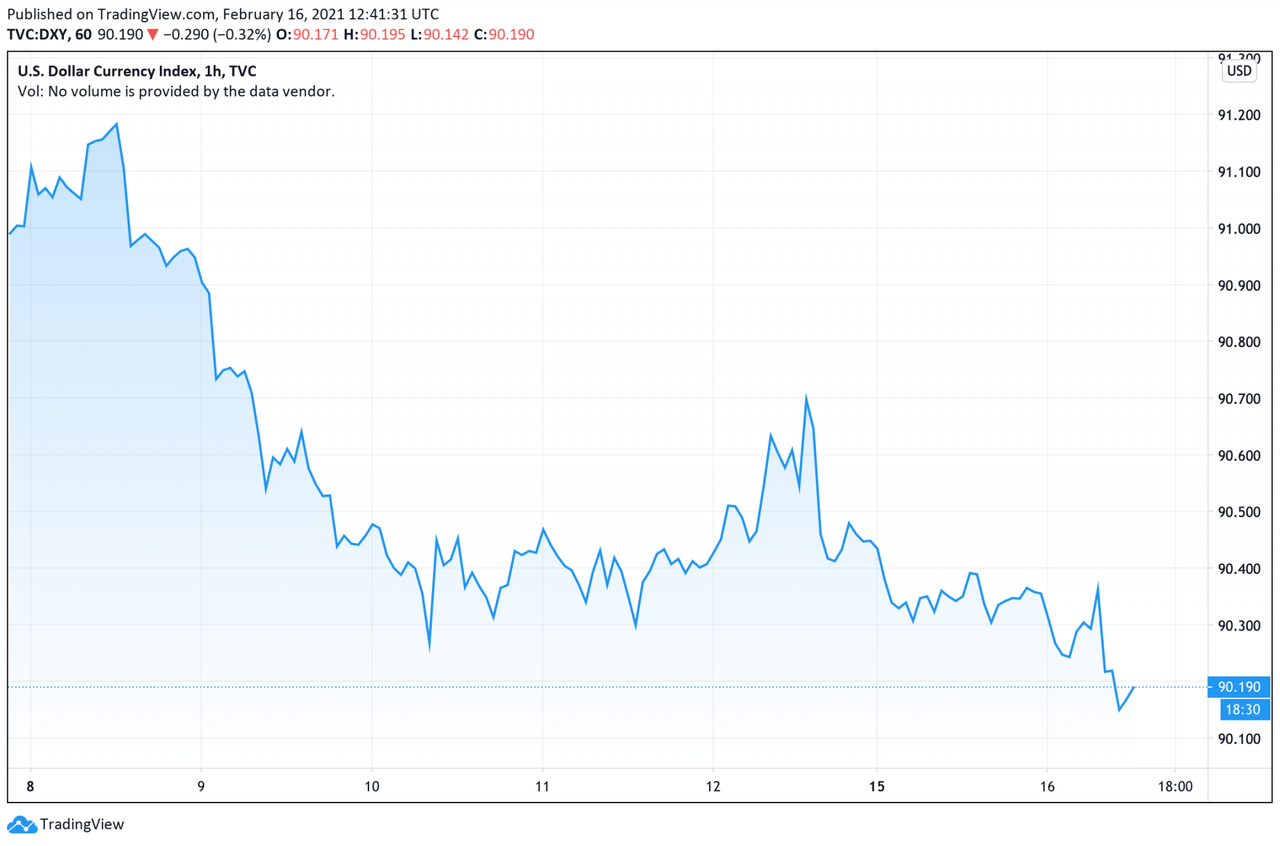 Meanwhile, bitcoin proponents have been excited about positive news like Tesla's $1.5 billion BTC purchase, Mastercard and BNY Mellon acceptance, the city of Miami's recent moves to adopt bitcoin, and rumors of Uber and Apple jumping aboard.
MicroStrategy, a business intelligence firm best known for the cryptocurrency it buys rather than for any product it sells, is planning to purchase even more bitcoin.
Microstrategy on Tuesday said it intends to offer $600 million aggregate principal amount of convertible senior notes due 2027.
The once-obscure firm, which jumped into the headlines last August for using treasury funds to buy bitcoin (BTC, +1.83%) and has since loaded up on the leading cryptocurrency to the point its holdings are worth more than $3.5 billion, said it intends to use the net proceeds from the note sale to buy even more.
The Nasdaq-listed company said it expects to grant initial purchasers of the notes an option to buy an additional $90 million, making the total potential offering $690 million.
Nexus Mutual has raised $2.7 million for its insurance of alternative products.
The company is extending its offering to cover users of large cryptocurrency exchanges.
It also plans to sell over $1 billion worth of cover in 2021.
Nexus Mutual, an alternative risk sharing platform, has raised $2.7 million in a strategic contribution to its Foundation treasury.
Nexus Mutual, an alternative risk sharing platform, has raised $2.7 million in a strategic contribution to its Foundation treasury.
The effort was led by Collider Ventures with participation of 1Confirmation, Blockchain Capital, Version One, Dialectic and other leading institutional and individual investors in crypto space.
A YouTuber with over 13.6 million subscribers and over 5 million followers on Twitter said he was approached about promoting the tron (TRX) token – a charge which Tron chief Justin Sun has rushed to deny, despite skepticism from the crypto community.
The controversy began when the YouTuber in question, Marques Brownlee (aka MKBHD) live-streamed an explanatory video about the dogecoin (DOGE) phenomenon. Around midway through the video, however, he began to describe an email he received, claiming that it was from Tron or someone representing the network.
He stated that the email detailed information on how Tron had paid high-profile influencers such as pop stars Lindsay Lohan and Ne-Yo to make sponsored tweets on their social media posts, without publicly revealing they were affiliated with Tron – reiterating allegations that may land Sun in trouble with the American regulatory Securities and Exchange Commission.
And the emailer went on to ask Brownlee if he would be prepared to accept sponsorship in return for posting about Tron on his own social media platforms.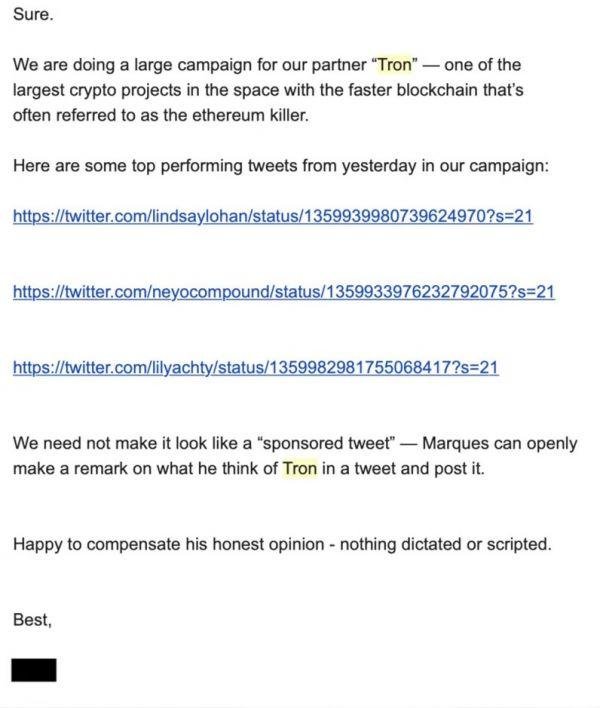 🗞 Daily Crypto Calendar, February, 16th💰
"A proposal to reduce #NPXS supply from 258 billion to 258 million... A: The on-chain voting will be initiated on February 16–22, 2021."
"Partnership Announcement"
The Chiliz Show episode 3 will be the first live Chiliz Show episode.
"Wabi product, tech and features updates and announcements."
"Elrond progress & plans, followed by a Q&A session (...) Tuesday 16 February 12:30 UTC"
➡️ Youtube
➡️ LBRY
➡️ Twitter
➡️ Hive
➡️ Publish0x
➡️ Den.Social
➡️ Torum
➡️ UpTrennd
➡️ Read.cash
➡️ Spotify
➡️ Be paid daily to browse with Brave Internet Browser
➡️ A secure and easy wallet to use: Atomic Wallet
➡️ Invest and Trade on Binance and get a % of fees back
➡️ Check out my video on Unstoppable Domains and get 10$ off a 40$ domain purchase
➡️ Get 25$ free by ordering a free Visa Card on Crypto.com using this link or using this code qs4ha45pvh