Welcome to the Daily Crypto News: A complete News Review, Coin Calendar and Analysis.
Enjoy!
Bitcoin was able to hit $10,800 Tuesday before falling on U.S. Pres. Donald Trump's stimulus tweet. Meanwhile, the DeFi ecosystem's most popular wallet hit 1 million users.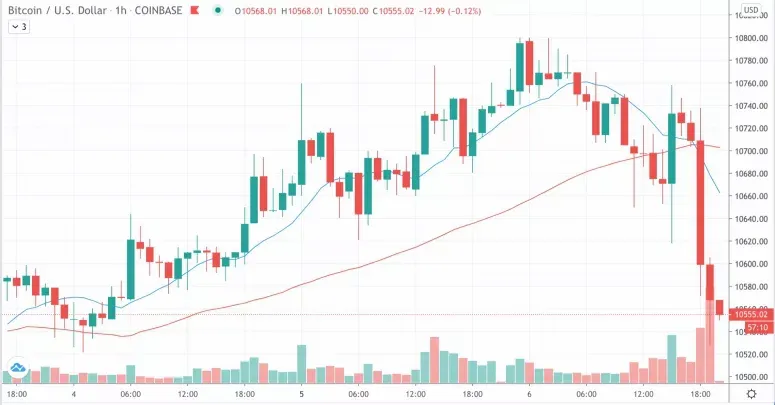 Katie Stockton, an analyst at Fairlead Strategies, says bitcoin has been above the key $10,000 price point for some time, which she considers bullish. "Bitcoin has been consolidating within its uptrend since discovering support near $10,000 a month ago," Stockton said. The last time bitcoin traded below $10,000 was on Sept. 9.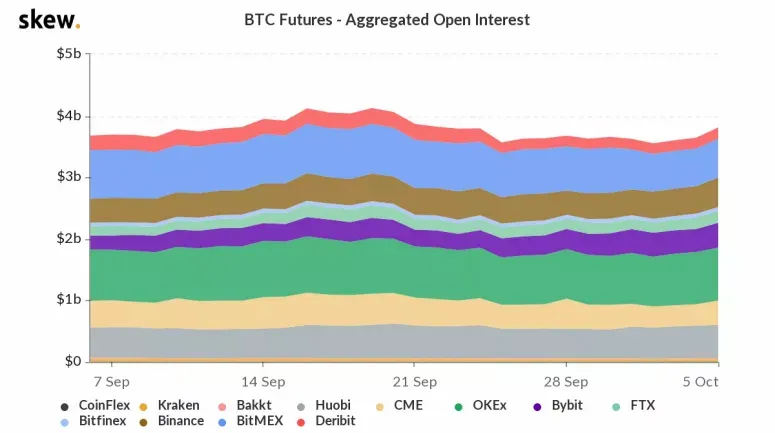 MetaMask hits 1 million users
The MetaMask wallet, a browser extension that allows users to interact with the Ethereum network and its multitude of smart contract-based decentralized finance, or DeFi, applications, has hit 1 million users. It's a fourfold increase for the wallet since 2019, with the United States, India, Nigeria and the Philippines as the top countries with highest MetaMask usage, according to its software developer, Consensys.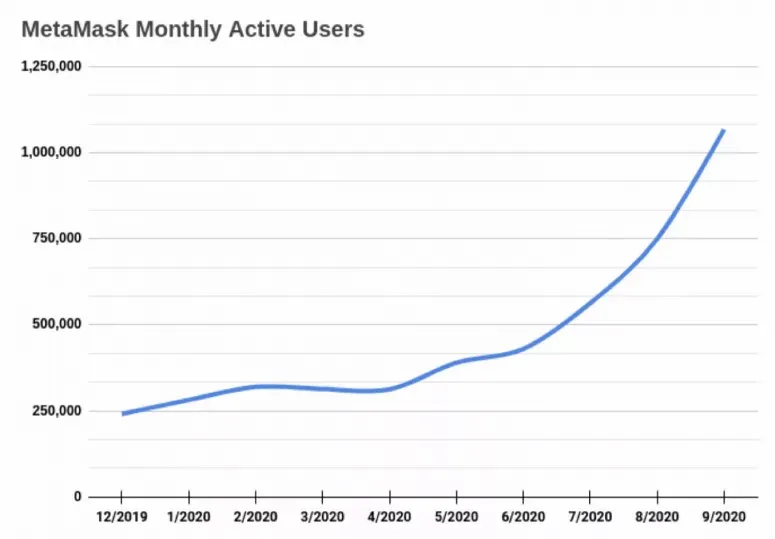 MetaMask announced a new feature Tuesday: token swaps directly within the popular Ethereum browser extension and mobile application.
MetaMask, a wholly owned product of Ethereum software company ConsenSys, is probably the most popular way for users to access the Ethereum blockchain. It functions much like a Bitcoin wallet, while also enabling users to sign in to decentralized applications and use them through a regular browser.
The token-swapping feature will release first on its Firefox browser extension, before adding extensions for other browsers and MetaMask mobile.
MetaMask will seek the best exchange rate for any given trade, accessing all the best-known places to conduct an exchange. The MetaMask announcement lists services such as Uniswap, Kyber, ParaSwap, 1inch.exchange and dex.ag.
It should be noted this service really isn't any different than what existing decentralized exchange aggregators (like 1inch or ParaSwap) purport to do, but MetaMask has a big advantage. Odds are, most users of those aggregators already used MetaMask to access them, so if the same users can do the same thing directly in MetaMask, many likely will.
This new service is the latest step in monetizing MetaMask. "There are dynamic fees that range from 0.3% to 0.875% based on order size," James Beck, a ConsenSys spokesperson, told CoinDesk in an email.
Ripple is considering relocating to Europe or Asia amid growing frustration at the lack of regulatory clarity in the United States.
Speaking to Fortune Magazine's Jeff John Roberts at the Oct. 6 LA Blockchain Summit, Ripple co-founder Chris Larsen said the United States was "woefully behind" in preparing for the cryptocurrency-based next generation of a global financial system. Coupled with U.S. authorities' policy on "regulation through enforcement" and Ripple may consider leaving the country behind entirely.
"The message is blockchain and digital currencies are not welcome in the U.S.," Larsen said. "You want to be in this business, you probably should be going somewhere else. To be honest with you, we're even looking at relocating our headquarters to a much more friendly jurisdiction."
"I don't think that the posture at the SEC today can possibly get worse for [the crypto and blockchain] industry. It's just 'crush it and push it away.'"
Colleges and universities – from small, local schools to elite research heavyweights – perform a number of vital functions in American society. These institutions, because of their size and resources, are often fertile ground for new technologies and research advancements.
The Contenders: We started with any school that was in the top-30 of one of the USNWR, THE, or QS University Rankings:
The Weight of Each Category in the Final Score
CoinDesk 2020 Blockchain University Rankings
Justin Sun spoke about DeFi at the LA Blockchain Summit today.
Sun made the case for users and developers to migrate to the Tron blockchain.
Tron is consciously trying to replicate Ethereum's DeFi ecosystem.
"We are creating the same kind of DeFi ecosystem as Ethereum," Sun said. "All the Ethereum network products, you can see a same version of Tron products. For example, the MakerDAO on Tron is called JustStable, created by the JUST team. And UniSwap is called JustSwap."
From a marketing perspective, Sun's Ethereum metaphors make sense. Instead of creating a new vocabulary, he's pointing to examples of currently used products. It's like if Microsoft had said Word is their version of WordPerfect. (What, you don't remember WordPerfect? Exactly.)
The Tron whitepaper contends that the blockchain network's delegated-proof-of-stake system can handle 2,000 transactions per second, dwarfing Ethereum's estimated 15. But that whitepaper has come under scrutiny for apparent plagiarization, rendering Tron's actual balance of speed and security in some doubt.
🗞 Daily Crypto Calendar, October, 7th💰
General Event (CRYPTO), Lisk (LSK)
"TOKEN2049 brings together the leading voices in the crypto sphere, providing attendees with the opportunity to learn from the pioneers."
Binance Coin (BNB), Blockstack (STX), Celsius (CEL), General Event (CRYPTO), Tezos (XTZ)
"JOIN US as we bring together a diverse group representing the brightest minds, game changers, creators, regulators and insiders along with ...
" 3rd halving after block 11,013,300 on Wednesday, Oct 7, 23:04:00 GMT+0530 (approx)."
Vexanium (VEX)
<Vexanium will hold an October BP and Validators Meetup on Wednesday, 7 October 2020, at 06.40 PM (GMT+7).

NULS (NULS)
Join 'komunitascryptomedia' on Telegram for an AMA with NULS West Director 'Berzeck'.
"#NOBITalks have a casual chat about crypto with the NOBI team, guys! This time we will discuss a topic that is currently being..."
Join us next Wednesday, October 7th on YouTube for our Q3 Live Update. Our live stream covers anything you might have missed this quarter, o...
Last Updates
➡️ Be paid daily to browse with Brave Internet Browser
➡️ A secure and easy wallet to use: Atomic Wallet
➡️ Invest and Trade on Binance and get a % of fees back
➡️ Youtube
➡️ Twitter
➡️ Hive
➡️ Publish0x
➡️ UpTrennd
➡️ Read.cash
➡️ LBRY
➡️ Check out my video on Unstoppable Domains and get 10$ off a 40$ domain purchase
➡️ Get 50$ free by ordering a free Visa Card on Crypto.com using this link or using this code qs4ha45pvh
➡️ Be paid daily to browse with Brave Internet Browser
➡️ A secure and easy wallet to use: Atomic Wallet
➡️ Invest and Trade on Binance and get a % of fees back
➡️ Youtube
➡️ Twitter
➡️ Hive
➡️ Publish0x
➡️ UpTrennd
➡️ Read.cash
➡️ LBRY
➡️ Check out my video on Unstoppable Domains and get 10$ off a 40$ domain purchase
➡️ Get 50$ free by ordering a free Visa Card on Crypto.com using this link or using this code qs4ha45pvh