Welcome to the Daily Crypto News: A complete News Review, Coin Calendar and Analysis.
Enjoy!
Bitcoin's price tested $10,800 to close out September while despite some market deflation, investors continue pushing crypto into DeFi.
Bitcoin (BTC) trading around $10,701 as of 20:00 UTC (4 p.m. ET). Slipping 0.27% over the previous 24 hours.
Bitcoin's 24-hour range: $10,657-$10,859
BTC above its 10-day and 50-day moving averages, a bullish signal for market technicians.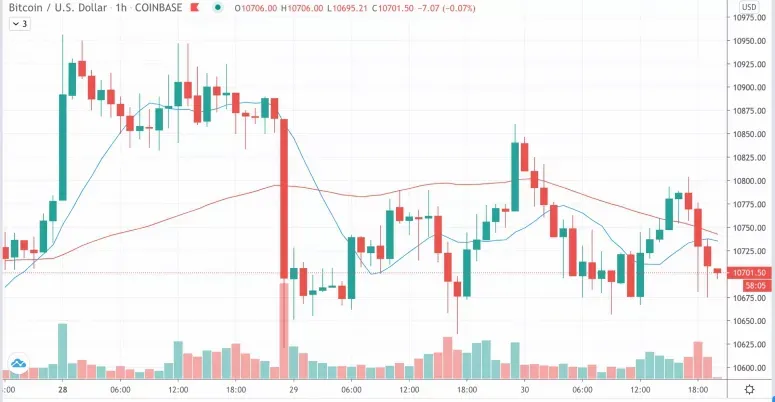 .Quantitative trading firm QCP Capital wrote in a September-capping investor note that bitcoin and ether were able to stay above "key" price points for the month, which it sees as a pragmatic sign. "The key support from the early month lows of $10,000 on BTC and $310 on ETH both saw substantial buying demand," QCP wrote. "This prevented any cascading short gamma selling into quarter-end, which had been our fear if those levels broke."
Constantin Kogan, partner at cryptocurrency fund-of-funds BitBull Capital, noted a jump in the number of new entities on the Bitcoin network, its highest level since October 2018, as a sign of positive sentiment. New unique addresses in Bitcoin are described by data aggregator Glassnode as "entities that appeared for the first time in a transaction of the native coin in the network."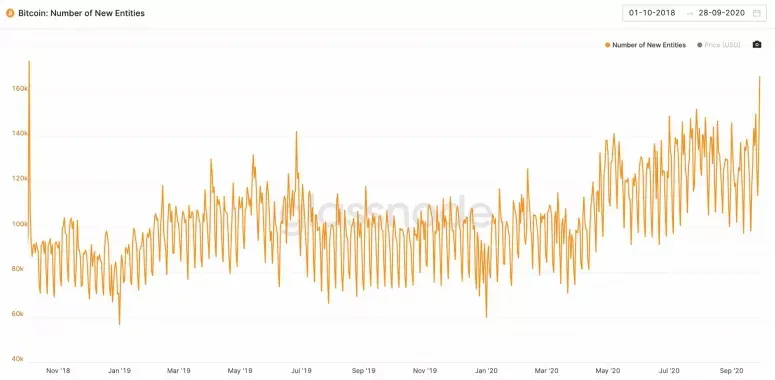 DeFi crosses $11 billion locked
The amount of cryptocurrency "locked" or held in decentralized finance (DeFi) protocols, topped $11 billion on Tuesday, according to data aggregator DeFi Pulse.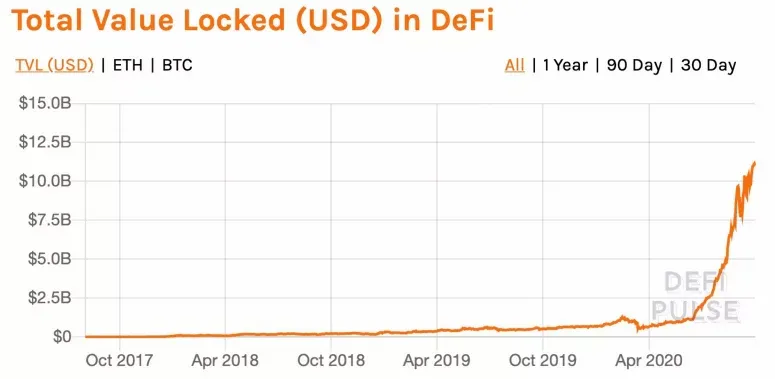 Almost 20% of the total locked is in decentralized exchange Uniswap, which despite declining volumes topped $2.29 billion in total liquidity on Tuesday. Alessandro Andreotti, a cryptocurrency over-the-counter trader based in Italy, said that although the DeFi market may be cooling since June's explosion of protocol token launches, its ascension will continue – although perhaps at not so fast a pace.
The first debate of the 2020 U.S. presidential election had no clear winner, but crypto-powered prediction platforms are having a field day.
Election futures on crypto derivatives exchange FTX boomed, with the platform's CEO reporting more than $4 million in open interest trying to pick the winner between Democrat Joe Biden, and Republican Donald Trump. On FTX, Trump's brash debate performance got a big thumbs down and drove a 10% crash in the price of futures contracts backing his re-election.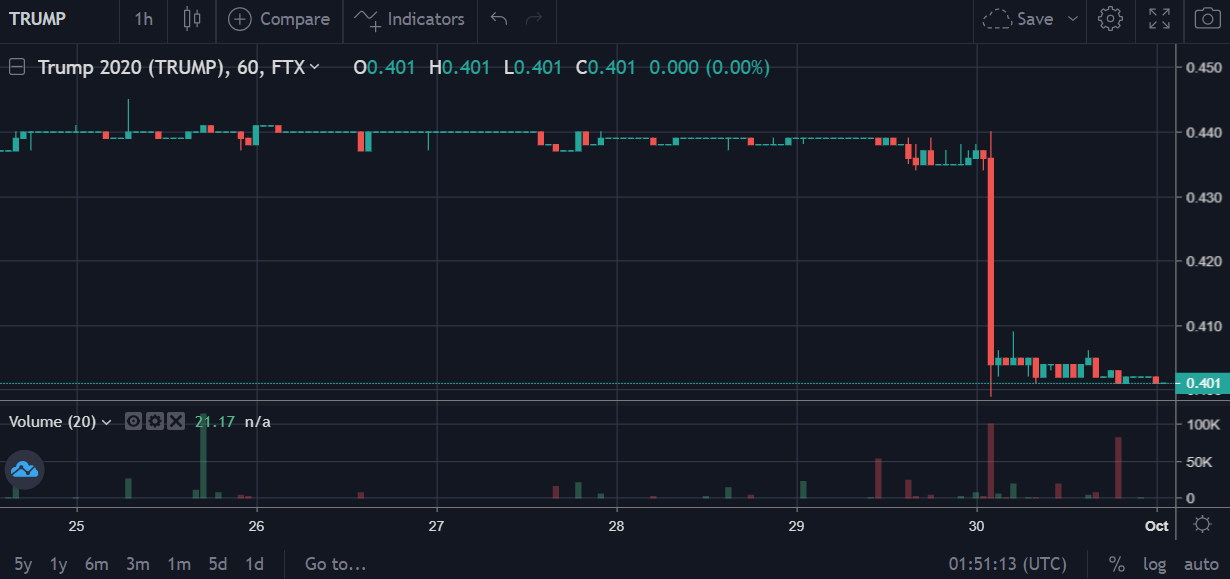 Speaking to Cointelegraph, Polymarket founder, Shayne Coplan, said the platform was designed to find answers to issues "people really want to know about rather than just things that they want to speculate:"
"The beautiful thing about markets, in my opinion, is their ability to aggregate information and synthesize it into accurate forecast. That's what price discovery is — aggregating everyone's opinions and knowledge and synthesizing it into one metric. And that can have incredible social and informational value."
Twitter CEO Jack Dorsey tweeted his disapproval of Coinbase CEO Brian Armstrong steering his company away from corporate activism.
Armstrong wrote in an open letter published Sunday that Coinbase had "an apolitical culture," and that the exchange would not engage in "broader societal issues" or entertain employee discussions about it.
After the letter, Armstrong circulated a company-wide memo informing Coinbase employees that if they did not like the policy they could take a "generous" severance package instead.
Twitter CEO Dorsey responded that by the very act of being a crypto exchange, Coinbase was already activist by definition and there's no point in pretending otherwise.
Active addresses and transaction counts on the Bitcoin SV network saw unbelievable growth in the two days leading up to the CoinGeek Live conference in New York this week.
Active BSV addresses grew from 110,000 on September 28, to 947,400 addresses today.
That's an astonishing growth rate of 761%, in just two days leading up to CoinGeek Live, which kicked off on September 30 at 9am New York time, and will run until October 2.
The spike in active addresses raised eyebrows on Crypto-Twitter. Bitcoin SV and Craig Wright antagonist Arthur van Pelt reposted SirToshi's chart that calls attention to the fact BSV has managed to overtake the Ethereum network in the middle of a DeFi boom. He said sarcastically: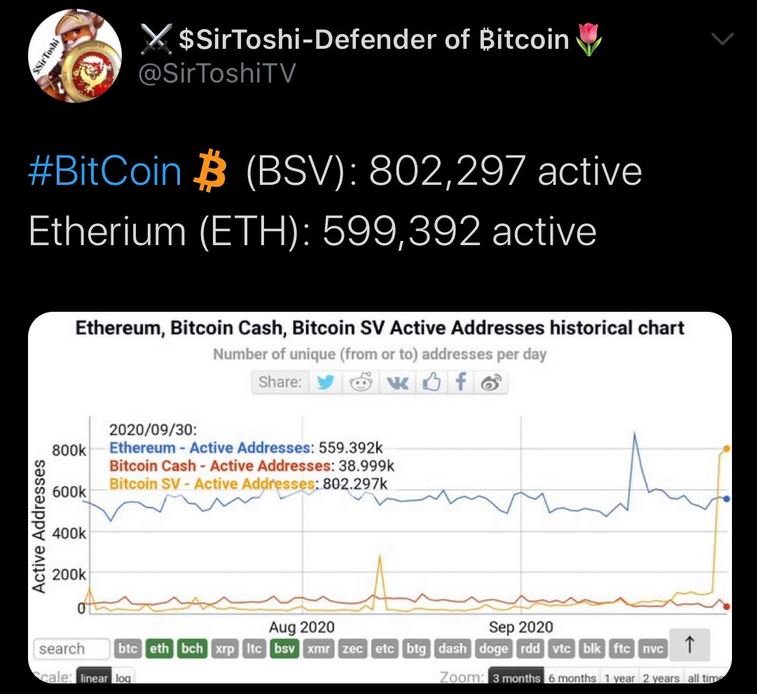 That was the story in cryptocurrency markets in September as prices tumbled for digital tokens from "decentralized finance" (DeFi), the fast-evolving arena of blockchain-based lending and trading platforms.
Chainlink, which supplies data feeds to DeFi systems, saw its LINK token fall 42% month to date, the worst return among digital assets in the CoinDesk 20.
It was a reality check after DeFi's ebullient August during which traders speculated that the emerging sector would reap fast revenue growth buoyed by well-received debuts of DeFi protocols. Tokens mooned from Aave's LEND to Yearn.Finance's YFI and Spaghetti's PASTA. Total collateral locked in DeFi rocketed to $9 billion at the end of August from $2 billion at the start of July. It is currently at $11 billion.
The slowing rate of growth in September translated to a sell-off in DeFi tokens.
"If you look at August, crypto came off probably with one of the best months of performance ever," Lulla said. "So I don't think it's unusual to see a breakdown, a little dip like this."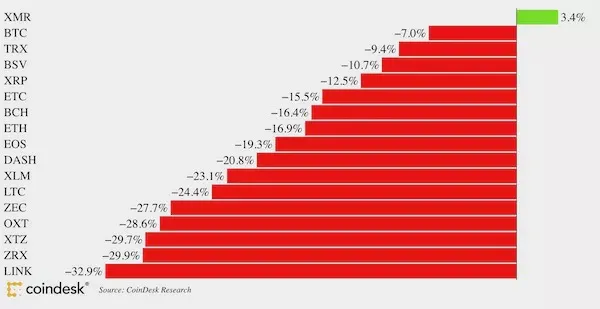 Bitcoin closed Tuesday at $10,836, setting a record of 65 consecutive daily closes above $10,000, the longest period in history.
The Norwegian crypto research firm Arcane Research also noted that the number of daily active addresses on the Bitcoin blockchain surged last week to its highest level since January 2018.
"This is a healthy sign and shows that the adoption and use of bitcoin is increasing," the newsletter wrote.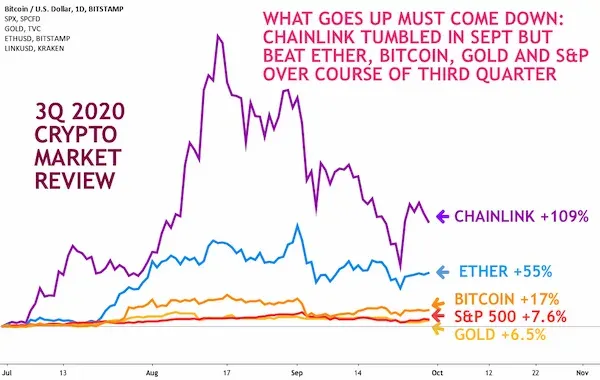 🗞 Daily Crypto Calendar, October, 1st💰
"The listing date has been updated to October 1st."
"Launch interest bearing accounts, credit and lending within the wallet," during Q3 2020.
Monthly interest distribution by Auxilium Interest Distribution Platform for coinholders. Also supporting charity.
All AUX holders who hold a minimum of 1,000 AUX coins on the 1st October 2020, will receive 1 AUXL free for every AUX they hold.
"XNS swap deadline extended to October 15, 2020."
"HC mainnet will undergo a hard fork at a block height of 450,000, and the estimated time is 20:00:00 (GMT+8) on October 1, 2020. "
"Datamine Network Public Beta October 1st, 2020."
Last Updates
➡️ Be paid daily to browse with Brave Internet Browser
➡️ A secure and easy wallet to use: Atomic Wallet
➡️ Youtube
➡️ Twitter
➡️ Hive
➡️ Publish0x
➡️ UpTrennd
➡️ Read.cash
➡️ LBRY
➡️ Check out my video on Unstoppable Domains and get 10$ off a 40$ domain purchase
➡️ Get 50$ free by ordering a free Visa Card on Crypto.com using this link or using this code qs4ha45pvh