Bonus Bitcoin and other faucets of the CoinPot family will stop working on January 31st, 2021!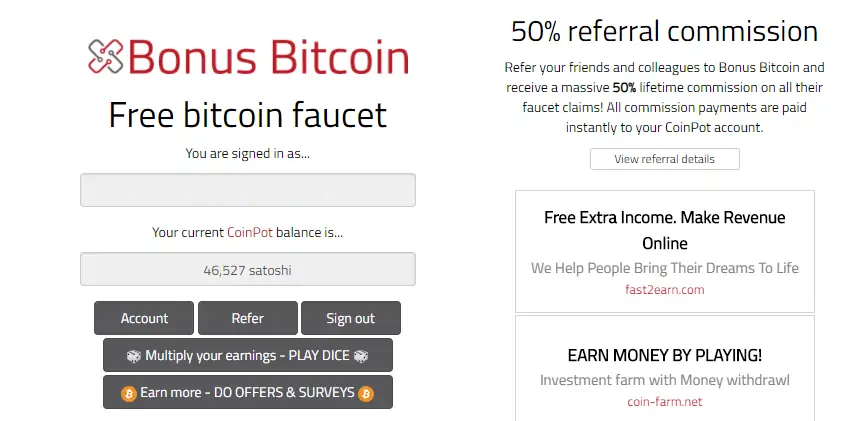 This is sad news since Bonus Bitcoin was the most reliable bitcoin faucet ever! Yet, things change and the maintainers of the system have explained the situation very well.
We are sad to announce that CoinPot and our 7 partner faucets will be closing down over the next few months. This decision has been made with a heavy heart for the reasons that we have detailed below. As always we are fully committed to our loyal and fantastic users and we will ensure that you have enough time to make final faucet claims and withdraw any remaining balances. Further details about this and timelines are also set out below.
The good news is that ...
Starting from next month we are embarking on a major new project which we cannot reveal too much information about right now. It is within the crypto world but totally unrelated to faucets, and it will be built around the CoinPot fraud engine and all the knowledge we have accumulated from this over the years.
I wish them good luck with their new core business.
---
In the meantime, the withdrawals from CoinPot are in full swing.
... we currently have a small backlog of pending withdrawals that we are working through. The majority (over $50,000 USD worth!) was cleared yesterday, and we are working hard to ensure the remaining backlog is processed ASAP.
---
I didn't check the site recently and this sad news is a novelty to me. I will convert all the assets in the wallet to BTC and withdraw them. Let's see how long will it take for the funds to be transferred.
---
Cashing Out
Before the conversion to BTC ...
... and after.
Withdrawing 0.0005336 BTC or $17 from a passive income source which is about to end.
I'll keep you posted about the transaction.
---
To sum it up ...
Are you a CoinPot Faucets user? Then withdraw your assets because they are closing the shop!
Better and better