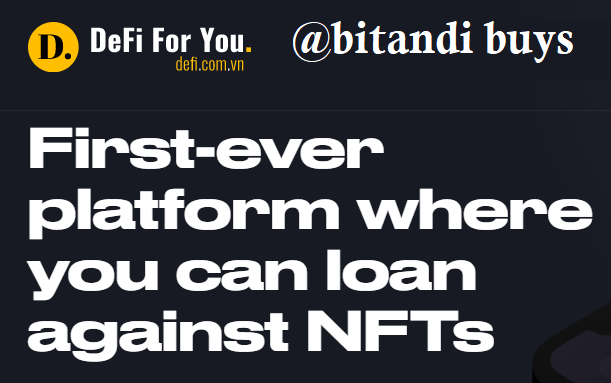 Hallo Token Fans und Investeure.
Ich habe mir heute mal wieder einen neuen Token über die Binance Smart Chain BSC gekauft.
Es geht um das Projekt:
DeFi For You
Sie schreiben sie wären die erste Platform auf der man NFTs leihen und verleihen kann.
Ich weiß nicht genau, da ich das schon auf der WAX Blockchain mache.
Aber ich denke das es ein gutes Projekt ist, das die Power und das Team nach oben haben.
Ich habe mir 175 DFY Token bei Pancake Swap getauscht und ca. 0.065 BNB inclusive Gebühren bezahlt.
Hier könnt ihr das tun: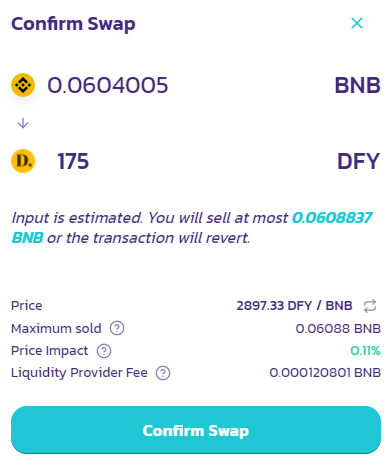 Danach bin ich auf die Seite von DeFi For You.
Dort stake ich jetzt die DFY Token.
Man kann sie für 3, 6 oder 12 Monate staken. Je länger man staked, desto mehr % Apy gibt es natürlich.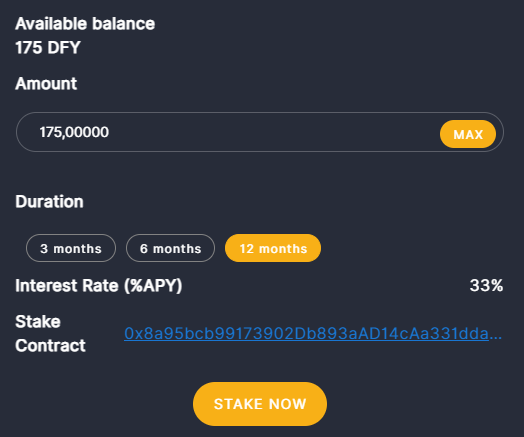 Ich habe meine DFY Token für 12 Monate gestaket. Ich habe ja auch Zei.
Bis die 12 Monate rum sind, läuft das Projekt bestimmt dann auch richtig gut.
Und ich hoffen natürlich auf einen tollen, sehr hohen Preis für den Token.
100 Dollar oder so wär cool 😁😁😁
Was ein bischen blöd ist, man sieht seine gestakten Token nicht, oder ich habe was übersehen.
Na dann warte ich jetzt mal ein Jahr und schauen was aus dem Projekt geworden ist.
Habt alle einen schönen Abend.
Gruß vom @bitandi

---
---
---
ENG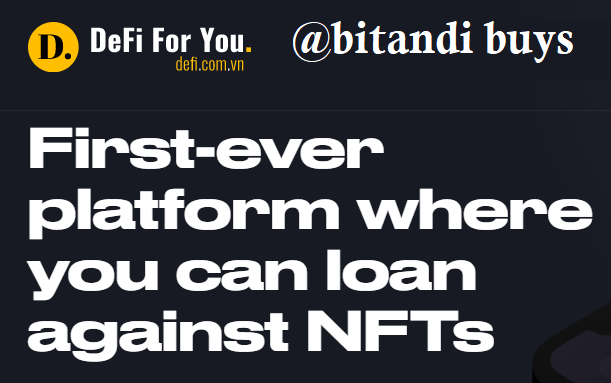 Hello token fans and investors.
Today I bought another new token via the Binance Smart Chain BSC.
It's about the project:
DeFi For You
They write they would be the first platform on which you can borrow and lend NFTs.
I don't know exactly, as I'm already doing this on WAX blockchain.
But I think that it is a good project that have the power and team up.
I exchanged 175 DFY tokens at Pancake Swap and paid about 0.065 BNB including fees.
You can do it here: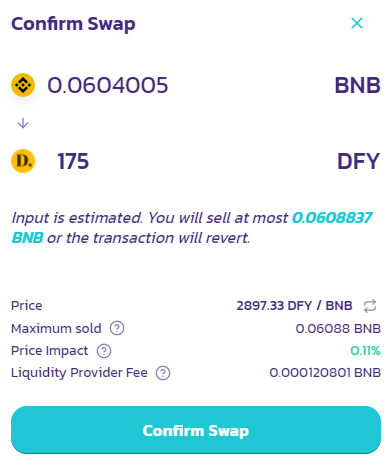 After that I went to the site of DeFi For You.
There I staked now the DFY tokens.
You can stake them for 3, 6 or 12 months. The longer you staked, the more % apy you get of course.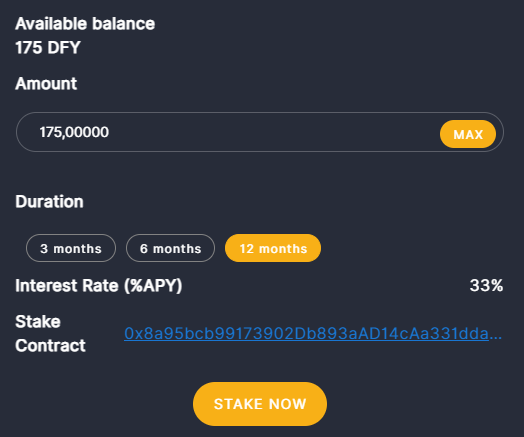 I have my DFY tokens staked for 12 months. I do have Zei.
Until the 12 months are over, the project runs certainly then also really well.
And of course I hope for a great, very high price for the token.
100 dollars or so would be cool 😁😁😁
What is a bit stupid, you do not see his staked tokens, or I missed something.
Well then I wait now times a year and look what has become of the project.
Have all a nice evening.
Greeting from @bitandi

Translated with www.DeepL.com/Translator (free version)