I am back with a report of the news and dividends from both Wink.org & Sportbet.one after skipping last week...
WINK News & Dividends
WIN was said to be a coin that as going to be added as a way to mine SUN which is the Tron DeFi Government token. This caused the price to go up a bit and a lot on WIN got unstaked from the Windrop Dividends pool. For some reason, it didn't end up being possible yet to mine SUN with WIN so everything flowed back into the platform.
The new Poker Alpha went live and I tested it out and can say it's a big improvement over the current tables (which are already good). Poker action, in general, has increased quite a bit yet and I have been enjoying some time on the tables. Overall, the opposition is still very weak and it's a nice way to make some extra TRX with them.
My confidence in Wink.org and the WIN token (which was quite low when I first got into it) has gone up quite a bit as they continue to have some nice development and the dividends remain quite good. I bought myself back up to 10M WIN and will have this as my minimum from now on. I might get my investment up to 13,75M which would give me a +2% mining bonus on the Poker tables.
---
The Dividends remain stable and continue to come in.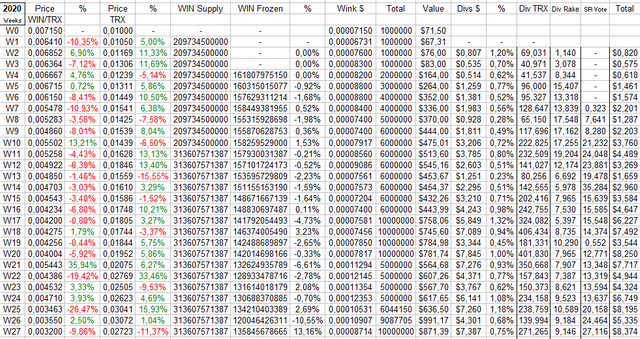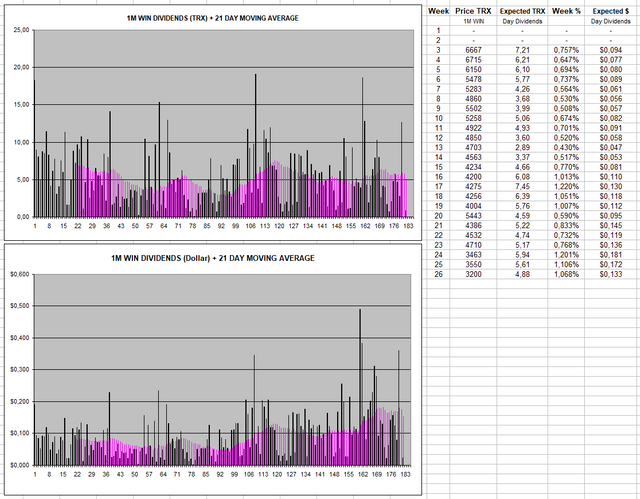 Based on the current price and the 21-day average Dividends, the returns are at around 1.068% weekly which is really solid. Last week it was around 0.75%. pretty much everything above 0.70% I personally consider as good risk/reward returns.
---
Sportbet.one Dividends
sportbet.one and the SBET token have been more boring lately but they also are holding up quite well. Not all too much is happening in terms of development or new features for the bookie. The last couple of weeks saw a slight increase in the number of users again (116 -> 131 - 145) and it would be nice to see this to continue going up. I personally just continue to hold on to what I have without intentions to get more or sell some as the weekly dividends certainly do add up.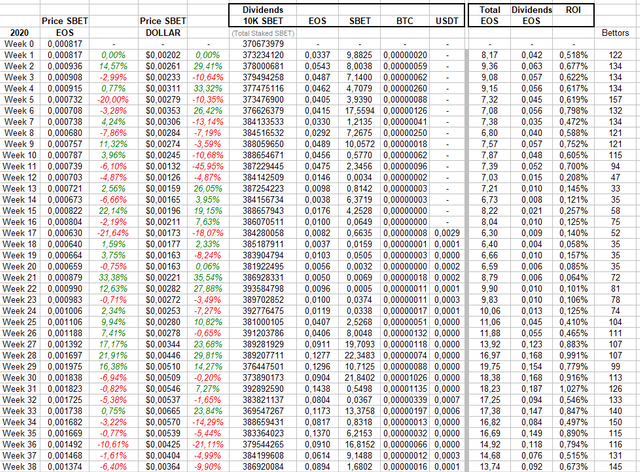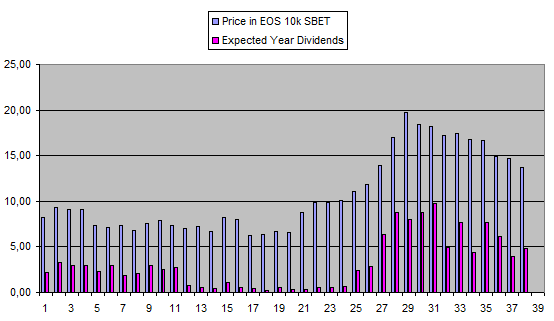 ---
That's it for this week!
---
Hive: https://hive.blog/@costanza
Publish0x: https://publish0x.com/costanza
Uptrennd: https://www.uptrennd.com/user/costanza
Twitter: https://twitter.com/costanzabets