The card this week which was highlighted in the Share Your Battle Challenge is the Giant Squid from the Water Summoner which is clearly one of the weaker cards on the game at the higher ranks.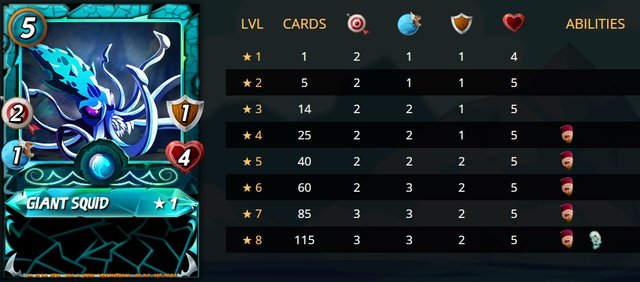 I didn't own a Giant Squid and bought one on the market to test it out. Just by the looks of it, it seems like a card which is quite good for the lower leagues as it had 2 damage and also armor. At the higher levels, the 2 ranged damage along with low health and a very specific ability just doesn't cut it compared to the other 5 Mana cards that are available. I played a handful of matches trying to get a win with it but it was honestly hopeless even if I would have the card at Level 5.

The specific rules I can see this card somewhat useful is the reverse speed as it only has 1. The Blind Ability could come in with now Sneak/snipe rules but even then, there are better options for that.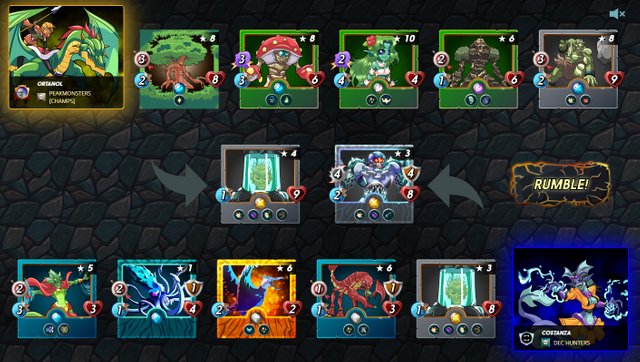 Even when the rules fitted the card (low speed and Magic Hot armor), I still got totally trashed because of the 2 ranged damage being just completely useless. The Chain Golem with low Speed, armor and void in the first position is perfect for this rule as it fully counters magic. I used the Lord Arianthus in 2nd position and lots of heal in 3rd and 4th spot with crustacean King and Albatross followed by the Giant Squid and finally the Naga Wind Master to destroy shields and counter Ranged damage in the last place.
The opponent (rank 3900+) just destroyed me as I was unable to break through his first level 4 Lord Arianthus lacking the ranged damage. I didn't want to destroy my ranking taking one loss after another with these cards so for the first time in these weekly battle challenges I gave up early after a couple of tries. Hopefully next week there will be a more useful card highlighted.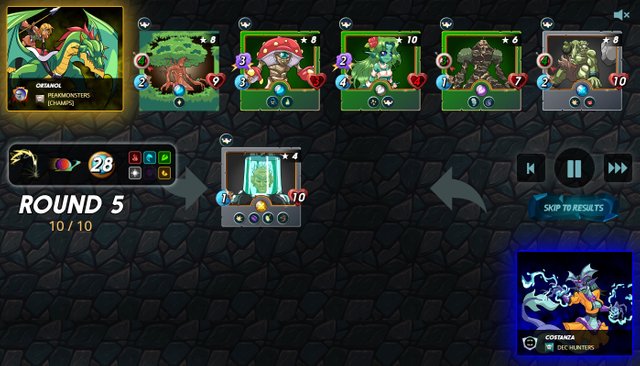 ---
Previous Weekly Challenges
Splinterlands | Serpentine Spy Challenge
Splinterlands | Goblin Mech Challenge
Splinterlands | Nectar Queen Challenge
Splinterlands | Manticore Challenge
Splinterlands | Undead Minotaur Challenge
Splinterlands | Spark Pixies Challenge
Splinterlands | Serpent Of Eld Challenge
Splinterlands | Gelatinous Cube Challenge
---
JOIN THE CHALLENGE + SINGUP PROMO OFFER
All Splinterlands players are free to join this Weekly Challenge (regardless of your rank) and will get rewarded by the team with Upvotes on both Steemit and Hive. My previous 6 Participations added up to a total of 30$+ net cross-posting on Steemit & Hive. If you haven't tried out the game yet, this is a great opportunity as it easily allows you to earn back the 10$ Price of the Summoner's Spellbook you needs to get both your Steem and Hive Private Keys after creating an account, share in the game rewards, get Daily Quests, join tournaments, Earn DEC for each Ranked Win,... I am also leasing out a whole bunch of cards to everyone that is using my Affiliate link when you try out the game. (For more details check this post). 
Signing up with an affiliate link and purchasing the Summoner's Spellbook currently will currently also give you a Free Random Untamed card from the @sl-giveaways account which could be a 100$ golden legendary if you are lucky. I also have a big sign-up promo running each month which makes a huge difference for new players to clear the lower ranks quickly (see the full deal here). I have 1 more Legendary Camila Sungazer Summoner available and the first to take up the sign-up deal next week will also receive the Giant Squid card I bought as an extra gift.
---
Hive: https://hive.blog/@costanza
Steemit: https://steemit.com/@costanza
Scorum: https://scorum.com/en-us/profile/@costanza
Twitter: https://twitter.com/costanzabets