Blaze Economy is a decentralized gaming platform that lives on the TRON
Blockchain.
This project is aimed at the active user, and rewards players
for participating in different games. Unlike traditional gambling games,
you will never be playing against "The House."

Blaze is 100% transparent,
fair, and never has predefined outcomes. As a player, YOU get to
determine your play style by either testing your luck or capitalizing on
profitable trading and mining opportunities in the Blaze Economy.

Blaze Economy is a platform of interconnected games and features. Unlike traditional casino Dapps, Blaze players can use gambling, mining, trading, and PvP strategies to earn profit. Players who pick the right strategy at the right time will earn the most Tron!
Website - https://blazeeconomy.com
Dividends

While The Blaze Economy is not a casino, we still want to reward players
with a recurring revenue stream, so a % of all game bets and point
purchases will go towards the dividend pool that is paid out to BLAZE
holders proportionately. See fees section for exact distribution.
To withdraw dividends, players must first freeze their BLAZE tokens.
Dividends will be accumulated even if the player has non-exchanged
points but cannot be withdrawn until the points are exchanged. Dividends
are distributed every 24 hours.
After 24 hours, when the next distribution time comes, all uncollected
dividends will be added to the new dividend distribution cycle. It is
important to visit the Blaze Economy daily to collect your dividends!
Remember, the Blaze Team does not take any % of dividends as a fee. This
is our bonus to you to further reward your engagement in our Economy!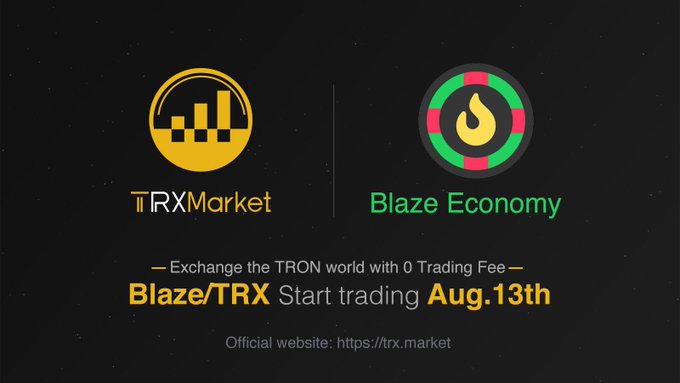 The most unique feature in Blaze Economy is the Exchange Rate. The Exchange Rate is how much Tron you earn for selling your Blaze Points. It is a living entity that changes throughout the day based on all players' actions. When players get lucky while playing our games, the exchange rate drops. When players are unlucky, the rate goes up. As a player, you want to sell your points at a high exchange rate when possible.
Players can gain Blaze Points in a few ways (more to come soon):
1) Blaze Machine – This is our flagship game based on fair RNG. Players roll to get a lucky number between 0-99. Based on the size of their bet and number they roll, they are awarded Blaze Points.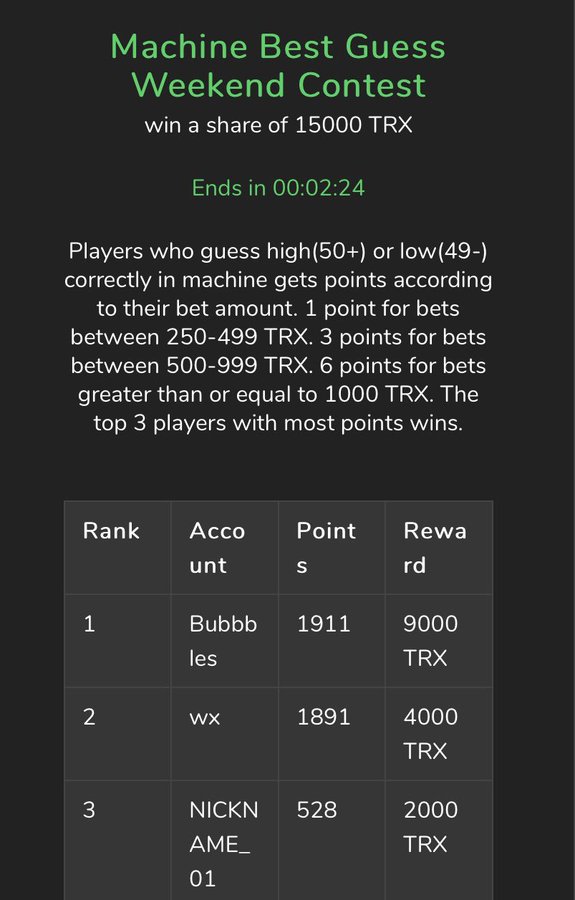 2) Buying Points – Players can choose to buy points directly and avoid luck all together. Buying points carries a premium, which is fed directly back into the market to help raise the rate for all players.
3) Blaze Kings - This is our first PvP game that does not use points. Instead, players can challenge one of the Kings to claim a throne that earns passive TRX and BLAZE. Kings also has a progressive Jackpot that grows from every Kings bet. Rolling a 0 when playing Kings will win this Jackpot!
When you roll or buy points, you are also mining BLAZE token. Not only do you earn daily dividends for BLAZE you freeze, but special features can be unlocked based on how much BLAZE you have frozen. We are building in many fun features for you to unlock.
If you still have questions, check out our Whitepaper and Tutorial Video below. We are always happy to help in our social channels as well. Good luck!
website - https://blazeeconomy.com

Telegram: https://t.me/blazeeconomy
Discord: https://discord.gg/GjfnvMy
Twitter: https://twitter.com/BlazeMachine
buymeacoff.ee/oF42hLYan
Trx adress - TFjtdqQ11uYWXf1uDUqzjZJf4hpzid8KRM

Regards
CEDCryptoCoin