Some people considers that he was best African player ever played football and i could just agree with them.. I am talking about the legend, Samuel Eto'o.. Would you say the same? There are legendary African players like Didier Drogba, George Weah, Roger Milla and i have watched them all and i put Eto'o in different place..
He had the persistence and i believe that's why he has choosen for "Best African Football Player" four times.. He played 23 years professional football.. In 720 games he scored 360 goals and dished 116 assists.. He played for lots of great clubs (Real Madrid, Barcelona, Inter, Chelsea, Everton, Sampdoria..) in the world.. He also was amazing with the Cameroon National Football team, played 118 games with 56 goals..
In his late career he played football in my country Turkey, he has created 50 goals and 15 assists in 89 games in here..
He was always fast with highest energy and he could hit the ball with both feet and he had great haders.. Also he could create greata assists as well.. He was also good at freekicks and penalties.. A total footballer right?
His story had started with the Real Madrid while he was 16 but he couldn't had to chance to play there.. There were Morientes, Raul and Suker on Madrid's squad in 1997 and Eto'o could never find a spot for himself.. He went to Leganes, Espanyol and Mallorca for loan until 2000.. On that date he signed with Mallorca and played amazing football there.. He specially played wonderful games against Real Madrid.. (In hic career he played against Rel Madrid 20 times and he had 11 goals and 5 assits in those games:)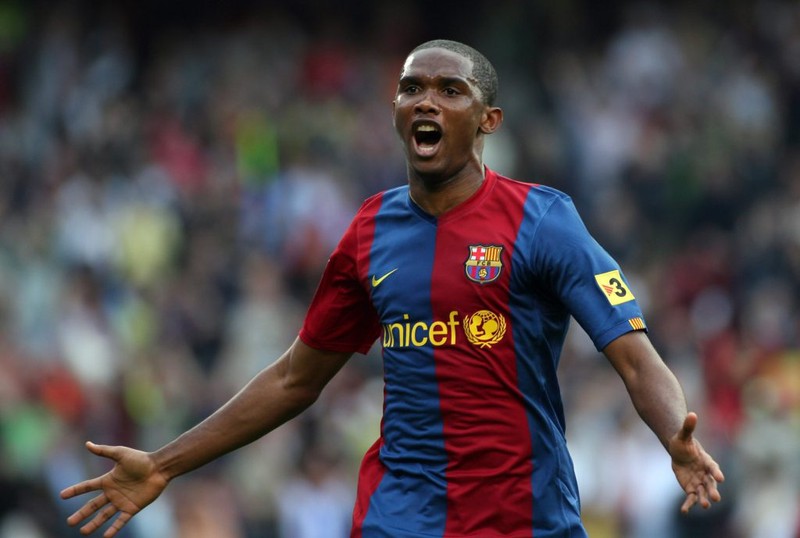 In 2004 Barca wanted to signed with him and they have paid 27 million euros to Mallorca.. I believe this has changed his football history forever.. He stayed 5 years with the Barcelona and gained 2 Champions League, 3 Spanis Laliga, 2 Spanish Cups and 2 Spanish Super Cup! He has became a one of the best striker on the world with his amazing performance..
After that he moved to Inter for 27 million euros and stayed there 2 years.. He could managed to gain a Champions League, a Serie-A championship, 2 Italian Cup and 1 Italian Super Cup with them..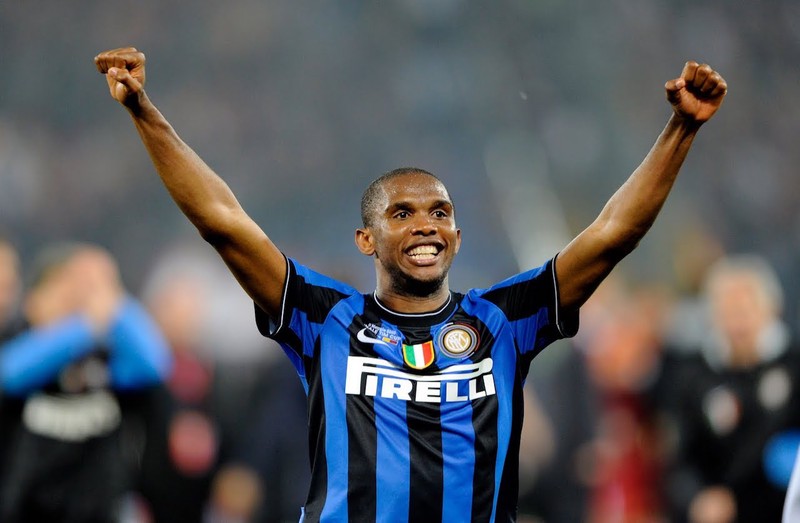 Would you pay 42 million euros to 31 years old forward? And that was 2011 and this fee was record.. Yes, Russian team Anzhi paid to Inter that much money and got him.. I believe that was the lowest ratings for his career because i knew that he was not really happy in there.. After the glorious Europen football.. Ofcourse Russia Football League was really good and lots of great players were playing there.. But i was talking about the LaLiga and Serie-A.. One of the greatest football leagues on earth..
When he was 33 years old Chelsea has paid 22 million euros to him and that was also quite a record..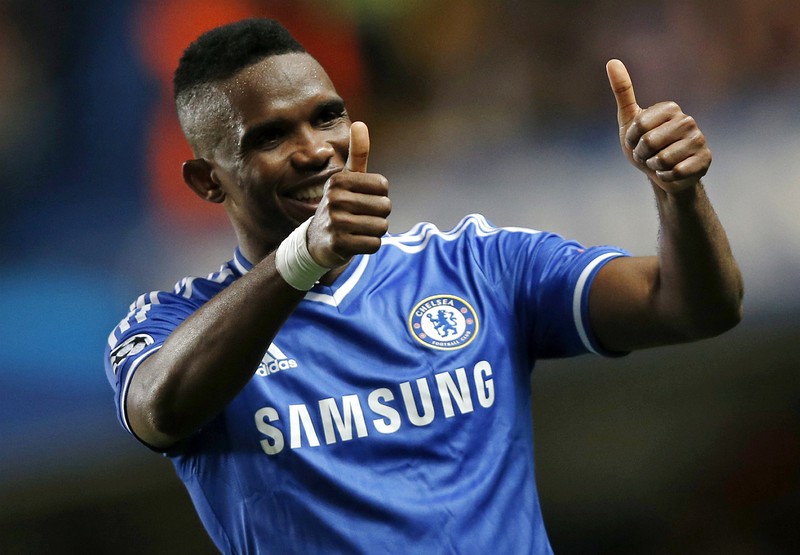 He kept playing football until he was 38 years old.. As i said before if we check his football career, we would see 23 great years..I want to ask you that who played 23 years football? With that quality.. In last 3 decades? I don't remember actually..
I believe he was a true legend and he was the best African player ever played in this game..
If you want to remember some of his greatest goals you can watch the video below... Thank you..
Image Credits:
https://go.aws/2X8mthS
https://bit.ly/2LxfABz
https://bit.ly/2TfElpZ
https://bit.ly/2X1glIg