There are different kinds of players in NBA from the beginning. Some of them are tall and can grab good rebounds and they would play good in paint area because of their heights. Some of the players are shorter than them but they can use and the share the ball well and they could score and make assists. But sometimes we would see some players that they can do anything on the floor. The biggest example for that kind of player is Oscar Robertson. He averaged 16.3 points, 7.5 rebounds and 9.5 assists per game in his 14 season NBA career. He was great in 1961-61 season and he averaged 30.8 points, 12.5 rebounds and 11.4 assists that season and he could averaged triple-double and that was a great record for basketball..
After that we haven't seen performances like that, the tall players grabbed the rebounds, short ones scored and dished assists.. Until 2016-17 NBA season we haven't seen something like Oscar did in the past but in last 3 seasons we are having Russell Westbrook madness! And this madness haven't stopped yet. Yesterday Westbrook surpassed Magic Johnson in all time triple-double list and he became second player who could make more than 138 triple-double. Westbrook went 28 points, 13 assists and 10 rebounds and made his 139th triple-double of his NBA career.. I want to show you his stats in last 3 season..
2016-17 31.6 points - 10.7 rebounds - 10.4 assists
2017-18 25.4 points - 10.1 rebounds - 10.3 assists
2018-19 26.0 points - 13.0 rebounds - 10.0 assists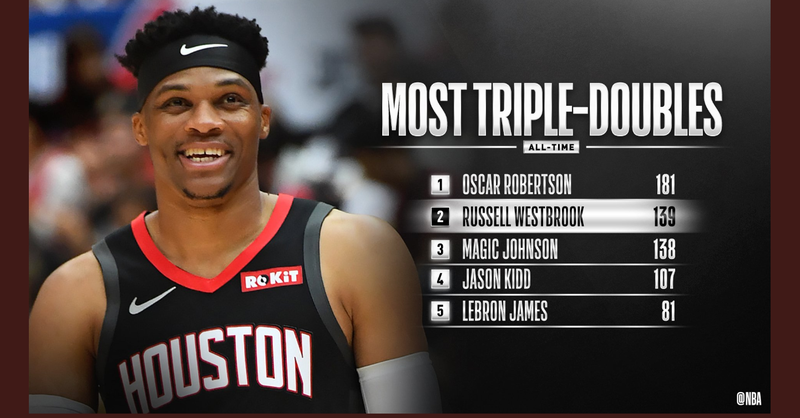 He is averaging high points because he is a good shooter that is okay, also he could create game plays and assists because he can use the ball good, that is okay too. But at the same time he could grab rebounds with his height.. It seems impossible because he is 1.90m and it is not enough to grab 13 rebounds per game (2018-19 season).. I remember Jason Kidd was perfect fit for triple-double and he could make it too many times in last 10 years. Also LeBron James is capable for triple-double and he is still making it. That's why LeBron is number 5 and Kidd is at the number 4.. I also remember Magic, he was one of the great players who ever played and he was having triple-doubles in 1980's, we didn't have too many chances to watch him but with his suitable height he was great rebounder beside his scoring and passing skills. As i mentioned before Oscar Robertson was the best one in history but Russell is chasing him now.. And i believe this list would not change in the future.. But i believe Westbrook could beat Robertson and could reach the number 1 spot.. We will watch him closely..
Also legend Magic Johnson tweeted and congratulated Westbrook for his great success.. He is cool person, i specially love Magic Johnson forever!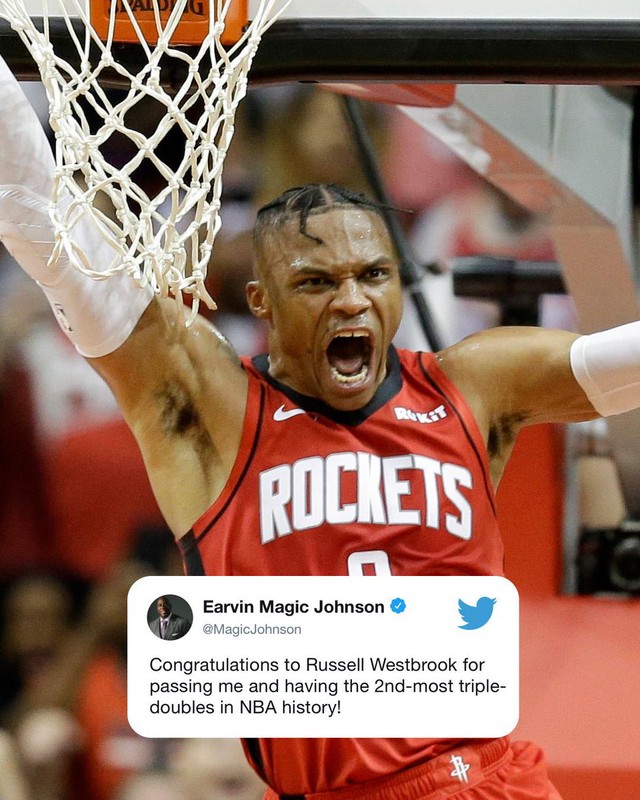 I wish we will have more player who can play in every part of basketball and create triple-doubles.. Thank you for reading..