I always say that "Oldies But Goldies" this is my Motto and i am very happy with that. I have just read an article which about the best centers in NBA right now. I read the list and i feel weird.. Yes, in the list there are some very good players but when i think about the past i remember some great centers in the history of NBA.. Honestly i couldn't match them with the old players.. They were best and they always played great basketball with their hearts! (Sorry new ones!) These active (C) players are which i read in article;
Marc Gasol

Myles Turner

DeMarcus Cousins

Clint Capela

Andre Drummond

Nikola Vucevic

Rudy Gobert

Brook Lopez

Karl-Anthony Towns

Anthony Davis

Joel Embiid

Nikola Jokic
As i said these are really good players but when i check the old ones, i see that i missed to watch them a lot again.. (By the way my Top 3 are; Nikola Vucevic, Rudy Gobert and Anthony Davis) These retired (C) players are; (There are some more great Centers in the NBA History but i wanted to write only my favourites)
Tim Duncan (Timothy Theodore Duncan)
I am big fan of Tim Duncan from his first day until his last. I have still his poster on my wall with the other Spurs legends Parker and Ginobili.. Today both got retired.. I think i am getting older.. :)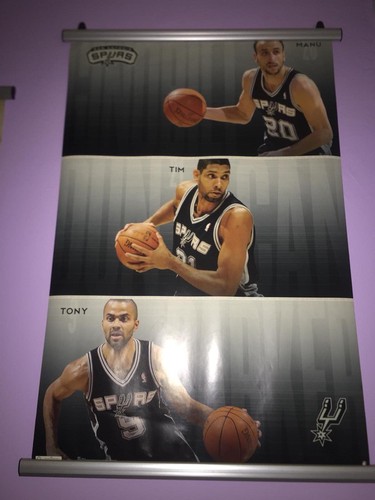 There are some games i could never forget about Duncan.. I am very lucky because i could watch those performances. The first one was Game 6 in 2003 NBA Finals.. Duncan produced 21 points, 20 rebounds, 10 assists and 8 blocks against New Jersey Nets! If he could block 2 times more he could catch the quadruple-double.. Anyway, that was the one of the greatest performance i have ever seen.. He was a monster in offence and defence both ways! I can easily say that Tim Duncan won the 2003 Championship by his own with the terrific Finals performance in 1,3 and Game 6! Check his amazing stats below 👇👇👇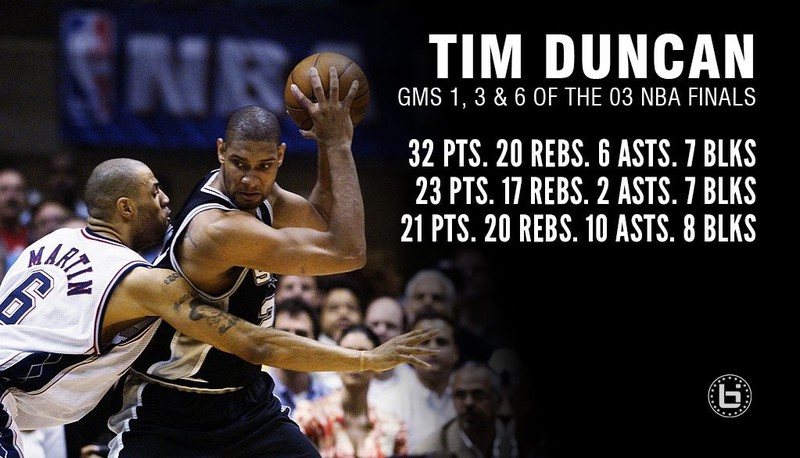 Also he had this unique "Vintage Timmy" performance against Phoenix Suns in playoffs.. He got that game tying 3 pointer at the end of 1st overtime. That night he went 40 points, 15 rebounds and 5 assists..
First pick of the 1997 NBA Draft (Also Rookie of the Year)..19 years and 1392 NBA games (1389 starting 5).. 19 years with the same team.. 5 Times NBA Champion and 3 times Finals MVP.. 15 x All-Star and 10 x NBA first team.. Those numbers is not a joke.. Which active player could catch those numbers? I wish they can.. That's the one of the reason that he became a Legend in San Antonio.. In his career he averaged 19.0 points, 10.8 rebounds, 3.0 assists and 2.2 blocks per game.. Also he gained 2002 and 2003 NBA MVP reward twice.. He is now San Antonio Spurs assistant coach and i still can see him on the floor..
Shaquille O'Neal (Shaquille Rashaun O'Neal)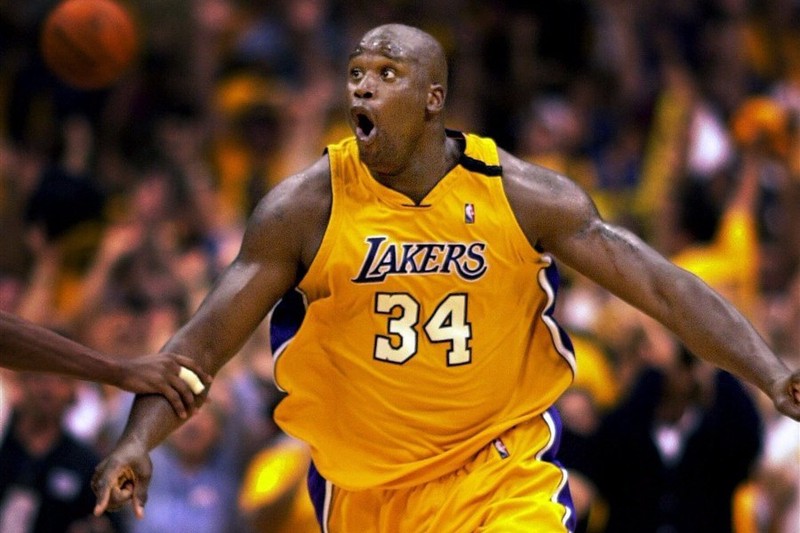 First pick of the 1992 NBA Drafts (Also Rookie of the Year).. 2 times NBA Scoring Leader.. 19 season with 1207 NBA Games.. 4 Times NBA Champion and 3 times Finals MVP.. 15 x All-Star and 8 x NBA first team.. (I am telling you again, those numbers is not a joke!) Yes, i am talking about Shaq! The Big Man! Kazaam! He is also one of the few player that both his number retired by different team.. (Number 34 from LA. Lakers and number 32 from Miami Heat) Also he gained 2000 NBA MVP reward..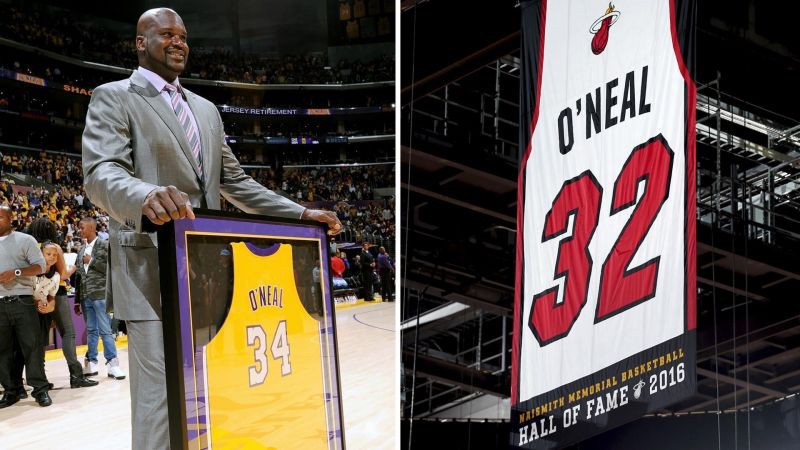 Shaq isn't just a name, he is a brandmark for me. I believe everyone know him in the world and usually people likes him a lot. He was really strong player and he is always funny! I also remember his first days just like Duncan.. It wasn't really easy to stop him in his early years. I believe he was the most dominant players in early 2000's.. He had some amazing performances which i remember.. His 65 points and 23 rebounds performance was amazing in 2000 against Clippers with the Lakers.. Many people still says that was better than Kobe's 81 points crazy night.. He also had 53 points and 18 rebounds game against Minnesota Timberwolves in 1994 with Orlando Magic..
He has broken to many glasses and i wanted to remind you his video mix about it! It is so funny :) Shaq's Back Board Breaking Dunks 👇👇👇
In his career he averaged 23.7 points, 10.9 rebounds and 1.1 blocks per game.. Today we can watch Shaq on TNT and his special show Shaqtin' a Fool 👇👇👇
Hakeem Olajuwon (Hakeem Abdul Olajuwon)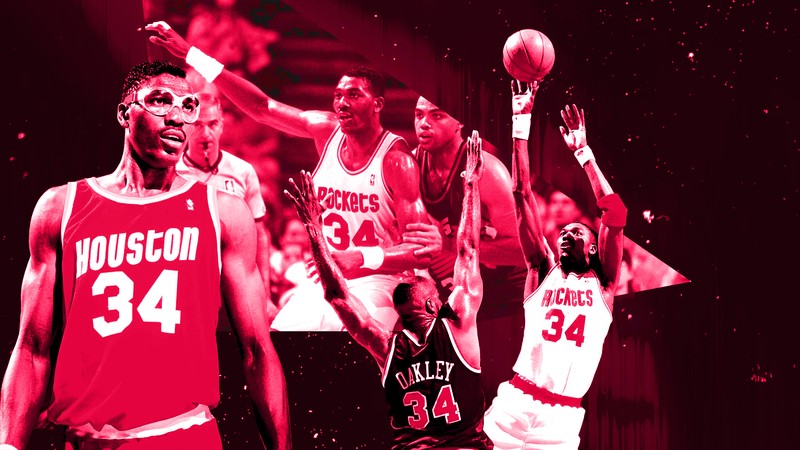 People called him "The Dream" and i am sure that he has earned this nickname. He was amazing player, amazing character.. First pick of the 1984 NBA Drafts.. 18 season with 1238 NBA Games.. (In his first 17 season he played for Houston Rockets and played for Toronto Raptors for his last season. His 34 numbered jersey retired by Rockets).. 2 Times NBA Champion and in both championships he named NBA Finals MVP.. 12 x All-Star and 6 x NBA first team.. In 1989 and 90 he gained NBA Rebounding title twice and he was NBA Blocking Leader 3 times in 1990-91 and 93.. With his 3830 blocks he is NBA block leader and i believe no one could break his record! In 1993 and 94 he was selected for NBA Defensive player of the year.. Also he gained 1994 NBA MVP reward.. Nowadays usually small players selecting for MVP rewards, Duncan got that title 2003 and after that there are no Center player got this honour..
In 1990 he had amazing game against Milwaukee Bucks and posted "Quadruple-Double" that night with 18 points, 16 rebounds, 10 assists and 11 blocks! Look at those stats! Who can do that today?!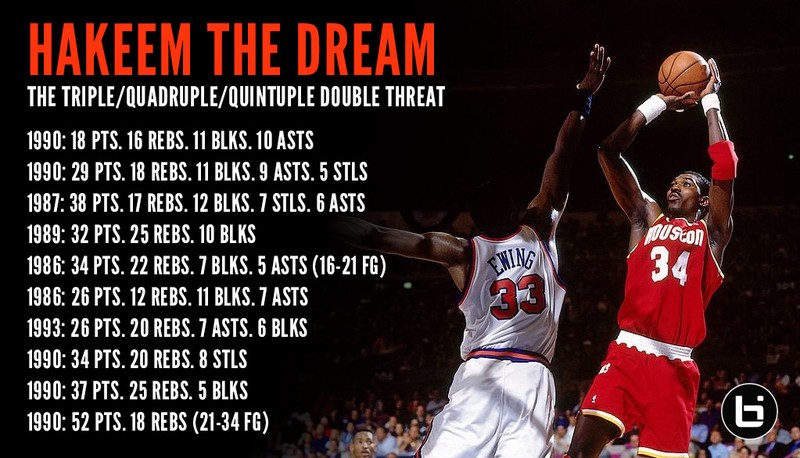 In his career he averaged 21.8 points, 11.1 rebounds, 2.5 assists and 3.1 blocks per game.. Today he is England, Birmingham and running a basketball camp for children, teaching them how to play some great ball!
Bill Russell (William Felton Russell)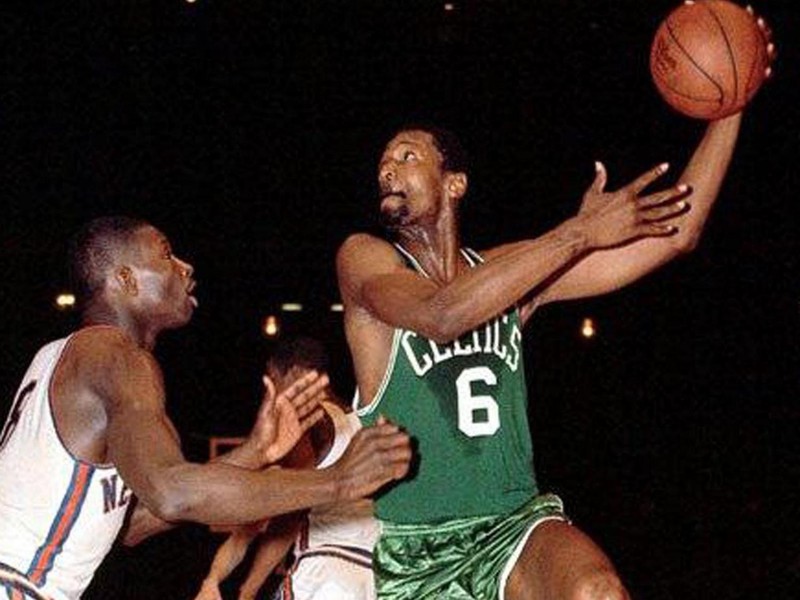 He is a true legend with his 11 rings! When i hear Russell's name i always remember his photo with a big smile on his face with his 11 rings.. He played in NBA between 1957-1969, that's why many of us don't know too much about him but i try to remind you about his great achivements..

So lets start with this: No one ever got 11 times NBA Championship, FULL STOP! He only could played 13 season and 11 times he could win those championships.. He was always with the Boston Celtics and never leaved his team.. He also became 5 times NBA MVP and 4 times NBA rebounding champion.. Named 12 x times NBA All-Star..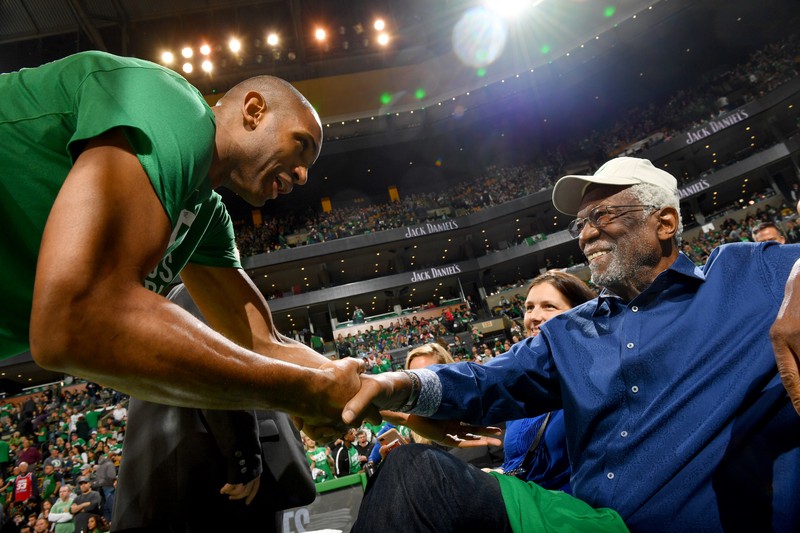 In his career he averaged 15.1 points, 22.5 rebounds, 4.0 assists and per game (the blocks weren't counting in the NBA while he was playing).. Today he is 85 years old and he always attend NBA's important celebrations and i get happy when i see him on TV every time! (Finals game, All-Star weekends etc.) NBA legend Kareem Abdul-Jabbar once said he is the greatest basketball player he is ever seen..
Kareem Abdul-Jabbar (Ferdinand Lewis Alcindor Jr.)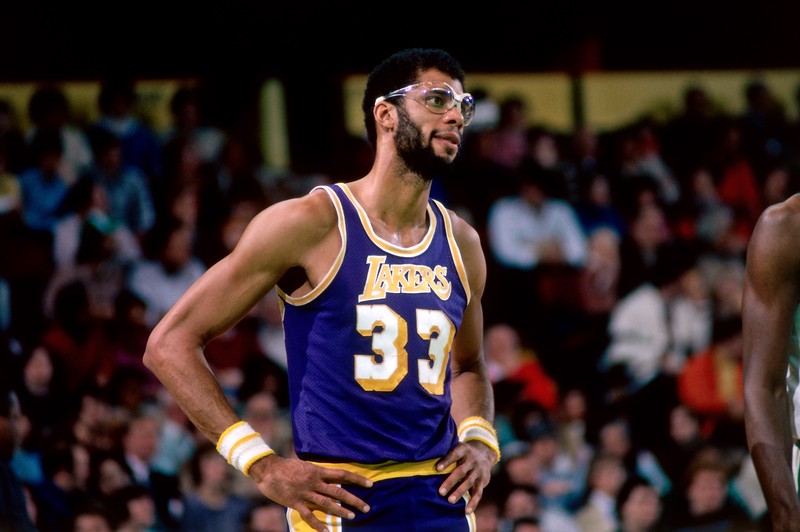 20 seasons and 1560 NBA games! Only Robert Parish has played more games than Jabbar with 1611.. I remember him from his last years with the Lakers, he was looked quite old but he was always dominant. He had no hair but you still couldn't defense him.. I remember his deadly "Sky Hook" shots.. I wish that i could watch him in early years.. When Wilt Chamberlain legacy started to fade that time Kareem came to the floor and started to dominate the NBA.. He also had amazing College career with UCLA, he played there 3 season and gained 3 championships..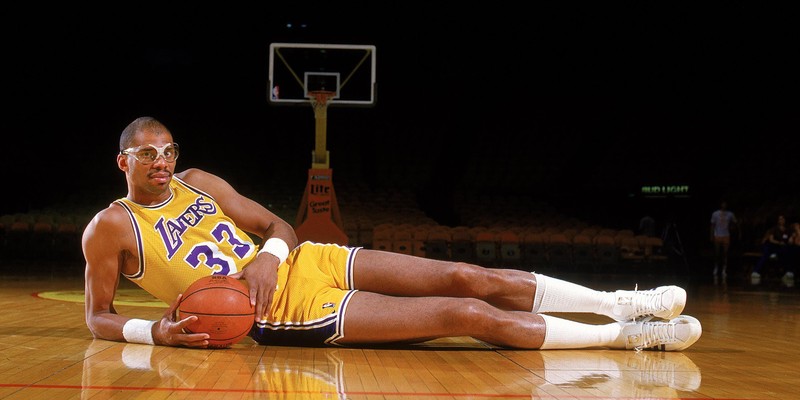 First pick of the 1969 NBA Drafts (Also Rookie of the Year).. No one ever win 1074 NBA games, just him.. No one could scored 38,387 points in NBA.. He is NBA's most scorer name! He had 17,440 rebounds in total and he is number 3 in the history. Also with his 3,189 blocks keeps him in the 3rd row in NBA History.. He has got 6 NBA Championships with 2 times Finals MVP rewards.. He was named 6 times for NBA MVP rewards and he became an All-Star player 19 times! He was in NBA first team for 10 times.. 1971 and 72 he was NBA scoring leader.. His 33 numbered jersey both retired by Milwaukee Bucks and Los Angeles Lakers.. Many people consider him the greatest basketball player..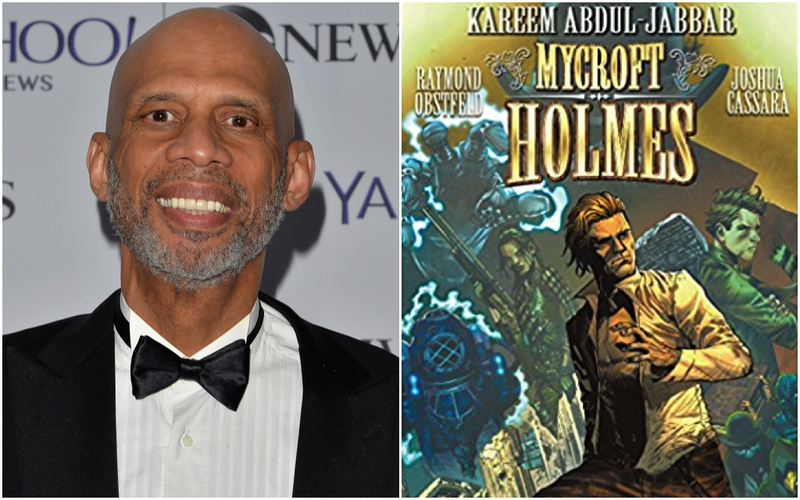 In his career he averaged 24.6 points, 11.2 rebounds, 4.3 assists and 1.1 blocks per game.. Today he is writing books, several years ago he became New York Times best-selling author.. I wish him long and healthy years..
Wilt Chamberlain (Wilton Norman Chamberlain)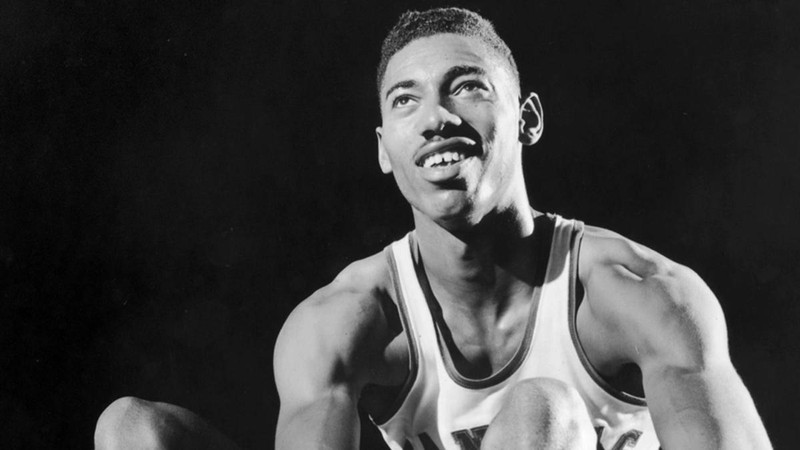 After Bill Russell unfortunately i have to say that i haven't got any chance to watch him, i wasn't even alive when he performed his greatest seasons.. He could only gained 2 NBA Championships and 4 x NBA MVP rewards.. He became 13 x All-Star and named for NBA first team 7 times.. His achivements seems less than the others in this list but he had some amazing averages, that's why he is in this list. I did write about Wilt Chamberlain in my previous posts but i can't help myself about talking him. I mean who could average 50.4 points with 25.7 rebounds in a season?? I strongly believe that his 1961-62 performance was the greatest one in NBA History, also i think in all sports history.. I always getting shock about this performance. I said i couldn't watch him but many times i dream about it. Also dreamt about his 100 points performance.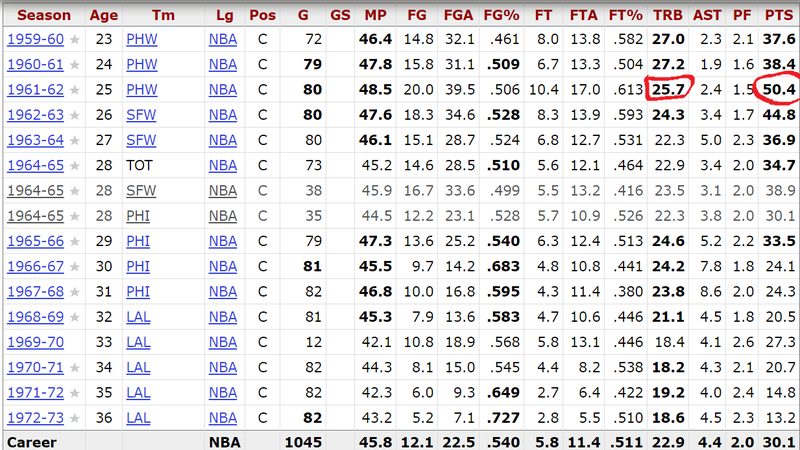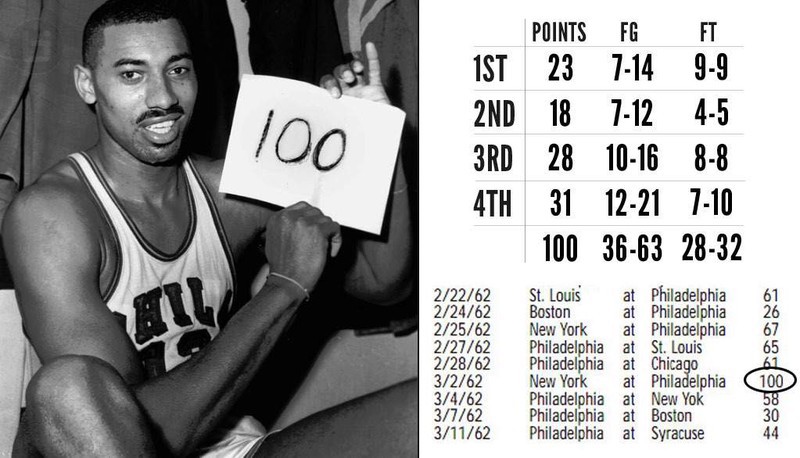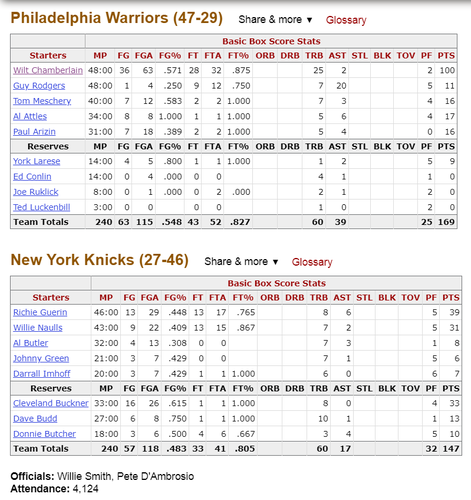 In his career he averaged 30.1 points, 22.9 rebounds and 4.5 assists per game.. Unfortunately he has passed away in 1999 at the age of 63.. R.I.P. Legend..