What would you say? Is really Scottie Pippen is the most underrated NBA player ever? Or even most underrated sports player?
Have you ever watched him? His plays? Do you remember how good he was? Both in offence and defence? Have ever you witnessed his amazing assists?
He had 11 sisters and brothers in a big and unlucky family.. That's why he signed that unlucky contract, $18 million for 5 years in 1991.. He wanted to have some guarantee money because he needed to take care of the family.. That was early 90's and if a player got injuried everything were totally different.. He was a superstar player but he was at the 122nd spot for NBA salary list.. His father and one of his brother had stroke and they both had to leave with wheelchairs.. Pippen had to take care for his family and he did that great..
The first question to ask would be "Howmany rings does he had?" 6, just like Michael Jordan.. And Jordan played 1 season longer than Pippen with the Bulls..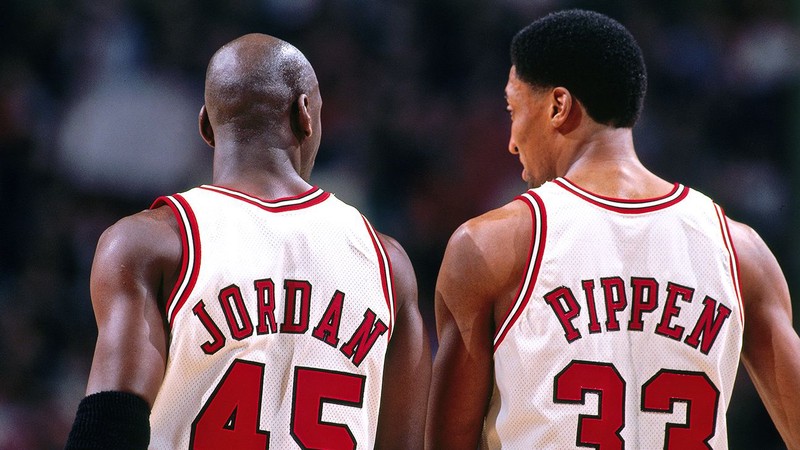 Let's check about his career stats;
6 times NBA Champion
7 times NBA All-Star
3 times All NBA 1st team
8 times All NBA Defensive 1st team
1 time NBA Steal Leader
His game stats: 16.1 points, 6.4 rebounds and 5.2 assists per game..
Amazing isn't it?!?
The stats is everything for me and i always want to talk with them..
Only 6 NBA players managed to create +18000 points, +6000 assists and +6000 rebounds in NBA History.. Oscar Robertson, Clyde Drexler, John Havlickek, Kobe Bryant, LeBron James, and Scottie Pippen..
Only 6 NBA players managed to create + 3000 points, +1000 assists and +1000 rebounds in NBA Playoffs History.. Magic Johnson, Larry Bird, Michael Jordan, Kobe Bryant, LeBron James and Scottie Pippen..
Check these two achievement lists, which is very hard to be in it(!) and we would all see Pippen in these lists.. Isn't it that something? I believe this would be enough evidence for his underrating..
He also had several mistakes and he accept them.. I believe the most important one was his "sit out" decision.. He says that it was his biggest regret.. I watched lots of his teammates in "The Last Dance" series and they all says that they all loved and trusted him a lot.. You should watch the series and listen Steve Kerr, Horace Grant and others..
Pippens wealth is around $20 Million today.. If we look at the MJ side we would see the billion.. His wealth is more than $2.1 Billion.. (I would never match MJ with Pippen it is just an example :)
I remember his contracts after he leave the Bulls and i got happy for him.. He speacially got great contract with the Portland Trail Blazers..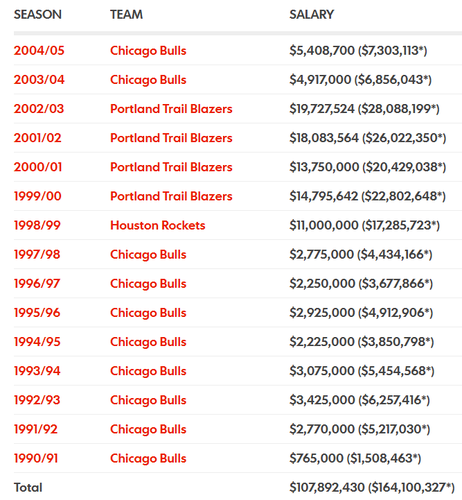 If i would create a superstar team in 90's i would choose Pippen in my team, there would be no question.. He was superstar and after MJ he was one of the biggest player in the league..
Thank you for reading..
Image Credits:
https://bit.ly/2Tx0PmB
https://bit.ly/2XmWZO7