Day 3 of this Bitcoin beginners life in the crypto Universe almost was the last day as well.... Let me tell you all about it.
I was given 3 Golden Rules by the friend that I referred to before , the one that got me into buying crypto.
I wrote about two already:
1. Not your Keys Not your Coins
2. No Panic Sells
Day 3 Rule number three
And than there is rule number 3.......
Crypto is fun!

Well that one kept running through my mind every hour in the period that I had my worst Crypto Scare so far.
I told you about my first scare when I had to pay $9 to transfer my BTC from Bitvavo to myCoinomi Wallet
Now let me quickly tell you how my crypto days seemed to end before they truly began
So as a Noob I asked my friend "how do I transfer my coins from Bitvavo (where he told me to buy them) to my Coinomi wallet?"
The answer I got was "I dunno."
Well not the answer I was looking for, but still in Google we trust so:
In GOOGLE We Trust
I googled away and found the steps.
I followed the steps.
I got the confirmation email.
I got the processing email.
And I got ............Nothing in my Coinomi Wallet.
That is a BIG OOPS indeed.
So I turned to Google once more, found out that it can take hours some times days before a transfer is processed ..... but didn´t I get a confirmation email saying processing is completed it will be available in you wallet soon? Yes I did.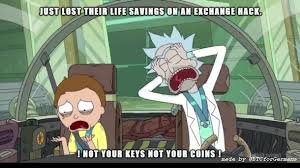 NOOB lost at Midnight
And now it´s midnight and I am a little Noob lost.I´m not gonna bother my friend about this right now, so now what?
Only option is back to Google (again) and guess what I found ⚠️"SCAM ALERT" ⚠️
Supposingly there is fake Coinomi Software out there for guess what ....... your desktop wallet. And what did I install?
Yup, you guessed right. The Coinomi Desktop Wallet. So now I had to get out of bed in the middle of a cold night to confirm if I installed the real deal.
Okay, I got lucky, I installed the official Coinomi Wallet. But it was still empty. "Crypto is fun," hell no, not when I am lying awake at night when I just got started🥺
Next morning I wrote to Bitvavo support and they were of such a help telling me that my coins should have arrived at the address I provided.... please check if it's the correct address and if you are looking in the right wallet!!!!
Yes I am a noob, but not an idiot💩. I did that 100 times already, it´s a lot of money you dolt.
Get your shit synched
Just before writing Coinomi support for advice is saw a button.
Synchronize your transfers.... I clicked and got the message are you sure this might take a while....
No I am not sure, but what the hell my wallet can not get any more empty than this.

Hell yeah, that was the right button. Not sure why, but it seems that i had to sync my one transaction to make it visible. OMG Crypto is such fun.
Well my coins are safe in my wallet of which only I got both keys. And yes even though Coinomi is not a true Hardware Wallet it comes freaking close. For a BTC beginner like me it is good enough and it leaves my girlfriend with an idea for a nice 2021 Christmas gift.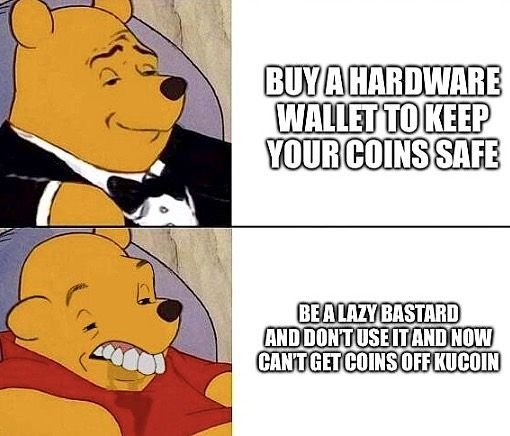 If my BTC´s are still worth something by then of course........
Yesterday´s Papers
I fried the fish and left the paper here for you to enjoy.
Day 1- Welcome to Crypto
Day 2 - No Panic Sells
Feel free to provide tips,comments or just follow me. Because more mistakes by BitcoinBaby are coming soon.