I have been observing BAT token price for over a month now. Especially when I realized that it is one of the best alt tokens right now to stay invested on. Nearly a month back I saw the price of BAT tokens going down especially when BTC was in rally. I wanted to experiment and so I purchased a small quantity of around 100 BAT tokens on Bittrex.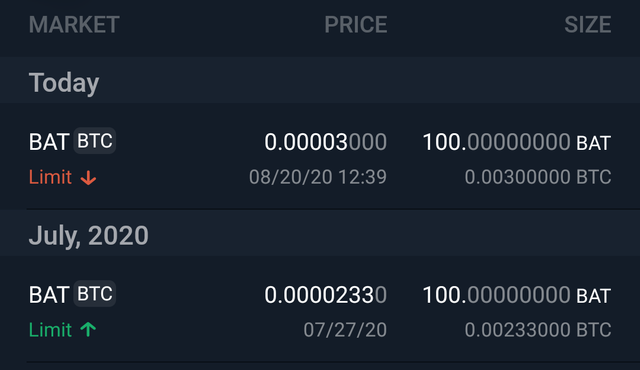 Two days back the BAT token price pumped and I was so curious to sell it at 3000 Satoshi. After selling I realised that it was not a great move even though I was in profit. But the funny thing is that it was as if like a good sacrifice and I made the gods happy. Yesterday the price pumped to over 3500 Satoshi and from then on the price is stable at above 3000 Satoshi.
Like I said, I wouldn't call it a bad trade as I was in profit. Just one small feeling that I should have purchased some more quantity when it was available in such low price. The token model is also looking good. I guess I will not miss the opportunity again if the price drops. I have been observing the price on Bittrex. I will straight away go for it if the price drops again but experts say it is already in upward trend. Let's see if luck favours me or not by giving another investment opportunity.
Some might even say that I can even purchase some tokens in the current price if my intention is to hold for long term. But yeah something inside me says that the price would fall again. So, I'm going to wait for a month and see how it goes.
---
---
Posted Using LeoFinance