For my online business, I'm always looking to generate new and diversified income streams. For a certain time I've started to work with Tron and on the network I've found an income stream that is secure and completely passive.
Staking and voting with Tron
If you are staking tron with an exchange, I would suggest that you do the staking by yourself. With binance for example, you need to wait some time until you actually get a payout from the Tron on your account. If you stake Tron directly on the blockchain, you will get paid several times per day from the first day on.
How does staking work on Tron?
In order to be able to stake Tron, you need to own tron. You might want to have a look at this tutorial how you can create a tron account and how you can earn your first tron for free.
On the Tron blockchain, staking is called freezing. When you freeze your tron, you block them for at least 3 days. This means that you can't transfer or spend them before unfreezing them. You can freeze Tron either for bandwidth or energy. The more Tron you have frozen, the less you will have to pay for transaction costs and smart contracts.
On tronscan click "Frozen/Unfrozen"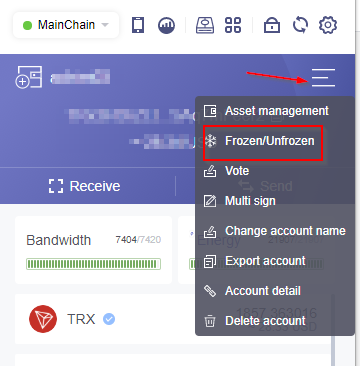 You will be brought to the tronscan account page. You will need to scroll down a bit and find the "Freeze" button
A window will pop up that asks you how you want to freeze your Trx. You can freeze it for bandwidth or for energy. You need to define the amount you want to freeze and the recipient address. Make sure to put there your own address. Finish the process by clicking the freeze button. You will need to wait a couple of minutes until the transaction is confirmed by the blockchain.
Vote for a Super Representative
When you have frozen Tron, not only will you get some free transactions on the blockchain but you can also vote for a super representative. The button to access the voting page is just next to the freeze button.
You can now vote for the super representatives of your choice. What you should know is that some Super Representatives share their block rewards with their voters. This means that you can actually earn money for voting certain super representatives!
The bigger the voting sharing ratio is, the more you will earn! I always try to vote for super representatives that offer a share of 80 or 100%. It is necessary to modify your votes from time to time to maximize your income.
At the end of each voting round, you will get your share from the super representative. I believe that there are 3 voting rounds per day.
How to claim your Tron from Vote sharing
On the tronscan account page, at the top you will find the field voting reward. Next to it you have a button called collect reward. You can click this button and the voting reward will be added to your wallet balance. It's possible to claim once a day.
Get compound interests
In order to earn compound interests, I suggest that you claim your voting reward regularly, freeze it and increase your vote. The more Trx you have in voting, the higher your voting rewards will be. If you reinvest these voting rewards regularly, you can actually profit from compound interests!
---