Good evening and welcome back to all.
Even on this somewhat anomalous day, which saw me working only in the morning, and then wandering around most of at least two provinces of my Liguria, here I am again, albeit rather tired, with this new daily post of mine, dedicated, in this case, to my progress on Rising Star.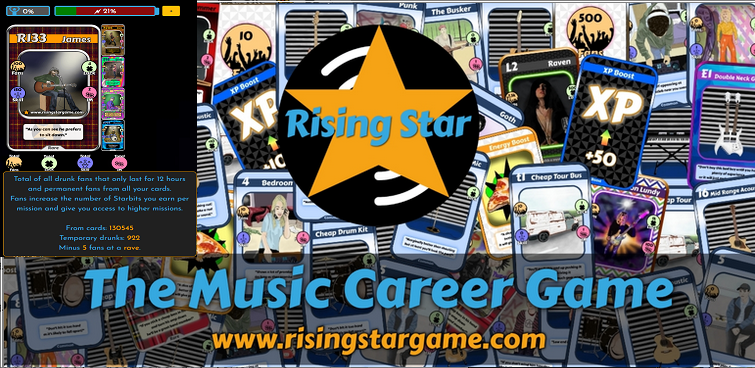 After having gone, as usual, to work in the morning, in fact, today, after returning home for lunch, in the afternoon, I went together with my mother to the municipality of Varese Ligure, where I met with a surveyor, to allow him to draw up a report, together with other documents, which hopefully will allow me to definitively close a family matter.
In reality, this is something that has been going on for a few months now, and which I am taking care of in total autonomy, given that, as you think you have already mentioned in my other previous posts, I certainly cannot count on my sister , after some unpleasant episodes some time ago, nor, much less, I can let my parents be forced to take care of it, given their no longer tender age.
Given that, barring surprises and last-minute unforeseen events, things went quite well, it would seem that on Monday we will be able to meet with the counterparty, who is dealing with the above situation, in order to be able to proceed with the signing of some contracts that should definitively close the issue, once and for all, allowing my parents to find some peace of mind, and also to obtain, fortunately, some profit from the solution found.
At this point, honestly, all that remains is to cross our fingers, and hope that all the documentation that I have sent to my lawyer, for the last checks, to be sure that everything is up to standard and in order, and there are no strange things, which can blow everything up, be in place, so we can move forward with this thing.
In fact, after all the time and energy I spent to arrive at this solution, I admit that, if everything were to blow up, it would, for me, be a huge disappointment, as well as the beginning of other annoyances which, honestly , I would gladly avoid, since they would add to all my personal issues, which are already enough for me and left over.
But these are my usual digressions with which I end up, all too often, wasting time on topics that have nothing to do with the main one of my publication, and, consequently, I would say that the time has come to stop dither around, and go talk about my progress within Rising Star.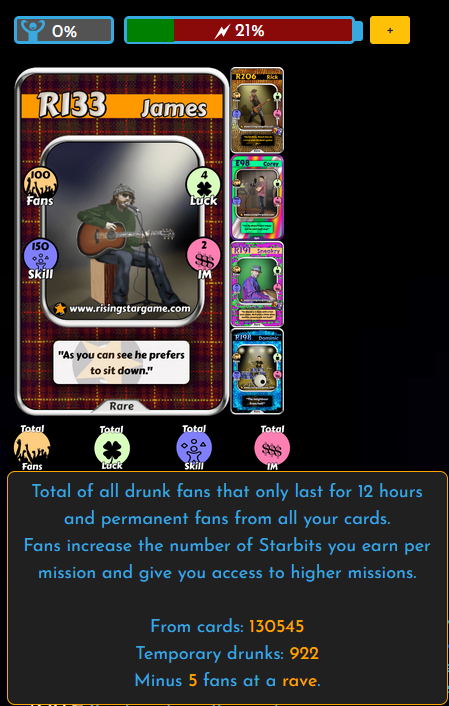 What drives me to write this new article of mine, in fact, concerns a new goal that I reached, within the game in question, just yesterday, following the opening of yet another bundle of 12 card packs.
Thanks to the above unpacking, which also turned out to be decidedly quite interesting, fortunately I managed to reach the quite remarkable figure of 130,000 fans, which, frankly, I never expected to reach when, by now quite some time ago, I had started to play Rising Star.
I know perfectly well that there are definitely much stronger players than me, who have reached far more important quantities of the same ones, and who, consequently, will find my goal almost ridiculous, but personally I am definitely more than proud of my steps forward .
I have to admit, however, that without the precious advice of a user, all Italian, who had come to compete among the top ten players at an international level, most likely this process of mine would have been much slower, and I don't even know if today I could have been here.
I am obviously referring to that strategy, which I have been implementing for quite some time now, which consists in buying, cyclically and repeatedly, as soon as I find myself in a position to do so, reaching the sum of 100,000 Starbits, of bundles of 12 packages of cards, which has allowed me, over time, to increase my statistics more and more, and, consequently, to go on growing, away, away, faster and faster, and exponentially.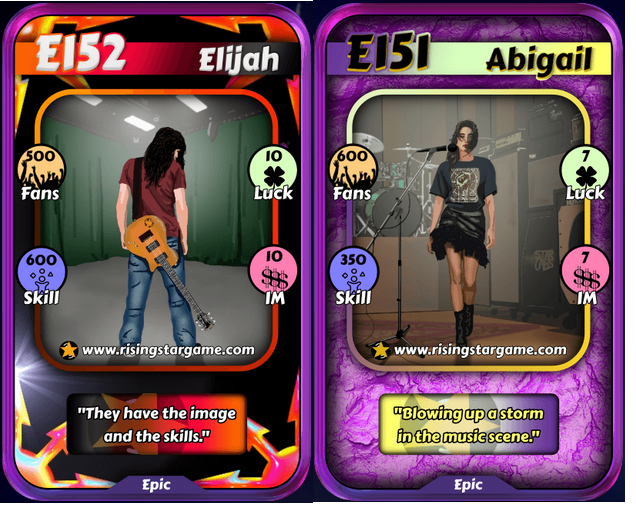 Also on this occasion, the aforementioned way of acting, thanks also to a couple of lucky hits like the ones you see in the photo, which allowed me to find myself in front of two epic cards, namely an E152 Elijah and an E151 Abigail, which they offered me the possibility of adding 1100 Fans in one fell swoop, overcoming my goal, it seems to have worked out great.
Beyond days like these, which were particularly fortunate, however, this strategy has continued, over time, to allow me, however, an ever more exponential growth, increasing my followers more and more, who in turn have gone on to increase my I return to Starbits every day, in a virtuous circle that has allowed me to reach this small goal of mine ever faster.
As I have reiterated on several occasions, I must admit, however, that I had a considerable boost in this path of mine when I managed to grab the Starbits Millionaire card, among other things shortly before it was taken out of circulation, I don't know if forever, or only temporarily, which allowed me to start carrying out the related daily mission, which rewards us with 10,000 tokens.
At the beginning of my journey, all this proved to be decidedly fundamental, since it allowed me to speed up my first steps, even if, on the contrary, in my current state, it represents only a small part of my earnings daily.
From here on, however, it could be that my progress, in terms of the amount of Fans achieved, could slow down a bit, but not because of a problem within the game, but because I intend to diversify the moves I want to put practically on the same.
In fact, for some time now, Rising Star has launched a new mode, called Raves, where, practically, one has the possibility to participate in the well-known illegal parties, well known by all, in the hope of being inside that, among the four that are launched cyclically, which will turn out to be the winner, i.e. the one that will have the largest number of active participants, at the end of the holidays.
To participate, however, cards are required, called "Super Fans" which can only be acquired, either by buying them on the marketplace, if available, or, alternatively, by finding some NFTs, within the section of Fan club missions, which then allow you to participate in the "Record Signing" mission which could offer the opportunity to receive the aforementioned.
To carry out the former, however, StarPros are needed, which, in turn, can only be recovered by purchasing them from Hive Engine, or other similar services, or through the Music Promoter mission, within which you use your own Starbits, to obtain, in exchange, by sponsoring certain daily missions, the other necessary toens.
This is a move implemented by the creator of the game to stop the decline in the value of the main token, which must therefore be used to obtain the second one, and which should, therefore, hopefully, return to raise the price of both, in an attempt to stop the free fall of the first.
From now on, therefore, my intention is to allocate a part of the Starbits I have earned, to get some Starpros, which I will then use to try to unlock some cards that will allow me, over time, to go and receive the special ones, which will allow me to participate in the Raves with larger quantities of the same, and, consequently, to have better returns, this time in Swap-Hive, than the ones I am able to obtain now.
In short, the game, thanks to some innovations such as those mentioned above, and also to the arrival, expected shortly, of a new game section in the map, called Pro, which will further expand the variety of the game, going even having to use some game assets, to combine them, and obtain more advanced alternative tools, has received a new injection of lifeblood, and I hope that all this can restore interest in the same, allowing it to return, again, to the fore, even more strong, and is getting the success it deserves.
If, after reading this post of mine, you are drawn to the idea of ​​trying to become an international music star too, there is nothing else to do but go to the Rising Star website, and connect to the game using your Hive account, to start playing immediately, since participation in this game, unlike other Play to Earn is completely free, another strong point for the benefit of this splendid game.
I am waiting for you around the stages of the most famous International Music Festivals !!!
---
Buonasera e ben ritrovati a tutti.
Anche in questo giorno un po' anomalo, che mi ha visto lavorare solo in mattinata, per poi girovagare in giro per buona parte di almeno due province di questa mia Liguria, eccomi rispuntare, anche se piuttosto stanco, con questo mio nuovo post quotidiano, dedicato, in questo caso, ai miei progressi su Rising Star.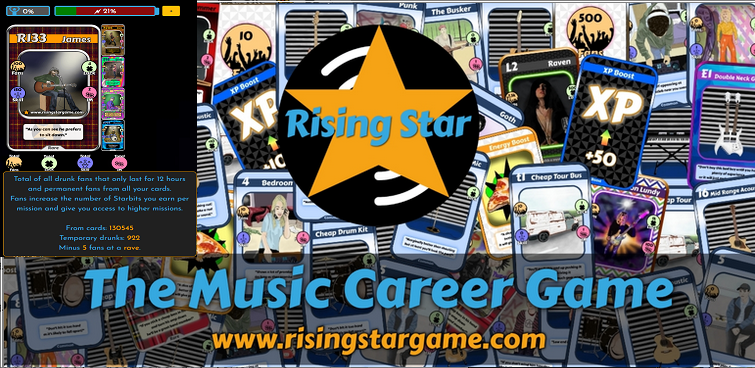 Dopo essermi recato, come di consueto, al lavoro in mattinata, infatti, quest'oggi, dopo essere tornato a casa per pranzo, nel pomeriggio, assieme a mia madre mi sono recato in quel del comune di Varese Ligure, dove mi sono incontrato con un geometra, per consentire, allo stesso, di stilare una relazione, insieme ad altri documenti, che si spera mi possano consentire di chiudere, definitivamente, una questione familiare.
Si tratta di una cosa che va avanti, in realtà, già da qualche mese, e della quale mi sto prendendo cura in totale autonomia, visto che, come crede di aver già accennato in altri miei post precedenti, non posso certo contare su mia sorella, dopo alcuni episodi spiacevoli di qualche tempo fa, né, tantomeno, posso lasciare che siano costretti ad occuparsi della cosa i miei genitori, visto la loro ormai non più tenera età.
Visto che le cose, salvo sorprese e imprevisti dell'ultimo momento, sono andate abbastanza bene, sembrerebbe che lunedì ci si potrà trovare, con la controparte, che ha a che fare con la situazione di cui sopra, per poter procedere con la firma di alcuni contratti che dovrebbero chiudere, definitivamente, la questione, una volta per tutte, consentendo ai miei dí ritrovare un po' di serenità, e anche di ottenere, fortunatamente, un qualche guadagno dalla soluzione trovata.
A questo punto, sinceramente, resta solo da incrociare le dita, e sperare che tutta la documentazione che ho girato al mio avvocato, per gli ultimi controlli, per essere sicuri che tutto sia a norma e a regola, e non ci siano cose strane, che possano far saltare tutto, sia a posto, così da poter procedere con questa cosa.
Dopo tutto il tempo, e le energie, da me impiegate per arrivare a questa soluzione, infatti, ammetto che, se tutto dovesse saltare, sarebbe, per me, un enorme dispiacere, oltre che l'inizio di altre rotture di scatole che, sinceramente, eviterei molto volentieri, visto che si andrebbero ad aggiungere a tutte le mie questioni personali, che già mi bastano e avanzano.
Ma queste sono le mie consuete divagazioni con le quali finisco, fin troppo spesso, per perdere tempo in argomenti che non c'entrano nulla con quello principale di questa mia pubblicazione, e, di conseguenza, direi che è arrivata l'ora di smetterla di tergiversare, e di andare a parlare dei miei progressi all'interno di Rising Star.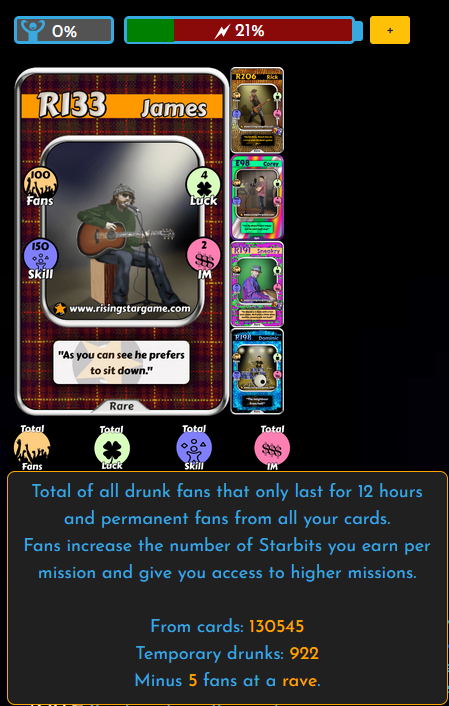 Quello che mi spinge alla stesura di questo mio nuovo articolo, riguarda, infatti, un nuovo traguardo che ho raggiunto, all'interno del gioco in questione, giusto ieri, a seguito dell'apertura dell'ennesimo bundle di 12 pacchetti di carte.
Grazie alla spacchettatura di cui sopra, che si è rivelata anche decisamente piuttosto interessante, fortunatamente mi è riuscito di arrivare alla abbastanza notevole cifra di ben 130.000 fans, che, sinceramente, mai mi sarei aspettato di raggiungere quando, ormai parecchio tempo fa, avevo iniziato a giocare a Rising Star.
So perfettamente che ci sono giocatori decisamente molto più forti di me, che hanno raggiunto quantità, degli stessi, ben più importanti, e che, di conseguenza, troveranno questo mio obiettivo quasi ridicolo, ma personalmente sono decisamente più che orgoglioso dei miei passi in avanti.
Devo ammettere, però, che, senza i preziosi consigli di un utente, peraltro tutto italiano, che era arrivato a gareggiare tra i primi dieci giocatori a livello internazionale, molto probabilmente questo mio processo sarebbe stato molto più lento, e non so nemmeno se oggi sarei potuto essere quì.
Mi sto riferendo, ovviamente, a quella strategia, che sto mettendo in atto ormai da parecchio tempo, che consiste nel comprare, ciclicamente, e ripetutamente, appena mi ritrovo nelle condizioni di farlo, raggiungendo la somma di 100.000 Starbits, di bundle di 12 pacchetti di carte, cosa che mi ha consentito, nel tempo, di incrementare, sempre di più, le mie statistiche, e, di conseguenza, di andare a crescere, via, via, sempre più velocemente, e in maniera esponenziale.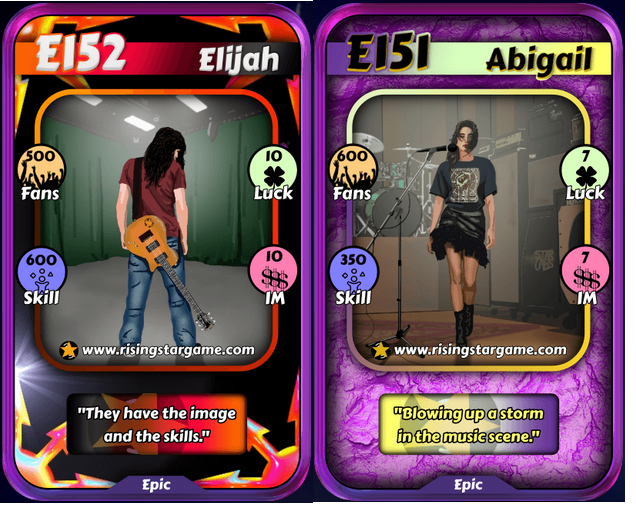 Anche in questa occasione, il suddetto modo di agire, grazie anche a un paio di colpi fortunati come quelli che vedete nella foto, che mi hanno consentito di ritrovarmi di fronte a ben due carte epiche, ovvero una E152 Elijah ed una E151 Abigail, che mi hanno offerto la possibilità di aggiungere, in un colpo solo, ben 1100 Fans superando di slancio questo mio traguardo, sembra propri oaver funzionato alla grande.
Al di là delle giornate come queste, particolarmente fortunate, però, questa strategia ha continuato, nel tempo, a permettermi, comunque, una crescita sempre più esponenziale, aumentando sempre di più i miei seguaci, che a loro volta sono andati ad incrementare il mio ritorno giornalieri in Starbits, in un circolo virtuoso che mi ha permesso di arrivare a questo mio piccolo traguardo, in maniera sempre più veloce.
Come ho ribadito in più occasioni, devo ammettere, però, che una notevole spinta, in questo mio percorso, l'ho avuta da quando sono riuscito ad accaparrarmi la carta Starbits Millionaire, tra l'altro poco prima che questa fosse tolta dalla circolazione, non so se per sempre, o solo temporaneamente, che mi ha consentito di iniziare a svolgere la relativa missione quotidiana, che ci premia con ben 10.000 token.
Agli inizi del mio percorso, tutto questo si è rivelato decisamente fondamentale, visto che mi ha permesso di accelerare, e di molto, i miei primi passi, anche se, al contrario, al mio stato attuale, rappresenta solo una piccola parte dei miei guadagni giornalieri.
Da qui in avanti, però, potrebbe essere che i miei progressi, a livello di quantità di Fans raggiunti, possano rallentare un po', ma non per un problema all'interno del gioco, ma perché ho intenzione di diversificare le mosse che voglio mettere in pratica sullo stesso.
Da qualche tempo, infatti, Rising Star ha lanciato una nuova modalità, definita Raves, dove, praticamente, si ha la possibilità di partecipare alle ben note feste illegali, ben conosciute da tutti, nella speranza di essere all'interno di quello, tra i quattro che vengono lanciati ciclicamente, che risulterà essere il vincitore, ovvero quello che avrà il maggior numero di partecipanti attivi, alla scadenza delle feste.
Per partecipare, però, sono necessarie delle carte, denominate "Super Fan" delle quali si può entrare in possesso solo, o comprandole all'interno del marketplace, se disponibili, o, in alternativa, trovando alcuni NFT, all'interno della sezione delle missioni Fan club, che consentano, poi, di partecipare alla missione "Record Signing" che potrebbe offrire l'opportunità di ricevere le suddette.
Per effettuare le prime, però, sono necessari degli StarPro, che, a loro volta, possono essere recuperati solo acquistandoli sue Hive Engine, o altri servizi simili, o attraverso la missione Music Promoter, all'interno della quale si utilizzano i propri Starbits, per ottenere, in cambio, sponsorizzando determinate missioni giornaliere, gli altri toen necessari.
Una mossa, questa, messa in atto dal creatore del gioco, per fermare la discesa del valore del token principale, che dovrà essere, quindi, utilizzato, per ottenere il secondo, e che dovrebbe, quindi, si spera, tornare a fare alzare il prezzo di entrambi, nel tentativo di fermar la caduta libera del primo.
Da qui in avanti, quindi, la mia intenzione è quella di destinare una parte degli Starbits da me guadagnati, per procurarmi degli Starpro, che poi andrò ad utilizzare per cercare di sbloccare alcune carte che mi potranno consentire, nel tempo, di andare a ricevere quelle speciali, che mi permetteranno di partecipare ai Raves con quantità maggiori delle stesse, e, di conseguenza, di avere dei ritorni, questa volta in Swap-Hive, milgiori rispetto a quelli che mi riesce di ottenere ora.
Il gioco, insomma, grazie ad alcune novità come quelle di cui sopra, e anche all'arrivo, previsto a breve, di una nuova sezione di gioco nella mappa, denominata Pro, che amplierà, ancora di più, la varietà del gioco, andando anche a dover utilizzare alcuni asset di gioco, per unirli, ed ottenere strumenti alternativi più avanzati, ha ricevuto una nuova iniezione di linfa vitale, e spero che tutto questo possa ridonare interesse allo stesso, consentendolgi di tornare, nuovamente, alla ribalta, ancora più forte, ed è ottenere il successo che merita.
Se, dopo la lettura di questo mio post, vi attira l'idea di provare, anche voi, a diventare una star della musica internazionale, non vi resta altro da fare se non recarvi sul sito di Rising Star, e collegarvi al gioco utilizzando il vostro account Hive, per iniziare subito a giocare, visto che la partecipazione a questo gioco, a differenza di altri Play to Earn è completamente gratuita, altro punto di forza a vantaggio di questo splendido gioco.
Vi aspetto in giro sui palchi dei più famosi Festival Internazionali di musica!!!