Parábola: el Rey y los cuatro ciegos.
Parable: The King and the four blind.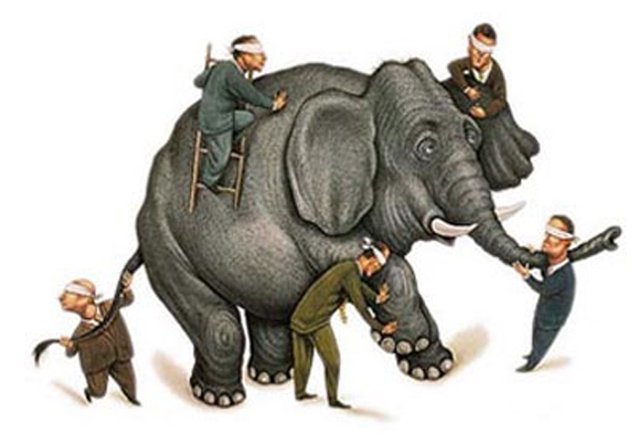 Un día un rey manda a buscar a 4 hombres ciegos y los pone delante de un elefante, luego les pide que toquen al animal por unos minutos y al terminar les pregunta como es, pide que se lo describan.
El primero le dice que el elefante es como una hoja grande y flexible, esté solo había tocado su oreja.
En lo que termina de hablar el segundo hombre dice, es mentira mi rey, el elefante es como un poste, grande gordo y fuerte, este hombre solo había tocado la pata.
Antes de terminar lo interrumpe el tercero, diciendo no le creas mi rey, los dos te están mintiendo, el elefante es como un látigo, como tiras sueltas, el había tocado la cola.
Entonces hablo el último de los 4 ciegos.
¡Todos te mientes mi rey!
Un elefante no es así, es como una manguera larga y arrugada, este hombre solo había tocado la nariz del elefante.
¿Quién de ellos decía la verdad?
Todos y cada uno de ellos decía la verdad, pero cada uno tenía una verdad distinta basada en los que percibieron y sintieron, al final la verdad es una sola pero hay que verla desde todos los puntos de vista.
La verdad es una sola, abre tus ojos y lo comprenderás.
La verdad los hará libres, Biblia Juan 8:31 – 38

Esta parábola es originaria de la India, he modificado su versión. Se desconoce su autor.
One day a king sends for 4 blind men and puts them in front of an elephant, then asks them to touch the animal for a few minutes and at the end asks them what it is like, asks them to describe it.
The first one tells him that the elephant is like a big and flexible leaf, it is only had touched his ear.
In what finishes speaking the second man says, it is a lie my king, the elephant is like a post, big fat and strong, this man had only touched the leg.
Before finishing he is interrupted by the third, saying don't believe my king, both are lying to you, the elephant is like a whip, like loose strips, he had touched the tail.
Then spoke the last of the 4 blind.
You are all lying to yourself, my king!
An elephant is not like that, it is like a long, wrinkled hose, this man had only touched the elephant's nose.
Which one of them was telling the truth?
Every one of them spoke the truth, but each one had a different truth based on those who perceived and felt, in the end, the truth is only one but it must be seen from all points of view.
The truth is only one, open your eyes and you will understand.
The truth will set you free, Bible John 8:31 - 38

This parabola is originally from India, I have modified its version. Its author is unknown.
imagen
separador