Yep, watching the stagnancy on the BITCOIN chart 1H timeframe, BITCOIN has been building a nice Descending Triangle while decreasing on the the trading volume.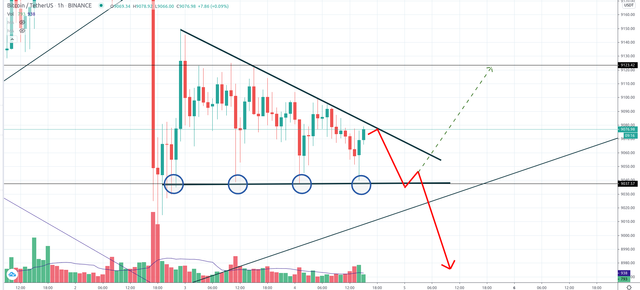 Actually BTC rebounded for more of three times already on the same identical support level around at 9040 USD while the the upper price keeps collapsing towards the support trendline .
Obviously, as we approach to the apex of that triangle, a big move is about to come and, being this kind of pattern a typical bearish one, I would expect that the break will be downwards.
However, this is not for sure of course. It will not be the first time that BTC surprises everyone with a move to an unexpected direction.
Let's which one of the two options finally deploys. Be careful with the fake breakouts.
---
I'm sharing only my quick trading Ideas here, not financial advice at all ;-)
---
*Disclaimer: This is just my personal point of view, please, do your own assessment and act consequently. Neither this post nor myself is responsible of any of your profit/losses obtained as a result of this information.