It's been an extremely painful few days in the crypto sphere, it seems that we haven't just started the year well and we continue with a lot of uncertainty due to several factors that we all know (war, inflation, FED bad news...).
The most painful thing seems to be that BITCOIN has not just decoupled from traditional financial markets, however, I want to show you a graph that can give another perspective of the situation.
The graph is called 1Y+ HODL Wave and it is interesting to see how despite the clear falling prices, BTC continues to be accumulated in a very strong way.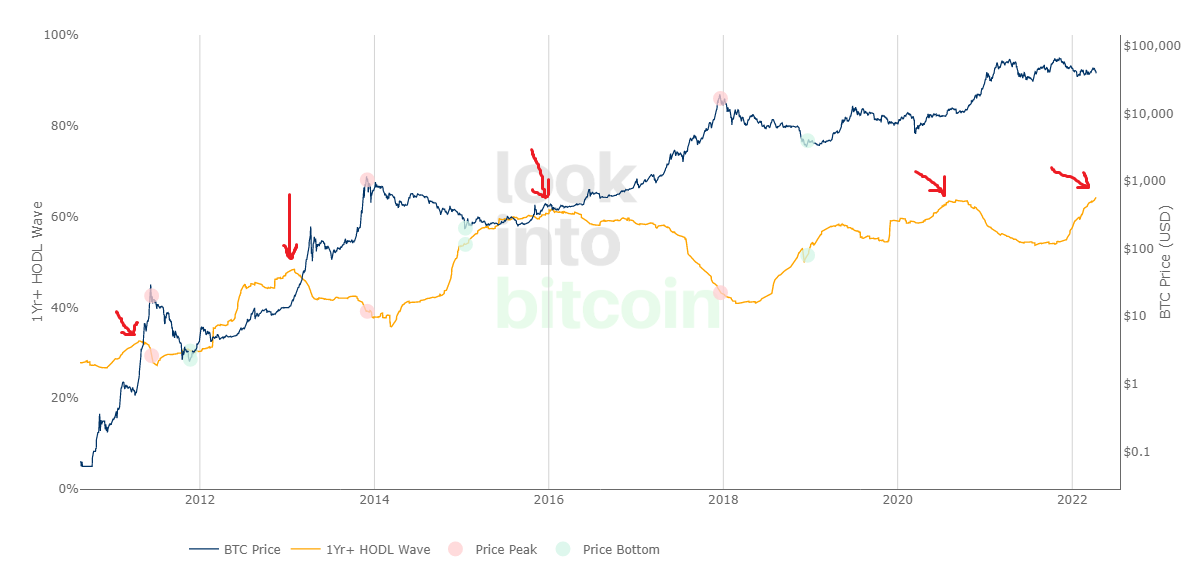 In fact, we are on ATH in this respect and, if we take into account the previous "waves", every time we have had an ATH this has triggered a rise in the price of BITCOIN in a majestic way.
Look at the graph, I have marked with red arrows by hand their ATH and the subsequent raise.
Why does this happen? well, basically, BTC is a scarce commodity, and it continues to accumulate, there is not much to buy, the price, although it seems that it is not, is holding up quite well but we need some of these accumulation whales to drop a little of their ballast to attract to more investors...
At the moment, this is not happening, in fact, what is happening is that the whales continue to accumulate buying everything that the short-term holders leave behind while they panic...basically buying at a discount.
These are the rules of the market, some buy at a discount what others sell in their panic, but soon there will be a time on which moment whales release ballast and that moment, according to the chart, does not seem very far from the present.
---
*Disclaimer: This is just my personal point of view, please, do your own assessment and act consequently. Neither this post nor myself is responsible of any of your profit/losses obtained as a result of this information.
Posted Using LeoFinance Beta