After reading these two articles, Step By Step Guide To Participate In POLYCUB Airdrop At CubFinance and Introducing the $1,000,000 POLYCUB Airdrop to CUB Stakers, which provide a very clear instruction how to participate in POLYCUB airdrop, I immediately transferred $80.00 to coins.ph and told my second son to buy BUSD at Binance. Less the fee, with $80.00, he was only able to buy 75 BUSD and sent it to my MetaMask wallet. I then went straight to PancakeSwap and swapped my BUSD with CUB.
Though the amount is small, but since this is another first experience for me similar to my initial participation in 01 March Power Up Day, able to purchase that 151 CUB excites me.
An Earlier Mistake?

Fourteen days ago, after reading an article about POLYCUB update on LeoFinance, since the only decentralized exchange familiar to me is LEODEX, my instinct was to go straight there to look for CUB. I saw someone selling 6.668 CUB at 0.10 HIVE. I immediately bought it and paid 0.6668 HIVE and returned to the article thread and posted my experience. Someone advised me that CUB at LEODEX isn't worth anything, and if I intend to buy, I should go instead to CubFinance and PancakeSwap. I thought my 0.668 HIVE experiment will be stuck at LEODEX.

To my surprise, yesterday I saw someone posting buy orders at 1.20 HIVE per CUB. I immediately sold my 6.668 CUB and received 8.0196 HIVE in return. If my computation is correct, that's a 79.64% price appreciation in 13 days! If what I did was really a mistake, what a profitable mistake it is!
As a result of such "mistake," I had an additional capital of 8.0196 HIVE to experiment doing micro-investing in Hive's layer 2 tokens.
CUB Staking
Returning to CUB staking, since I am not familiar with both CubFinance and PancakeSwap, I really need the help of my son to assist me in the process.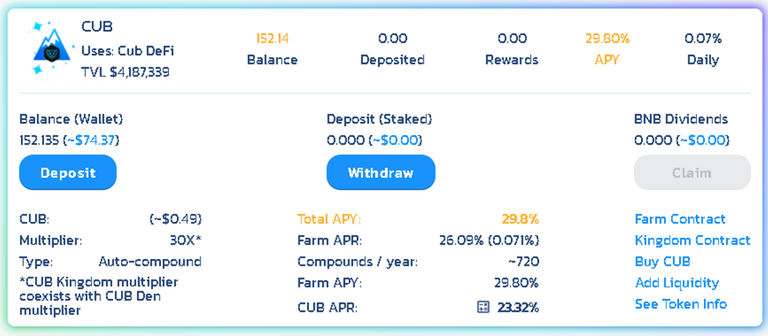 Prior to the above photo, there is an earlier step that I missed that I should have screenshot. And that is about approving the contract. After completing that prior step, the instruction above will appear, and you just need to press the deposit tab, and then another screen will follow.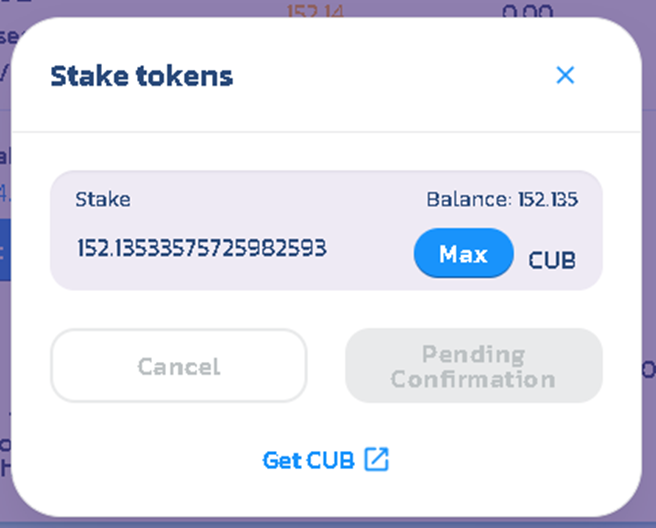 I just pressed the Max tab, and then that's it! 151.984 CUB were staked!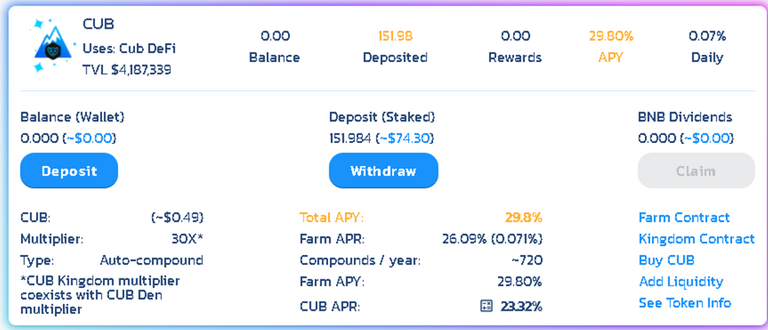 Finally, I checked the airdrop section and there I saw that 13.18 pending airdrop in 60 days! For a Red Fish, that small amount is more than enough to complete his day!

Grace and peace!
Photo Credit: All above screenshots are taken from LEODEX, CubFinance, and PancakeSwap.
Note: My LeoFinance Post