It was way too long ago that I did write a beer related post. So it is time for a new one.
The chosen beer just does come out of the fridge. It is Leffe Rituel 9.
I used to like triple blond beers so I do wonder how this did end up in my fridge. Probably it was part of a package full of beers I did get. My favorite beer, used to be Palm which is amber colored.
After poring it into the glass, I immediately notice that this isn't a blond for sure, more like an amber colored beer.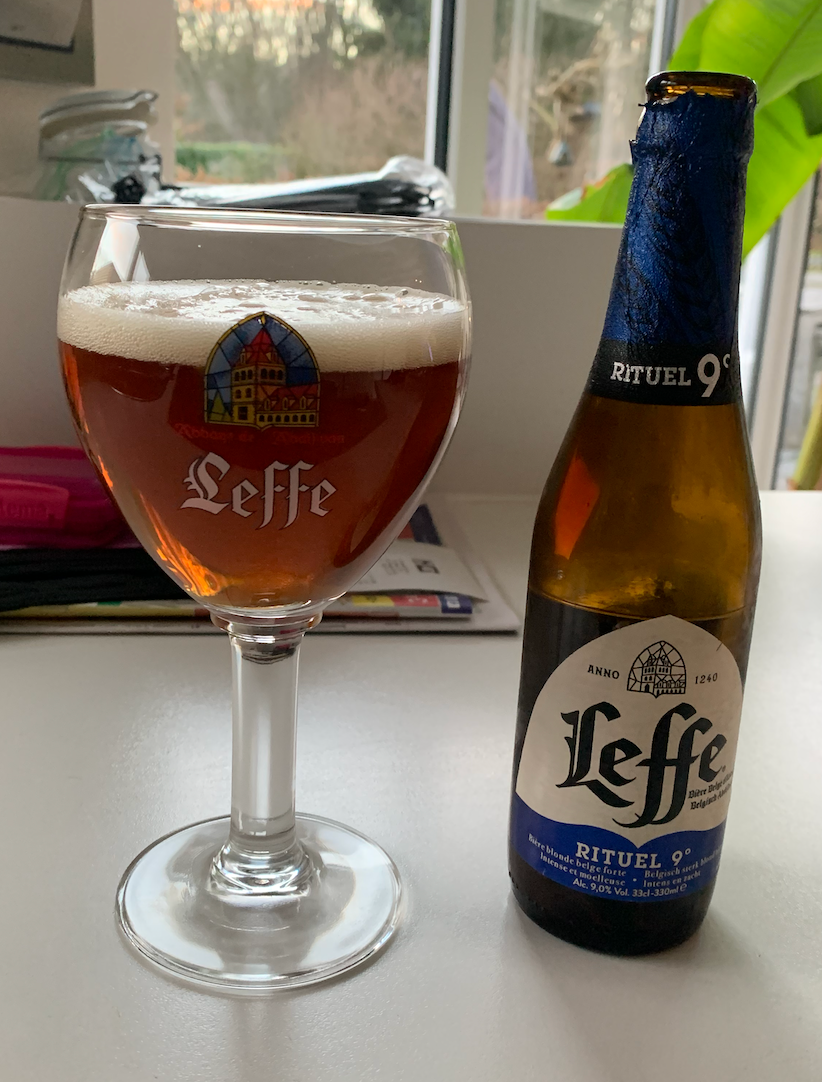 Due to the light in the back, it looks more blond than it actually is.
The first impression
Before we try it out, I always first do a smell test. No idea why, but it is what it is. The smell wasn't too bad.
While the taste isn't too bad, it just isn't my liking.
It does have strong after taste.
Which does suit the beer style: Strong Ale.
I should taste some fruits and maybe it is sweeter than I am used to it. No problems with the alcohol percentage of 9%. Most of the beer I do drink are between 8 and 9%.
What does the website of the beer says?
Leffe's classic "meditation" beer. Leffe Rituel 9 ° is produced with additional hops that give it a long and intense aftertaste: for this reason, tasting it is a real ritual.
Well I was right about the aftertaste 😃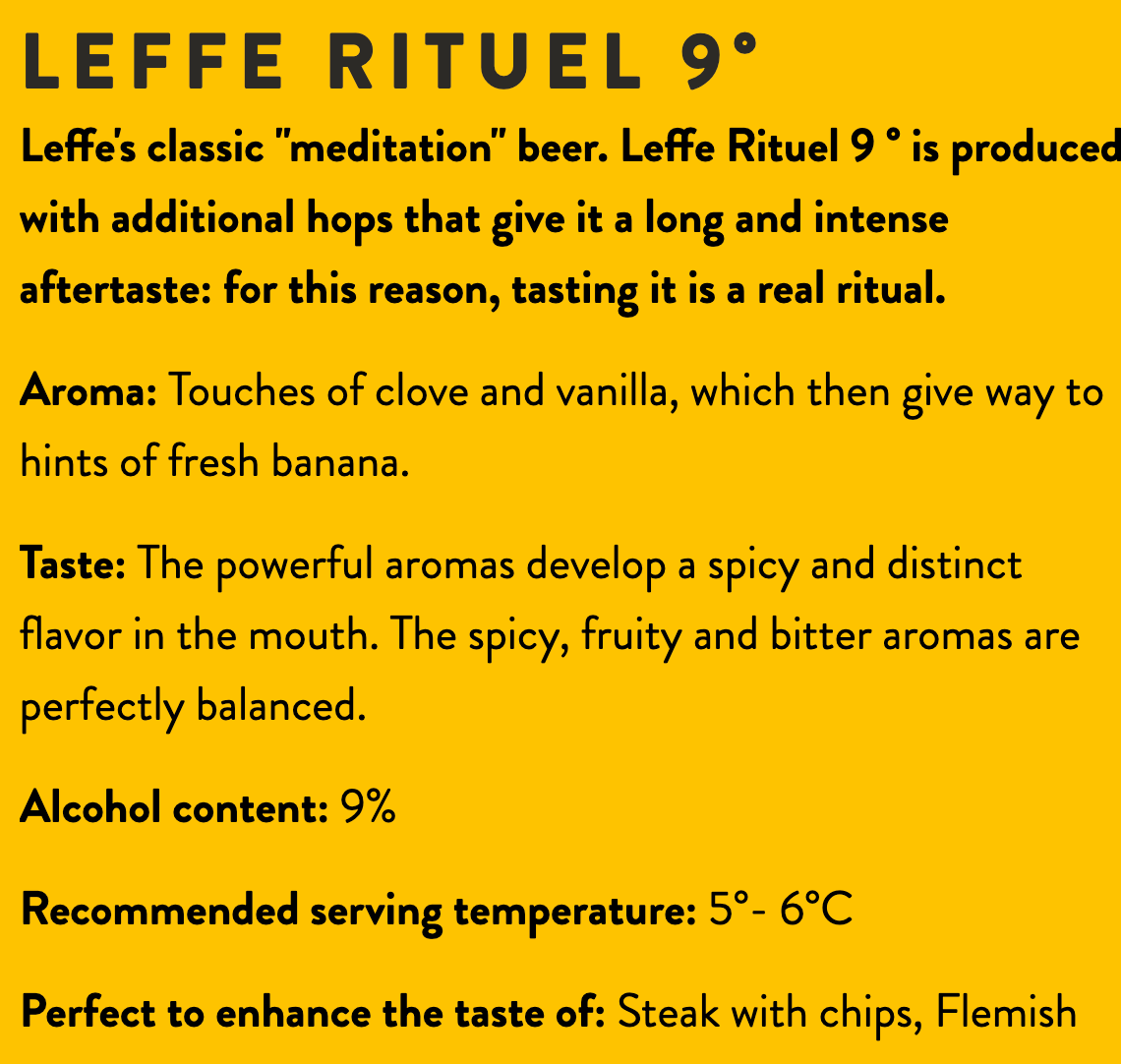 I can imagine that it does taste great with some steak, but I do think that the taste would overwhelm the flavor of the steak!
I should taste some banana in the aftertaste; the problem is that I really don't like bananas. So probably this is the biggest reason why I don't fancy this beer.
Due to the fact that life is too short to drink a beer, which you don't like, the question is will I finish it, or will I poor it away. I decided to finish it combined with some nachos. While it is not my liking it is too good to poor away.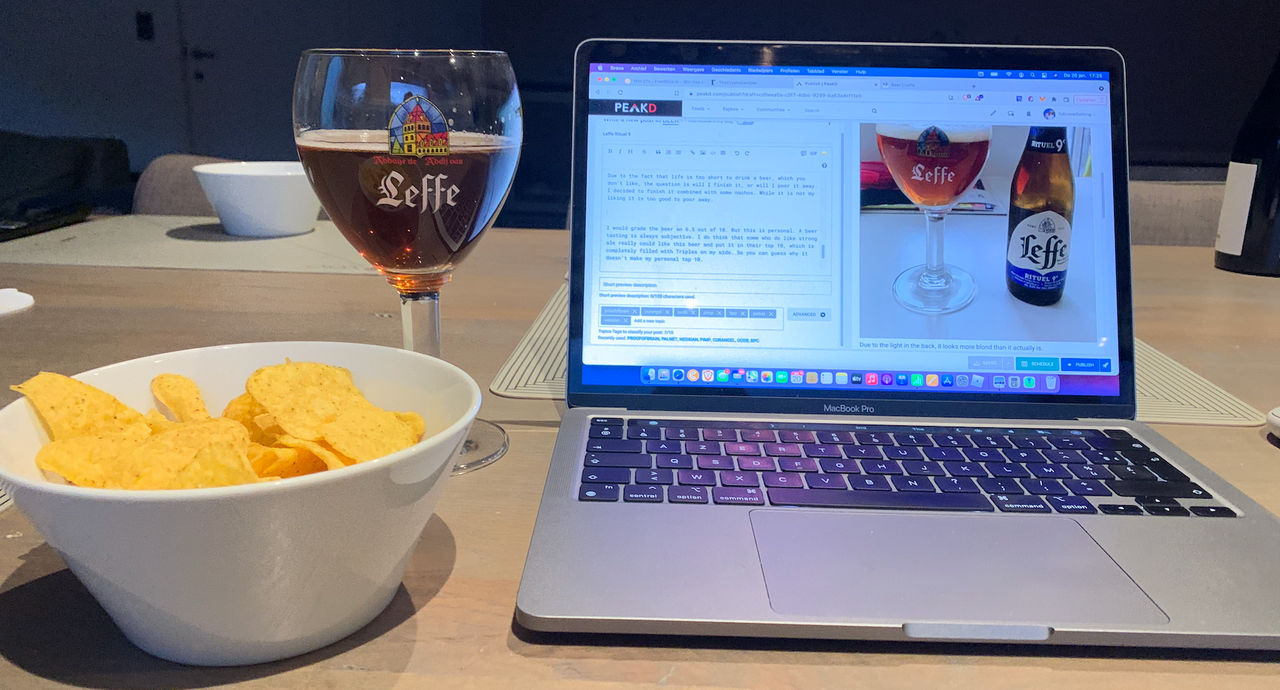 I would grade the beer an 6.5 out of 10. But this is personal. A beer tasting is always subjective. I do think that some who do like strong ale really could like this beer and put it in their top 10, which is completely filled with Triples on my side. So you can guess why it doesn't make my personal top 10.
Now a good beer post does consist of at least 3 photos. This will be hard to accomplish.