As many of us have now jumped onboard the $Cub train and have gotten lost in all of the staking and compounding, it is handy to pause and see where we are sitting with all of our balances. So far I have seen two ways of doing so and will let you have both options.
Option 1: https://howmuchismylp.com/
A full breakdown can be found in the post by @fingeru right here.
But in short you need to connect with your metamask for BSC and insert "0x227e79C83065edB8B954848c46ca50b96CB33E16" into the MasterChef section.
It will give you a full breakdown of all your pools and a total value at the bottom. Simple and straight forward.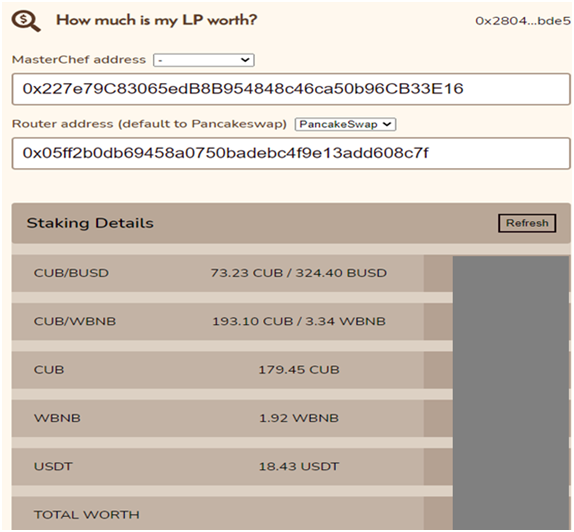 Option 2: Discord tracking.
This is the discord option and one which I have only come across today for the first time. It is a new tools developed by @deathwing and can be found in the #friday channel of the @leofinacne discord.
It's very easy to use and a great option to track your $Cub investments.
Just type,
!save (Insert your BSC address Ox2804....)
Then you are in the database.
After that you can just type,
!cub
at any time and get up to date tracking of your cubdefi assets.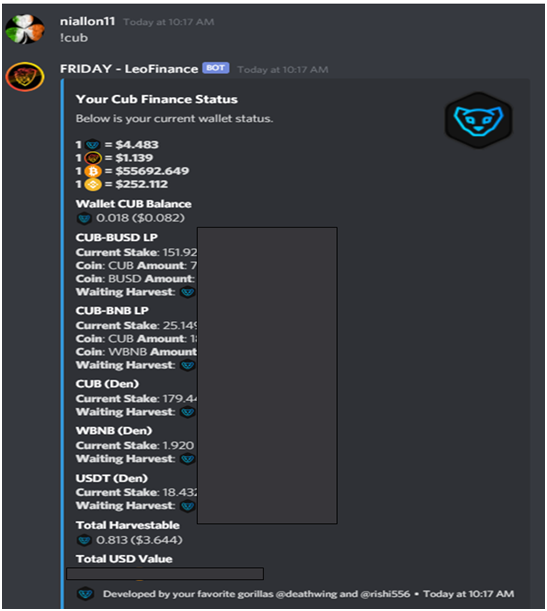 I have just used both and they are showing the same amount. Not enough!
It's great to have these tools and it makes for a far better experience as a user on the cub finance. I'm sure that we will see this integrated to the main site at some stage but there is a lot happening and until then it's handy to see where you lie. Have fun.
Posted Using LeoFinance Beta