Baby Doge Coin is a brand-new meme token that was inspired by Dogecoin. It was released on June 1, 2021, and quickly gained its community thanks to Elon Musk, who tweeted about it a month later. Keep reading the new StealthEX article and find more about BABYDOGE crypto and how to buy Baby Doge coin.
What Is Baby DogeCoin?
BabyDoge is similar to Dogecoin. However, it offers users quicker transactions because it has 10x faster block speeds and cheaper gas fees that are achieved because it's built on Binance smart chain.
The overall supply is 420 quadrillion tokens, and 125 quadrillion of them are burnt.
Baby Doge Coin Features
One of the reasons to buy BABYDOGE is that this project shares values essential to people who pay attention to their security and anonymity. First, the project is transparent, encouraging open communication among members.
Since it was created by cryptocurrency enthusiasts and DOGE fans, it values Baby Doge crypto holders offering them instant rewards. Each transaction has a 5% fee that is distributed to their wallets.
Besides this fee, another 5% of all transactions are added to liquidity.

BABYDOGE Crypto Plans
Baby Doge coin has a large community of over 300 thousand holders and is listed on many reliable cryptocurrency platforms, like Magento and Shopify. However, its founders have long-term plans. According to the roadmap, they're on the 5th phase (Jump) and soon they're going to launch their swap, NFT marketplace and collection. 
Baby Doge Price Prediction
To become the largest meme token, this project becomes more popular and Baby Doge price increases. According to the experts, this trend will continue. As for CryptocurrencyPricePrediction, the Baby Doge crypto price will be $0.00000003 in December 2025. Even though PricePrediction doesn't have such a positive prediction, it still believes that the Baby Doge coin price will be $0.00000006 at the end of 2030.
Where To Buy Baby Doge Crypto?
Those thinking about where to buy Baby Doge should use StealthEX. It provides access to over 400 cryptocurrencies for exchange and doesn't charge hidden fees for transactions. 
How To Buy Baby Doge Coin?
Just go to StealthEX and follow the instruction below. Let's imagine you want to exchange ETH to BABYDOGE. To make an exchange, you need to take a few simple steps:
First, you should choose Ethereum in the left drop-down list. Then choose BABYDOGE token in the right list of coins. 
After setting the pair it is necessary to enter the amount of ETH you want to exchange.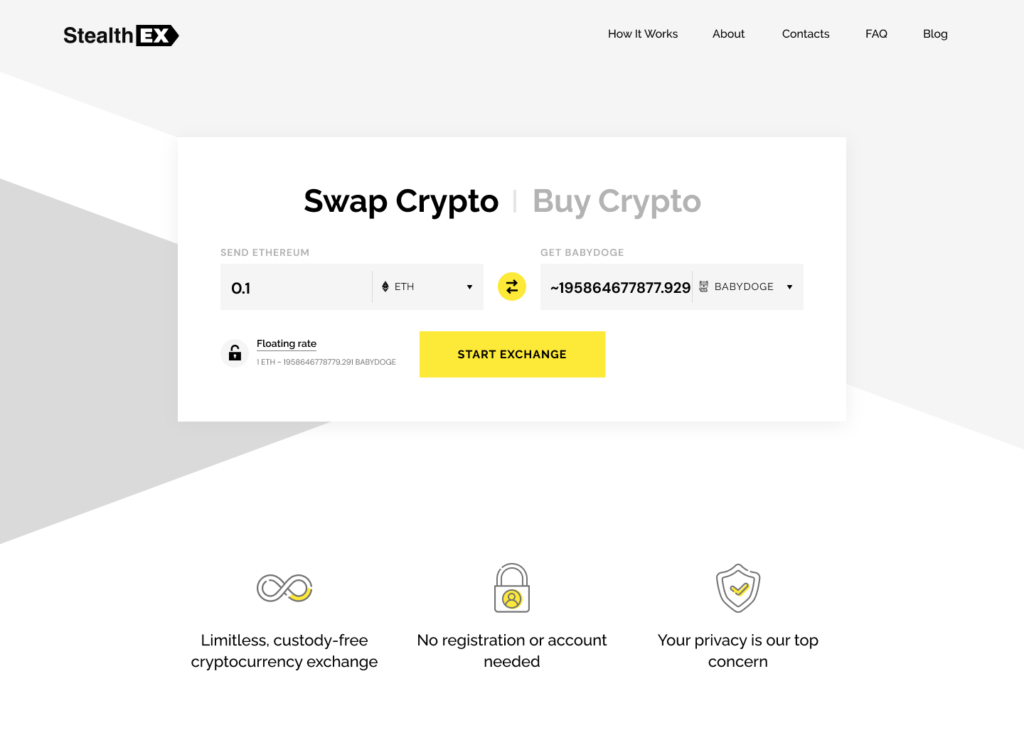 Here you will see the estimated amount of BABY DOGE crypto that you will receive after the exchange.
Now when everything is set for the exchange, press the START EXCHANGE button and you will be taken to the next page.
In the second step, you need to provide the BABYDOGE recipient address. The recipient address must match the cryptocurrency you are going to receive. Remember to double-check the information you enter prior to the exchange as the transaction you make cannot be canceled.
As soon as you have carefully checked all the details, you can press the NEXT button and you will be redirected to the CONFIRMATION page with the information about the exchange.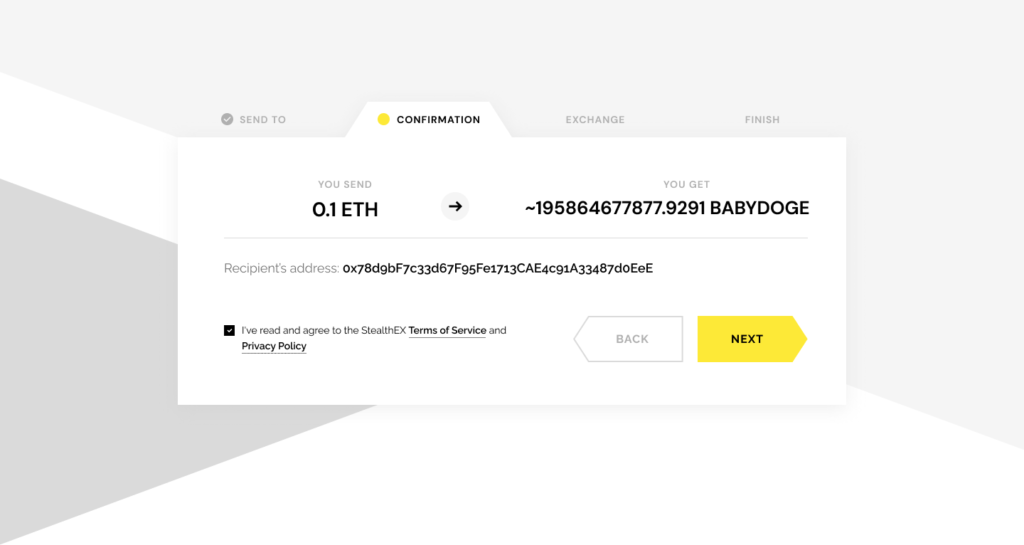 Here you can revise the address provided and the amount of BABYDOGE cryptocurrency you will receive. Don't forget to read and check the Terms of Use and Privacy Policy box. Without checking the box you will not be able to continue the exchange. 
Pressing the NEXT button you will be redirected to the EXCHANGE page. 
At first, you will see the address where you need to send your ETH coin to continue the exchange. StealthEX will also provide you with the exchange ID. It will allow you to keep all the information about the swap. It is recommended to save your exchange ID or the link to your exchange.
Exchange Statuses
After sending ETH coins to the shown address, the information on the EXCHANGE page will be renewed automatically. The EXCHANGE page has several statuses that will change during the time of the exchange.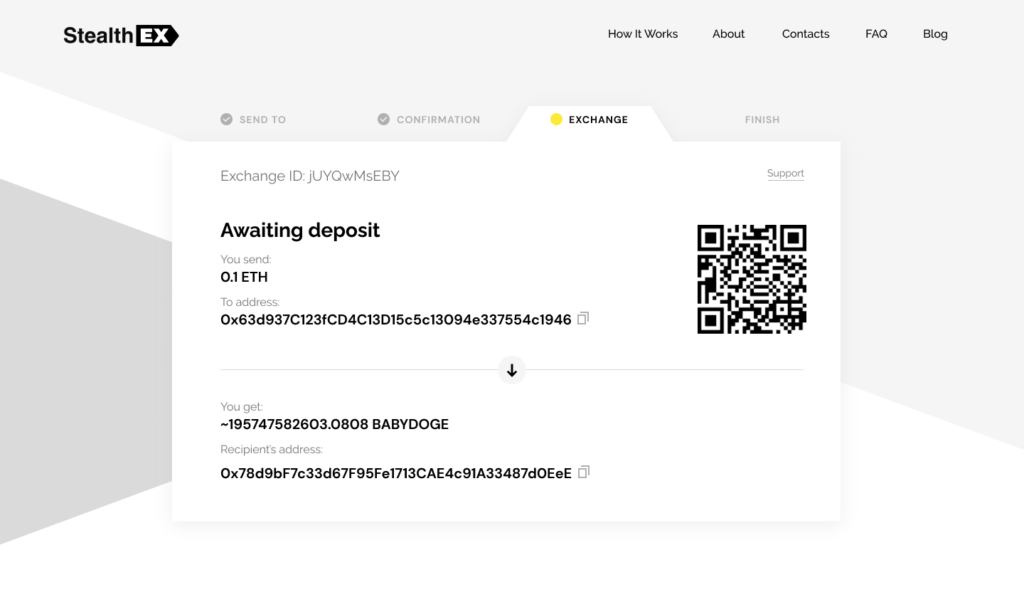 The first status is Awaiting deposit.
The following status is Confirming. This means that StealthEX is confirming the transaction you made.
The next status is Exchanging. During this time the exchange is being made.
Then the status will be changed to Sending to your wallet. This indicates that there are just a few minutes left until you will receive your Baby Doge coin.
Completion Of The Exchange
Finally, you will be redirected to the FINISH page. This shows that the exchange has been successfully made and you will receive crypto to the address provided. To be sure that BABYDOGE coins were sent to your wallet you can also use the Output hash shown on this page and check it in the blockchain list of transactions.
From here you can either create a new exchange on StealthEX.io or leave the page and check your BABY DOGE coin wallet to be surprised at how fast you got BABYDOGE crypto. Usually, the process is quite rapid so you won't need to wait long.
And by the way, don't forget that now our users can purchase cryptocurrencies using fiat and we still offer the opportunity to buy crypto at fixed rates!

Follow us on Medium, Twitter, Telegram, YouTube, Reddit to get StealthEX.io updates and the latest BABY DOGE coin news.
We are always ready to give you support if you have any issues with exchanging coins. Our team does our best to protect all members and answer their questions. For all requests message us via [email protected].
You are more than welcome to visit StealthEX exchange and see how fast and convenient it is.